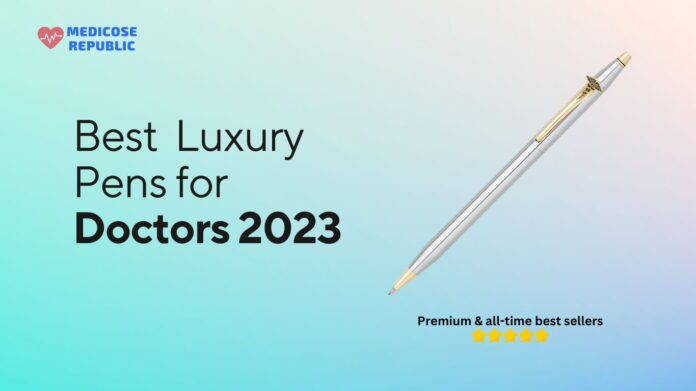 Gifting a luxury pen to a doctor or a medical professional like a nurse, or physiotherapist can be a very meaningful gesture that demonstrates your appreciation and acknowledgment of their hard work and dedication. It is a gift that can be cherished for many years to come, making it an incredible choice for a variety of occasions.
Pens are a very essential tool for doctors and other medical professionals, as they use them to document important medical information and communicate with others in the hospital. A high-quality luxury pen can potentially make their work easier and more efficient, while also reflecting their professionalism, style, and attention to detail.

We share products we consider valuable to our respectable audience. As a result, we may receive a commission on purchases made through affiliate links. Here's how it works.
What is a luxury pen?
A luxury pen is a high-end writing instrument that is designed with premium-quality materials, and superior craftsmanship, and offers sophisticated features. Luxury pens are often used as a status symbol by professionals and are cherished by collectors and enthusiasts for their beauty and superior performance.
Luxury pens can come in a variety of types that mainly include the following:
| | |
| --- | --- |
| 1. Fountain pen | Uses a nib to distribute ink onto paper in a smooth and controlled manner |
| 2. Ballpoint pen | Uses a small rotating ball at the tip to distribute oil-based ink onto paper |
| 3. Rollerball pen | Uses a ball tip and water-based or gel ink to provide a smooth and precise writing experience |
| 4. Mechanical pencils | Uses thin lead refills and a mechanism to advance and retract the lead for continuous writing or drawing |
A luxury pen can be made of precious metals such as gold, platinum, and sterling silver, and at times may also feature high-quality materials such as diamonds, mother-of-pearl, and rare woods. Luxury pens can also include rare and intricate designs that make them stand out from regular writing instruments.
In addition to their aesthetic appeal, luxury pens are also prized for their amazing performance. They offer smooth writing mechanisms that make writing effortless and very comfortable, and they also come with added features such as ergonomic grips, retractable nibs, and refillable ink cartridges.
Below are the super popular luxury pen brands for doctors: (Click here to jump the top 10 list)
| | |
| --- | --- |
| 1. Montblanc | |
| 2. Faber-Castell | |
| 3. Parker | |
| 4. Waterman | |
| 5. Cross | |
| 6. Pelikan | |
Luxury pens can be collected and stored by enthusiasts, used for special occasions, or can be given as gifts to mark significant life milestones or major achievements.
Tips on selecting a luxury pen
If you are gifting a luxury pen to a doctor or any other medical professional such as a nurse or physiotherapist or medical student, here are a few things to consider to ensure that you choose the right type of pen and make the gift special: 🙂
Consider their specialty: It is very important that you consider the recipient's personality, style, and specialty when selecting a pen. Choose a pen that best fits their taste so that they will appreciate and use it regularly. For example, a pen with a bold design or color might be appropriate for a surgeon or a cardiologist, while a classic and timeless design might be better suited for a general practitioner or a nurse. Hence, you should keep the recipient's personality as well as their specialty in consideration.
Brand and quality: Choose a high-end executive pen from a reputable brand known for its craftsmanship, design, and quality. This will ensure that the pen will last longer and be appreciated for years.
Type of pen: Consider the type and build of pen that the recipient will prefer. Some may prefer a fountain pen, while others may prefer a ballpoint, mechanical, or rollerball pen.
Material and design: Luxury pens come in a range of materials, such as gold, platinum, and silver, and may have unique and complex designs. It will be wise to consider the recipient's taste and personality when choosing the material and design of the pen.
Personalization of the gift: Personalize the pen with a name engraved pen to make it a unique and special gift that they will always remember.
Presentation matters: Package the pen in an elegant and beautiful gift box or wrap it in luxurious paper to make the gift super special.
Type of Occasion: It will be a wise thing to consider the occasion for your gift. For example, a graduation gift may call for a different type of pen than a retirement gift.
By keeping these things in your mind, you can gift a luxury pen to a doctor or medical professional that is not only beautiful and functional but also personalized in a meaningful way for the recipient.
Best Luxury Pens For Doctors and Medical Professionals
Alright, now without any further ado, let's dive in and check out the best luxury pens for doctors. We hope that you find this article helpful in choosing the right pen.

1. Engraved Cross Pen (Personalized With Medical Doctors Caduceus Emblem And Name)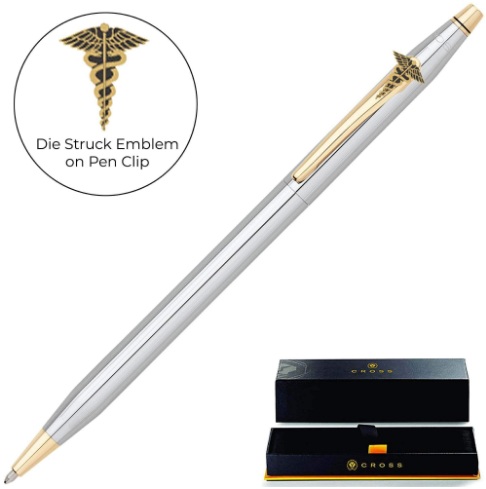 Are you looking for a special gift to give to doctors or medical professionals like nurses, physiotherapists, or veterinarian doctors? Consider giving them a premium personalized Engraved Cross Pen that is specifically designed for healthcare professionals. This type of gift is perfect to show your appreciation and gratitude for their dedication and hard work. The Cross Pen features an elegantly engraved design with a sturdy and lustrous chrome finish, 23-karat gold trim, twist-action ballpoint, and a smooth medium black ink refill that writes beautifully. You can also personalize the pen by engraving the recipient's name or a message that is up to 25 characters and spaces. The Caduceus Medical Emblem on the pen has a brass color that stands out against the smooth chrome finish. It comes with a Lifetime Cross Mechanical Warranty.
This type of pen is an unforgettable gift idea for any doctor, nurse, veterinarian, or medical student. It is also an excellent way to show gratitude to a doctor who has gone the extra mile for you, a perfect wedding gift for a couple starting a new life together or a recognition gift for a hospital volunteer. The pen can be rush-produced and delivered in just one business day. Impressive, right? 🙂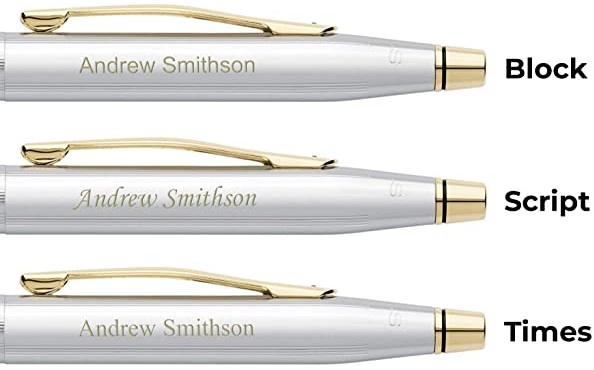 The Cross Classic pen is well-known for its premium quality and exceptional design and has been used by doctors and healthcare professionals for decades. The pen comes with a 1.0mm medium black ink cartridge and is designed with a high-quality twist-action mechanism, and a comfortable grip for writing ease. Engraved Cross pens are crafted in the United States of America with meticulous design & build quality and are built to last a lifetime.
Manufacturer's specifications
Bra

nd

Dayspring Pens
Color
Medical Doctor's Medalist Ballpoint Pen
Ink Color

Black

Material

Brass

Warranty
Lifetime Cross Mechanical Warranty.
2. Dayspring Pens Engraved Cross Pen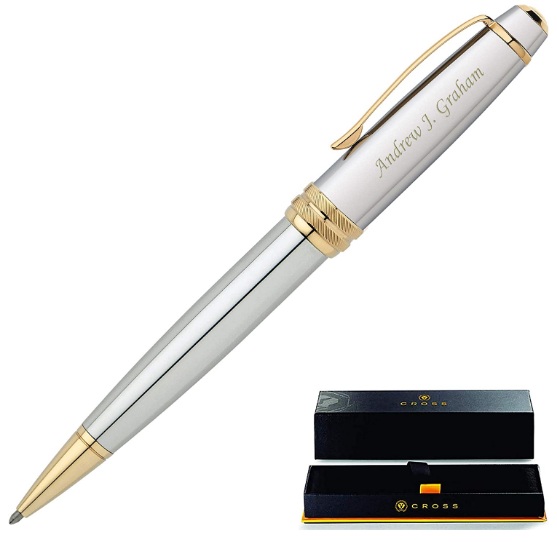 The Dayspring Pens Engraved Cross Pen is a beautiful and elegant pen that is both affordable and professional-looking. With its chrome finish and gold-plated trim, this pen is a symbol of elegance and sophistication. And with the option of custom engraving, this pen can become a personalized gift that is perfect for doctors, nurses, medical students as well as other healthcare professionals.
What's more, the Bailey twist-action ballpoint with 1.0mm black ink offers smooth reliable writing performance, and it comes with a Cross gift box that makes it an even more impressive gift. The Cross Lifetime Mechanical Warranty with an added certificate of authenticity in every box ensures that this pen will provide a lifetime of reliable writing, making it an exceptional value for the money. Overall, the Cross Bailey Medalist pen is a great choice for anyone who wants a high-quality pen that looks great and writes well.
3. Fisher Space Pen Bullet Pen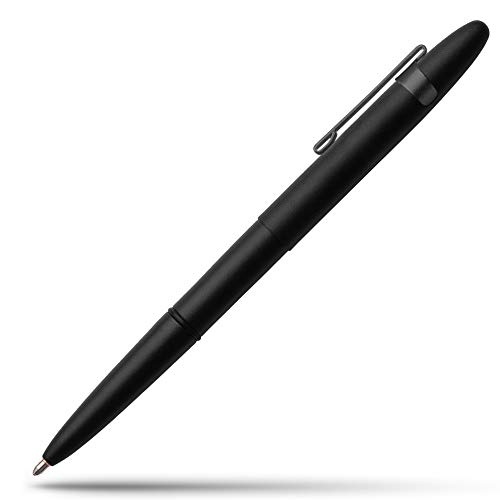 The Fisher Space Pen 400 Series Bullet is a remarkable premium pen that has become an icon of American design and engineering. Its all-brass and steel construction, variety of fine colors and finishes, and tungsten carbide ballpoint tip make it a very reliable and durable pen for professionals. This pen is the original Fisher ballpoint pen and the most popular Fisher pen ever sold, making it a testament to the quality of Fisher's products.
Each Fisher Space Pen is precision assembled, hand-tested, and carries a lifetime guarantee against all manufacturing defects. It is designed to reliably perform in extreme temperatures (-30F to +250F), underwater, in zero gravity, and at any angle, making it an excellent choice for those who demand reliability and something supreme. The Fisher Space Pen 400 Series Bullet combines innovation, quality, and style in a single package, and it is a testament to Fisher's commitment to excellence.
In conclusion, the Fisher Space Pen 400 Series Bullet is a superb pen that is built to last a lifetime. The best part about this Fisher Space Pen 400 is its lifetime guarantee against all manufacturing defects which ensures that it is a pen that can be used with confidence, regardless of the environment or conditions. This is a great pick for doctors & nurses who are working round the clock taking care of patients.
4. Parker Jotter XL Ballpoint Pen

The Parker Jotter XL Pen is a must-have for individuals who enjoy the comfort of a larger pen. Its bold yet lustrous design features a matte gold cap and barrel, paired with a matching shiny signature Cross arrow clip, which makes further adds to its overall beauty and appeal. The pen's streamlined and lightweight construction is perfect for everyday use, and its retractable design opens with a satisfying click, making it a joy to write.
In addition to its smooth and beautiful design, the Parker Jotter XL is also equipped with Quinkflow ink technology, which ensures a smoother, cleaner, and more consistent writing experience. This makes it a reliable writing tool that is perfect for both personal and professional use. Whether you're signing important documents or jotting down clinical notes during the hospital ward rounds, the Parker Jotter XL is a reliable and stylish choice. The pen comes packaged in a distinctive Parker gift box, making it an excellent gift for doctors and healthcare professionals.
5. Cross Wanderlust Refillable Rollerball Pen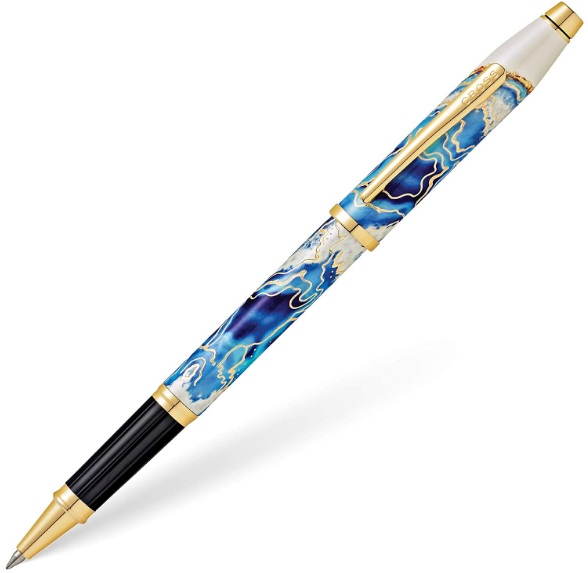 The Cross Wanderlust Refillable Rollerball Pen is a stunning luxury pen for doctors that combines form and function in a single model. Its Maltese-inspired blue design on white lacquer, complemented by gold-plated engravings create a striking visual impression on its beholder. The click-off cap adds to the pen's convenience in use and elegance, making it an ideal choice for those who demand both style and functionality in their everyday writings.
The pen's revolutionary gel ink rollerball formula flows freely like a fountain pen, delivering a smooth and consistent writing experience. The package also includes one black gel ink Selectip rollerball tip in pen, making it a versatile tool that can be used for a wide range of writing tasks and is a perfect fit for healthcare professionals. The Cross Wanderlust Refillable Rollerball Pen is presented in a premium Cross gift box and overs a lifetime Mechanical warranty, making it a perfect gift for those who value quality and genuine craftsmanship. Overall, the Cross Wanderlust Refillable Rollerball Pen is a superb executive pen that combines beauty, elegance, and reliability in a single package.
6. Scriveiner Black Lacquer Ballpoint Pen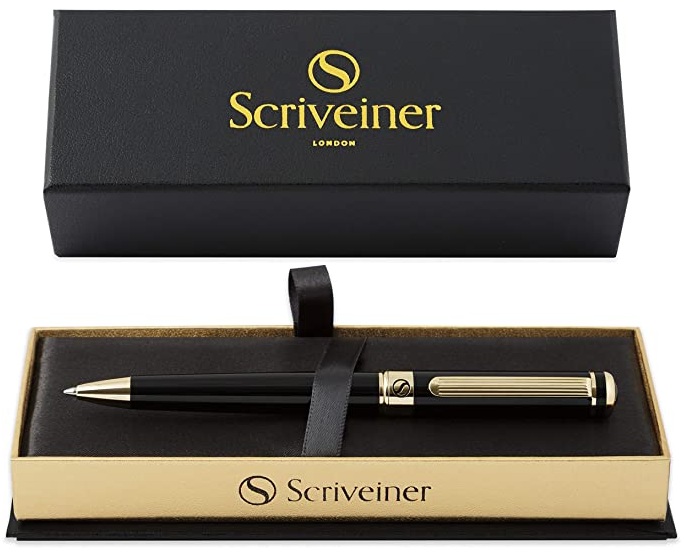 The Scriveiner Black Lacquer Ballpoint Pen is a perfect pen for those who value luxury and quality in their day-to-day lives. Crafted meticulously using brass with a jet-black lacquer finish and 24-karat gold accents, this writing instrument exudes an understated luxury that is sure to impress everyone. The pen is perfectly designed, making it easy to write with for long periods of time. The Schmidt refill from Germany is designed to glide very smoothly across any type of modern-day paper, ensuring that transcribing your thoughts has never been easier.
Whether you are using the Scriveiner ballpoint pen in a casual or hospital setting, or for personal use, it is sure to impress colleagues and other people around you. The pen is designed in London and it shares the timeless qualities of classic British design, such as elegance, and sophistication. It is a stylish accessory that complements any outfit or environment and is sure to be complimented by those around you.
The Scriveiner ballpoint pen is without any doubt one of the best luxury pens for doctors and other healthcare professionals. Whether it's for a career promotion, graduation, Christmas, Father's Day, Mother's Day, or just as a gift for your doctor, this pen comes in a beautiful gift box that adds an extra touch of elegance to the overall presentation. In conclusion, the Scriveiner ballpoint pen is a top-of-the-line writing instrument that is both incredibly functional and stylish hence, making it an excellent choice for anyone who values excellence in quality and luxury.
ALSO CHECK:
7. Waterman Hemisphere Ballpoint Pen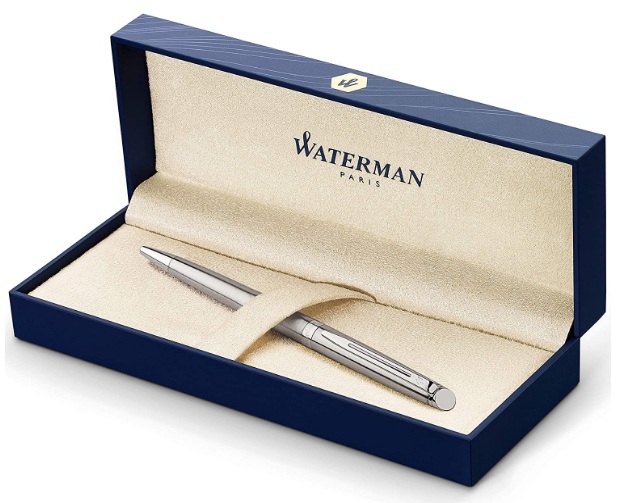 The Waterman Hemisphere Ballpoint Pen is a sophisticated luxury pen for doctors designed with elegance and refined style. With its elegantly slim design, this pen demonstrates a delicate lightness that makes writing on any paper a breeze. Its slim clip and broad ring add to its luxury feeling and crisp style, while the refined, brushed stainless steel barrel and sleek palladium-plated trim give it a sophisticated silhouette.
The tip of Waterman Hemisphere Ballpoint Pen has been skilfully constructed to produce flawless lines that dry very quickly, allowing you to express yourself genuinely. The pen is crafted in France, ensuring high standards of quality and durability.
If you are looking for the best luxury pen for doctors or nurses, then Waterman pen is something we highly recommend. This pen comes in a premium dark blue Waterman gift box, adding to its overall sense of luxury and elegance.
8. Matte Black Forest Fountain Pen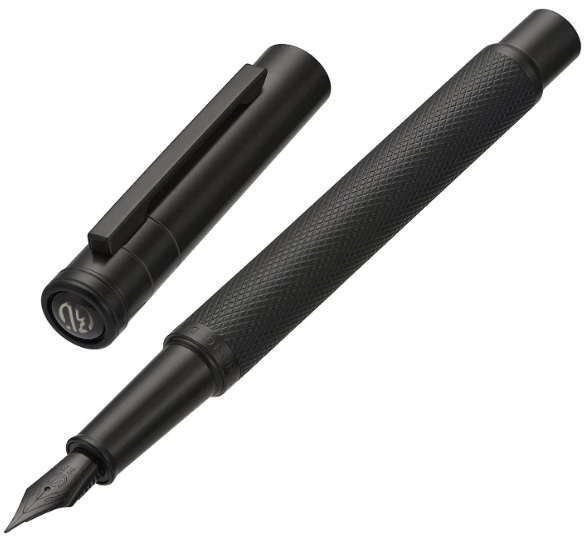 The Hongdian Matte Black Forest Fountain Pen is an exceptional luxury pen for doctors that delivers an unparalleled writing experience. Equipped with a unique, streamlined stainless steel extra fine nib that glides smoothly across the paper, leaving behind a clean and precise line of amazing quality. Its carefully calculated weight ensures that it is much more suitable for long writing sessions, making it a favorite among doctors, nurses, pharmacists, and medical students alike.
Crafted with great precision and care, this matte black fountain pen set is truly a work of art. Its well-balanced design and stunning aesthetics make it top of its class. 🙂 This luxury fountain pen set is not only a pleasure to use but is also an amazing gift for anyone who appreciates quality pens. The included metal pen box provides a safe and elegant storage solution, ensuring that your pen stays protected. Whether you are looking for a luxury pen for yourself or would like to gift one, this Hongdian fountain pen set is a must-have!
9. Waterman Expert Fountain Pen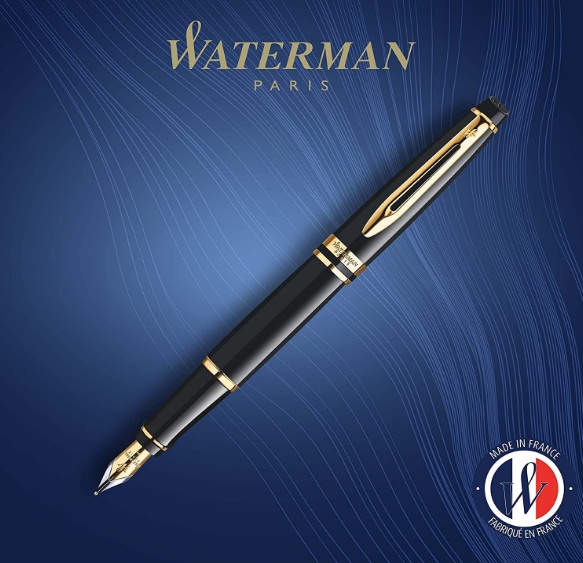 The Waterman Expert Fountain Pen offers a generous silhouette that exudes premium, executive styling and supreme comfort when writing. Its sophisticated gloss black lacquered body, gleaming 23-karat golden trim with elegant clip, and broad ring embellished with the brand name (Waterman) make for a stunning visual impression. This is matched with a smooth, consistent, and skilfully constructed stainless steel and 23-karat gold nib, engraved with the iconic Waterman emblem, that delivers an exceptional writing experience and acts as a testimony of the great taste of its owner.
Made in France with meticulous attention to fine detail, this pen is designed to enhance your signature style. It is perfect for both personal and professional use, making it a versatile high-end luxury pen that is sure to make an impression. It is presented in a premium dark blue Waterman gift box, this pen is ideal for celebrating graduations, career milestones & promotions, and new jobs. It is a gift that shows your true appreciation for the recipient's accomplishments and their discerning taste. Overall, the Waterman Expert Fountain Pen is a symbol of elegance and sophistication that is sure to make a lasting impression.
10. Cross Tech3+ Refillable Multi-Function Ballpoint Pen
with Stylus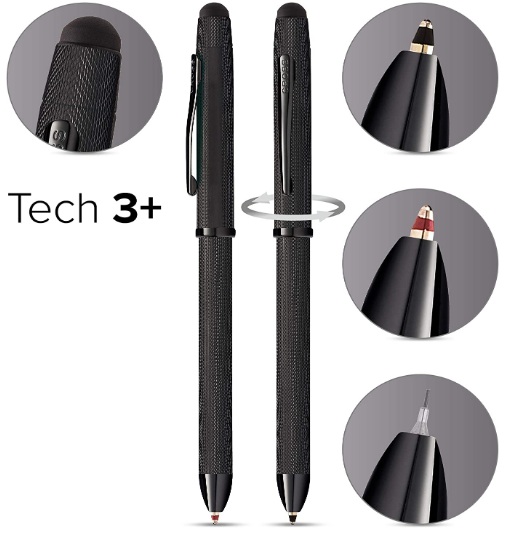 The Cross Tech3+ is a sleek and multi-function luxury pen that offers a classic design with a modern twist. With its continuous twist technology, users can easily switch between three writing tips – black ballpoint, red ballpoint, and pencil – for an overall versatile writing experience. Moreover, the wide 8MM stylus that unscrews to reveal a stylus which is easy to use and is compatible with almost all touchscreen devices.
Not only does the Cross Tech3+ offer exceptional functionality, but it also comes in a premium gift box, making it an excellent gift for any occasion. Furthermore, the pen is covered by a lifetime mechanical warranty, so you can be assured of its durability and longevity. Overall, the Cross Tech3+ is a stylish and high-end pen that is perfect for those who demand versatility and convenience in their daily lives.
The Doctor's Classic Pen by Onoto (Super Luxury)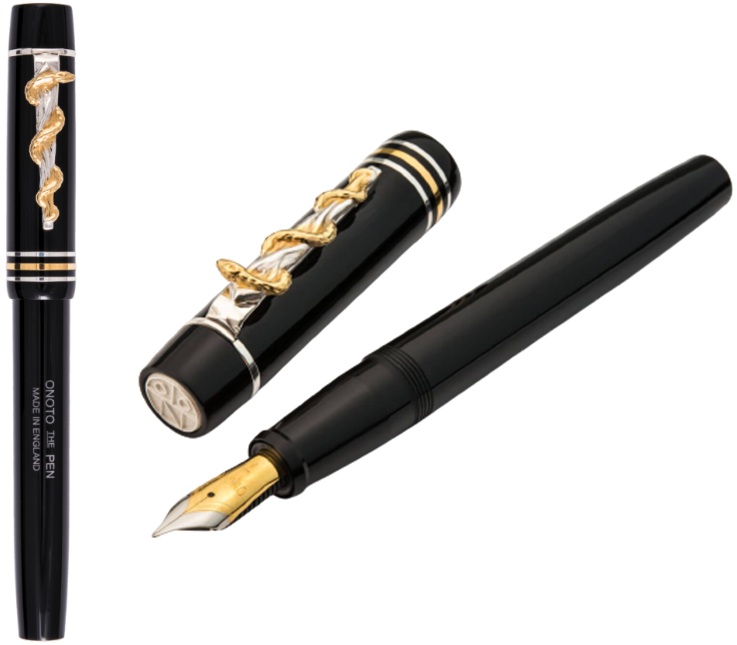 Doctor's Pen Classic – a premium writing instrument crafted categorically for doctors and healthcare professionals reflecting sophistication, elegance, and excellence in medicine. Inspired by the Classic Magna design, this pen is made with high-density black acrylic, ensuring durability and longevity in usage.
The gold and silver Rod of Asclepius on the pen symbolizes the medical world's tireless efforts in providing high-quality care to patients, while also representing its purpose as a tool for doctors to prescribe their invaluable knowledge and insight onto prescriptions.
As doctors hold themselves to the highest standards of professionalism & ethics, it is very important that they have a pen that can match their commitment to quality. The limited edition of 999 ensures exclusivity and the opportunity to own a truly one-of-a-kind luxury pen. Whether used to sign important documents, write clinical prescriptions, take notes during rounds, or simply to write a personal message, the Doctor's Pen Classic by Onoto is the perfect writing companion for any physician or medical professional! 🙂
Why you should gift luxury pens?
There are several reasons why gifting a luxury pen can be a great choice:
A true symbol of appreciation: A luxury pen is a symbol of immense appreciation and can be given to show your gratitude and honor. It is a very thoughtful gift that demonstrates how much you value the person who is receiving it.
Marking a special occasion: Luxury pens can be given to mark special occasions such as graduations, birthdays, and work or career promotions. They are timeless gifts that can be cherished forever.
Sign of professionalism: A luxury pen can be given as a professional gift. It can be a great choice for family, and colleagues, as it demonstrates your appreciation for their professionalism and commitment.
Style and sophistication: Luxury pens are stylish and sophisticated which makes them a great gift for someone who appreciates high-quality pens. They are made of premium materials and are considered a statement of status and add elegance to work.
Functional gift: A luxury pen is not only a beautiful gift but also a functional one. It can be used to sign important documents, write letters, or take notes, making it a practical gift that can be used on a daily basis… and the person using it will always remember you! 🙂