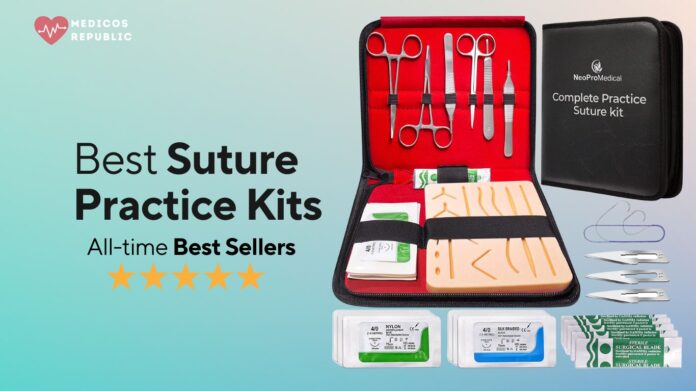 Are you a medical student looking forward to perfecting your suturing skills? Look no further! Suturing is a very important skill for medical professionals, and having the right tools to practice is crucial for being able to suture like a surgeon. With so many suture practice kits on the market, it can sometimes be overwhelming to choose the best one. Don't worry, we've got you covered! 🙂 In this blog post, we will share with you the best suture practice kits for medical students. From high-quality hospital-grade instruments to sterile packaging, we have thoroughly researched the market to find the most comprehensive and affordable kits to help you hone your suturing skills. So get ready to take your suturing skills to the next level and make a lasting impression on your colleagues and future patients!
Whether you're just starting out as a medical student or looking to refine your suturing skills, having the right kit is crucial. A decent suture practice kit should include medical-grade instruments, a variety of needle sizes and shapes, high-quality suture material, and sterile packaging to prevent infections. Additionally, some kits may also come with training materials (video lectures) or guides to help you learn proper suturing techniques.
When it comes to selecting the best suture practice kit, there are many key factors to consider. Firstly, the kit should be durable and long-lasting so that it can be used multiple times. The instruments inside the suture kit should be easy to clean and maintain to ensure their longevity. Additionally, the kit should be affordable, making it accessible to students on a budget.
With all these considerations in mind, we have carefully researched and selected only the best-selling suture practice kits for medical students. Our list includes kits with various features and price points, so you can find the one that fits your needs and budget perfectly.
In the following sections, we will review each suture practice kit in detail and highlight its key features. So, without further ado, let's dive into our top picks for the best suture practice kit for medical students. 🙂
We share products we consider valuable to our respectable audience. As a result, we may receive a commission on purchases made through affiliate links. Here's how it works.
How to Choose the Best Suture Practice Kit?
When choosing a suture practice kit, there are several key factors that you should keep in mind to ensure that you select the best kit for your learning needs. Here are some things to consider:
Quality & build of instruments: The instruments in the kit should be made of high-quality materials that are durable and easy to maintain.
Variety of needles: Choose a kit that includes a wide variety of needle sizes and shapes to practice different suturing techniques.
Suture material: The kit should include high-quality suture material (pad on which you will practice suturing) that is easy to work with and mimics the properties of human skin and tissues.
Sterility: The kit should be sterile to prevent any possible infections and cross-contamination during practice.
Storage: The kit should come with a durable storage bag/case that keeps the instruments and materials organized and well-protected.
Training materials: Some kits may include training materials or guides in the form of video lectures to help you master proper suturing techniques.
Price: Consider your budget when selecting a suture practice kit. These kits can vary greatly in terms of price, so choose one that fits within your budget.
Antibacterial properties: Some manufacturers design kits that offer antibacterial properties to prevent infections further.
Best Suture Practice Kits
We've thoroughly researched the top kits on the market to bring you our top picks, coupled with detailed reviews and buying advice. Whether you're a beginner or an experienced professional, our guide will help you find the perfect suture kit to improve your suturing skills and prepare you for your future career in surgery. 🙂
1. Medarchitect Suture Practice Kit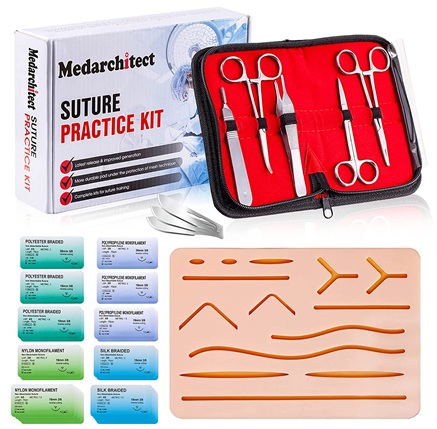 Medarchitect Suture Practice Kit offers everything you need to perfect your suturing techniques using an authentic human skin-like suture pad with 14 pre-cut wounds to the hospital-grade surgical training scissors, Adson forceps, Hegar needle holder, mosquito forceps, 3# scalpel handle, 10# blades, and 4 types of main non-absorbent sutures (needle & thread).
The suture pad is designed and developed by medical professionals and experimented on by medical students and surgical residents, so you can be sure it's the real deal. 🙂 This kit comes with 6 inches straight/curve laceration wounds, 3 inches avulsion wounds, and triangle puncture wounds, enabling you to practice a variety of suturing techniques. This suture pad is perfect for exam and study practice, teaching demonstration, and practice before starting your residency in surgery.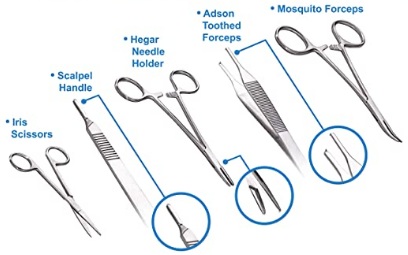 The 3 layers suture pad has been crafted using high-quality silicone that's not easy to rip, and it features a protective meshwork at the skin-like layer to prevent breaking. Moreover, say goodbye to the smelly banana and pork skin! (yuck) The new suture pad is made of food-grade silicone that does not produce any smell, is non-toxic, environmentally friendly, and is easy to use and transport. The suture pad texture is very much close to real human skin, so you'll get a realistic feel during practice.
Medarchitect offers a commitment to a 100% quality guarantee. If you're not satisfied after the purchase, you can simply contact their support for a refund or replacement.
ALSO CHECK OUT: Medarchitect Premium Suturing Skill Trainer (40 Pcs)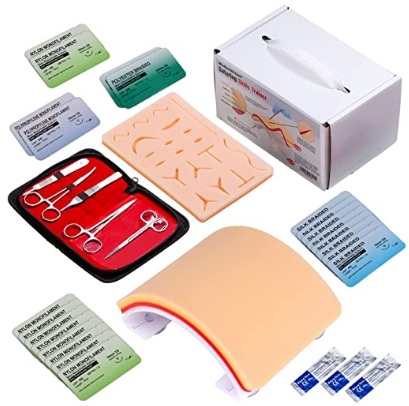 2. Alcedo Suture Practice Kit for Medical Students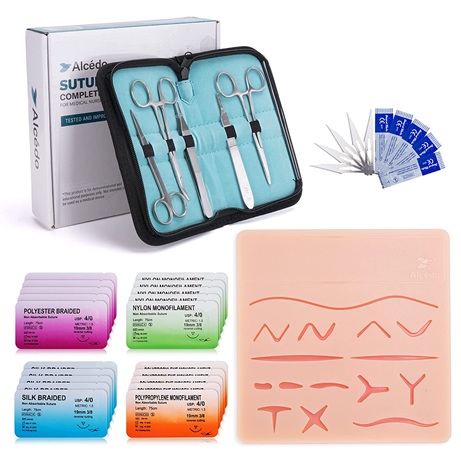 The Alcedo Suture Practice Kit for Medical Students is an all-in-one practice set designed to provide a complete suturing experience. It includes all the necessary tools, such as a Suture Pad, Hegar Needle Holders, Adson Forceps, Suture Scissors, Scalpel Blade Handle, Scalpel Blades (5-pack), Suture Thread (20-pack), and a Convenient Carry Bag. This is a complete package tailored for the needs of medical students, and surgical residents as well as veterinary students, nurse practitioners, and physician assistants in training, and is crafted to improve their suturing skills.
The Suture Pad included in the kit is designed using high-quality silicone and provides the most realistic human tissue simulation possible. The pad offers three layers, namely Skin, Fat, and Muscle, and an upgraded "Vertical and Horizontal Mesh Layer" that improves the pad's durability and prevents wear and tear. With its life-like tissue textures, the pad presents a variety of wounds to help medical students learn the proper process for suturing wounds proficiently. The large (6.9 inch x 6.9 inches) suture pad comes with 15 wounds of different shapes and sizes and has extra space for additional customized cuts.
This suture kit comes with a sturdy and lightweight compact carrying bag that can hold all the suture instruments in the set. The bag allows for convenient transportation of the components in one secure carrier, ensuring optimum organization in the hectic life of medical exams, studies, and teaching.
The Alcedo Suture Practice Kit has undergone extensive testing by residents and medical students which continually improves in the development of this perfect product. This suture kit is intended for medical demonstrational and educational purposes only and is an excellent learning resource for medical students looking to improve their suturing skills.
3. Complete Sterile Suture Practice Kit by NeoProMedical Store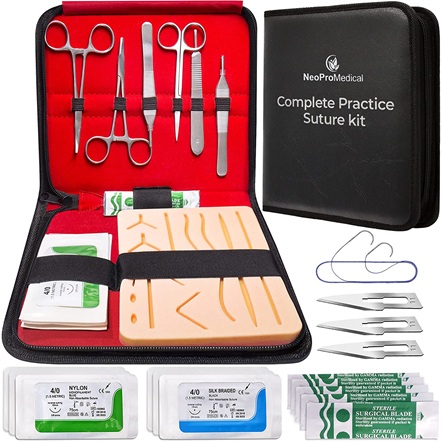 The Complete Sterile Suture Practice Kit by NeoProMedical Store is a comprehensive suture practice set that includes all the essential tools necessary to acquire and refine the skills required for suturing like a pro. The set offers the most popular surgical instruments used by medical professionals and is manufactured by NeoProMedical, a reputable organization that has been providing quality tools and supplies for medical students for over five years. The Suture Kit has played an instrumental role in helping thousands of students become professional doctors by providing them with the right tools for practice purposes.
The simulation capabilities of the Suture Kit are unmatched, and students can expect to get as close to real-life scenarios as possible. The silicon pad that comes with the Suture Kit Set is incredibly lifelike and feels like real human skin. The pad represents three different layers of the skin, namely hypodermis, dermis, and epidermis, or in simpler terms, skin, fat, and muscles.
With the Suture Kit, learners can quickly acquire the required skills and earn high scores on their practical exams. The set is perfect for practicing emergency suturing techniques and addressing various wound types. The Suture Kit by NeoProMedical is specifically crafted to help medical students become top performers in their field. The kit offers a precut quality skin simulation silicone model with 14 different wound shapes and sizes, reusable suture threads of two types, and six needles.
The Suture Kit is a meticulously organized and portable solution for healthcare professionals, and it provides optimal opportunities for suture practice. This suture practice kit is perfect for exam and study suturing, practical demonstrations, and practice in emergency settings.
NeoProMedical's Complete Sterile Suture Practice Kit is considered the best value for your money in the market. The company is committed to providing high-end medical products at the lowest possible cost to users.
4. Complete Suture Practice Kit for Medical Students by A PLUS MEDICS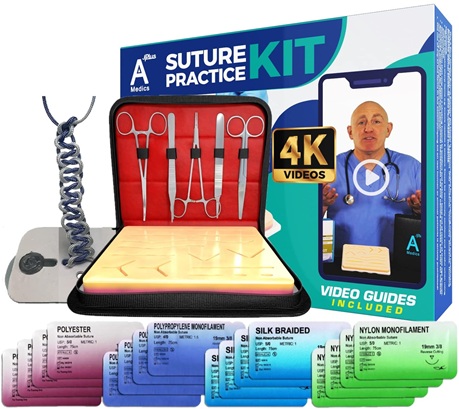 The Complete Suture Practice Kit for Medical Students offered by A PLUS MEDICS is designed to provide an unparalleled suturing experience for aspiring surgeons of the future. This comprehensive kit features a full set of necessary tools and a carryall shiny case that securely stores all instruments, including the suture board, which sets it apart from cheaper alternatives in the market
The kit also offers a series of close-up, high-definition (4K) video lectures produced by A Plus Medics' team of highly experienced medical professionals. These video tutorials guide medical students step-by-step through the suturing process, helping them to develop proficient technique and precision.
The suture board in the kit is uniquely crafted with a skid-stop feature to prevent slipping and sliding, while the 3-layer mesh-reinforced suture practice pad provides realistic muscle, fat, and lacerated skin layers for the best outcomes in learning. The board texture easily withstands up to multiple uses, ensuring longevity without compromising the learning experience.
With 16 packs of high-quality nylon, polypropylene, silk, and polyester sutures, medical students can practice every day to develop a steady hand and gain confidence more quickly.
The kit also offers five easy-to-use, durable suture equipments that provide a realistic training experience. The A Plus Medics Suture Practice Kit is a valuable investment and potential gift for medical students who want to gain real-world confidence in suturing techniques.
Fingers crossed that this guide comes in handy when you're on the hunt for your very own suture practice kit! Happy shopping!