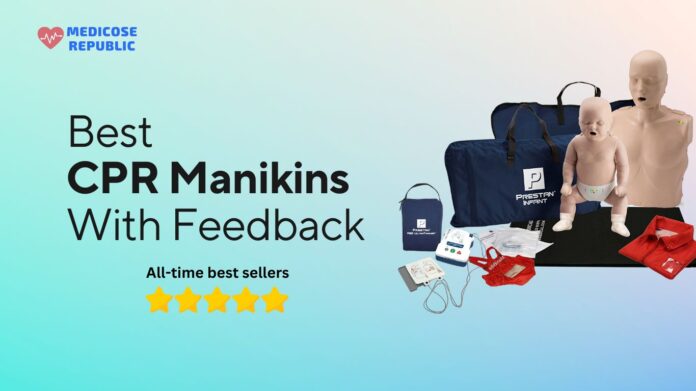 As a medical doctor, I myself have witnessed firsthand the impeccable importance of prompt and high-quality CPR in saving lives during medical emergencies. CPR training plays a crucial role in equipping healthcare professionals, emergency responders, and bystanders with the necessary skills needed to respond effectively in circumstances when every second counts. In an evolving world of CPR training, advancements in technology have revolutionized the learning experience, and one of the most significant innovations is the integration of feedback devices into CPR manikins.
In this blog post, we delve into the world of CPR manikins with feedback devices, exploring the top choices available in today's market. These CPR manikins have been meticulously engineered to provide invaluable real-time guidance to the trainers, making sure that every compression and ventilation is performed accurately and effectively so that the first-hand responders experience the best possible outcomes in real-life emergency situations. Whether you're an instructor looking to enhance your training sessions or a medic looking forward to mastering life-saving skills, these CPR manikins with feedback devices will undoubtedly elevate your overall learning experience to new heights of excellence.
For those individuals looking for infant CPR training, we will also explore the best infant CPR manikins with feedback. Infant CPR is different from adult CPR, hence, requires unique techniques and careful attention to detail, and these manikins are crafted to simulate the actual anatomy and responsiveness of infants accurately. With the added benefit of cutting-edge feedback devices, learners can gain unbeatable confidence in their abilities to respond to infant emergencies with immense precision and skill.
Rest assured, all the CPR manikins with feedback devices featured in this blog post are not only technologically advanced but also meet the rigorous standards set by the American Heart Association (AHA). These AHA-approved CPR manikins with feedback devices have undergone careful testing to ensure their reliability, making them ideal choices for healthcare professionals and individuals seeking the highest quality CPR training experience.
Join us on this enlightening journey as we walk you through the best CPR manikins with feedback that will help equip you with the knowledge needed to make a better decision. Discover the advancements in CPR training and unlock your true potential to save lives with confidence. Together, let's embrace these innovative technologies and empower ourselves to be the best emergency responders during critical situations.
Also check: Best iPads for Medical Students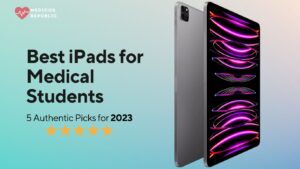 Criteria for Selecting CPR Manikins With Feedback
Here's our technical criterion for the selection of CPR manikins with feedback devices so that individuals and organizations (professional trainers) can make informed decisions when selecting the most suitable manikin for their CPR training needs.
A. Compliance with American Heart Association: It is imperative to ensure that the CPR manikins chosen adhere to the latest guidelines set by authoritative medical bodies such as the American Heart Association (AHA). Therefore, in our selection process, we have specifically chosen CPR manikins that are 100% compliant with the AHA Guidelines. This ensures that the chosen manikins are compliant with the most up-to-date standards and recommendations for CPR training. By prioritizing compliance with AHA guidelines, we ensure that the CPR training conducted using these manikins is in line with the best medical practices.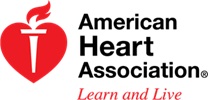 B. Realism and Anatomical Accuracy: When selecting a CPR manikin with feedback, the level of realism and anatomical accuracy is very important. An ideal CPR manikin should closely resemble the feeling of a human body, allowing learners to practice CPR techniques in a realistic simulation. By anatomical accuracy, we mean features such as accurate chest landmarks, realistic chest movements during ventilation, and proper anatomical proportions. The CPR Manikins that offer a high degree of realism help simulate a more immersive and effective learning experience.
C. Feedback Mechanisms: The feedback devices incorporated into a CPR manikin are crucial for providing trainees with real-time guidance and evaluation of their CPR techniques. These feedback mechanisms include visual indicators, such as digital displays or LED lights, that highlight proper compression rate and depth, ventilation volumes, and chest recoil. Audible cues, such as metronome-like sounds, assist in maintaining the correct cardiopulmonary compression rhythms. Feedback mechanisms that are clear and easy-to-understand, provide comprehensive information that contributes to the overall effectiveness of the training.
D. Durability and Quality: Needless to say that the CPR manikins are subjected to rigorous use during training sessions making them prone to wear and tear. Therefore, durability and quality are very important considerations when choosing a manikin. High-quality materials, robust engineering, and reliable craftsmanship contribute immensely to the longevity of the manikin. Manikins designed for durability can withstand strong compressions, ventilations, and other physical manipulations without significant damage, ensuring a longer lifespan and uninterrupted functionality.
E. User-Friendly Features: A user-friendly CPR manikin greatly enhances the training experience by making it intuitive and convenient for both learners and instructors. Features such as adjustable compression depths and ventilation settings, easy assembly and disassembly of body parts & types of equipment, and intuitive control panels contribute to a training process with better outcomes for trainees. In addition, manikins that offer quick setup, easy cleaning, and hassle-free maintenance help save time for instructors and trainees, leading to more efficient training sessions.
E. Price Range: Lastly, the price of CPR manikins with feedback devices can vary significantly based on the features, realism of anatomy, and overall build quality. It is important to consider budget constraints while also balancing the desired features depending on individual needs. While advanced manikins with extensive feedback mechanisms may be expensive, it is crucial to prioritize value for money rather than focusing only on the cost.
We suggest that you carefully consider the overall quality, durability, and effectiveness of the CPR manikins with real-time feedback in relation to their price.




Best CPR Manikins With Feedback
Get ready to discover the top CPR manikins with feedback devices that will take your learning/training experience to the next level! Whether you're a professional instructor or a student seeking to master life-saving skills, these AHA-approved CPR manikins with feedback are here to empower you, boost your confidence, and make your training sessions exciting and impactful.
Get ready to embark on a journey of excellence in CPR training! 🙂
1. Prestan Adult and Infant CPR Manikin Kit with Feedback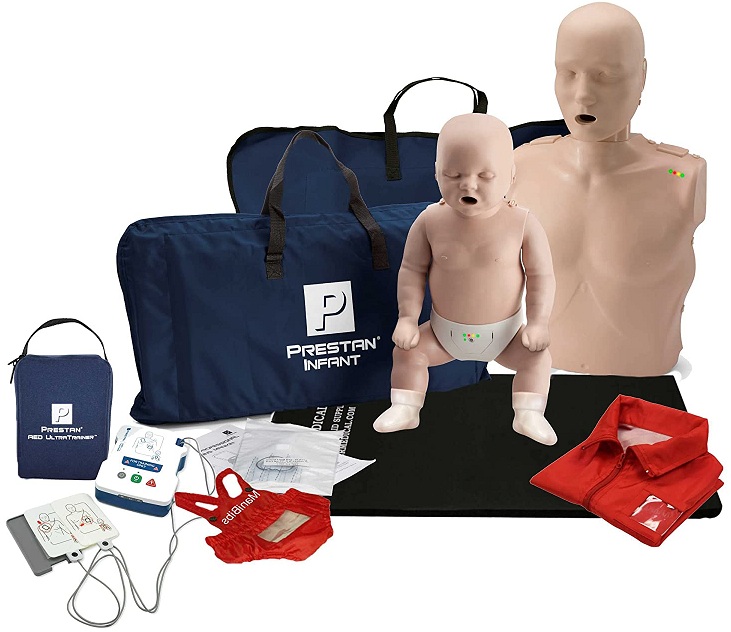 Introducing the PRESTAN Adult and Infant CPR Manikin Kit with Feedback, the ultimate solution for comprehensive adult and infant CPR training that meets the highest medical standards. It has been engineered to be fully compliant with the American Heart Association Guidelines, it ensures that trainees receive accurate and up-to-date instructions, enabling them to confidently respond in real-life emergency situations. As professional trainers, you can immerse your trainees in lifelike simulations with these realistic-looking manikins. Featuring a pinch-able nose (that mimics the feeling of human skin) and a fully formed neck portion, these manikins closely resemble actual individuals, providing trainees with a lifelike training environment. By practicing CPR techniques on these manikins, students develop muscle memory and acquire the necessary skills to perform high-quality CPR that really saves lives.
Simplify your CPR training setup with the easy-to-insert lung bags included in this kit. Setting up the manikins for training sessions is super easy, ensuring that instructors can make the most of their valuable training time. With this convenient feature, users can quickly prepare the manikins, allowing for fruitful and efficient training sessions. The PRESTAN CPR Manikin Kit also boasts realistic skin that is specifically engineered to resist dirt, grime, and grease. The durable and elastic skin makes sure that the manikins maintain their lifelike appearance even after rigorous repeated use, promoting a hygienic and professional training environment for learners.
With the clicker mechanism integrated into these manikins, students can greatly boost their confidence and enhance their compression technique. With each chest compression, an audible click provides learners with immediate feedback, reinforcing the correct compression depth and rate. This extremely useful feature instills confidence in trainees and allows them to administer adequate compressions with precision.
Choose the PRESTAN Adult and Infant CPR Manikin Kit with Feedback to take your CPR training program another step towards excellence in medical care. With its full compliance with American Heart Association Guidelines, lifelike features, easy setup, durable skin, clicker mechanism, and attention to detail, this kit offers unparalleled value for your investment. With this kit in your hands, you can equip your trainees with the knowledge, skills, and confidence they need to deal with emergency situations effectively. Invest in the PRESTAN adult & infant CPR manikin kit and make a significant impact on lifesaving training!
Product Specifications
| | |
| --- | --- |
| Specification | Details |
| Size | Adult & Infant |
| Weight | 19 pounds |
| Color | Medium Tone |
| Battery Size | AA (Qty=4), C (Qty=3) |
| Batteries Included | No |
| Brand | MCR Medical |
What's included in the package?
| | |
| --- | --- |
| 1. Adult CPR Manikin with Feedback & rate monitor feature | |
| 2. Infant CPR Manikin with Feedback & rate monitor feature | |
| 3. Manivest and ManiBibs | |
| 4. AED Ultratrainer | |
| 5. Kneeling Mat for CPR training | |
2. Best Adult CPR Manikin with Feedback: Prestan Adult CPR Training Kit with Ultralite Manikin, UltraTrainer, and MCR Accessories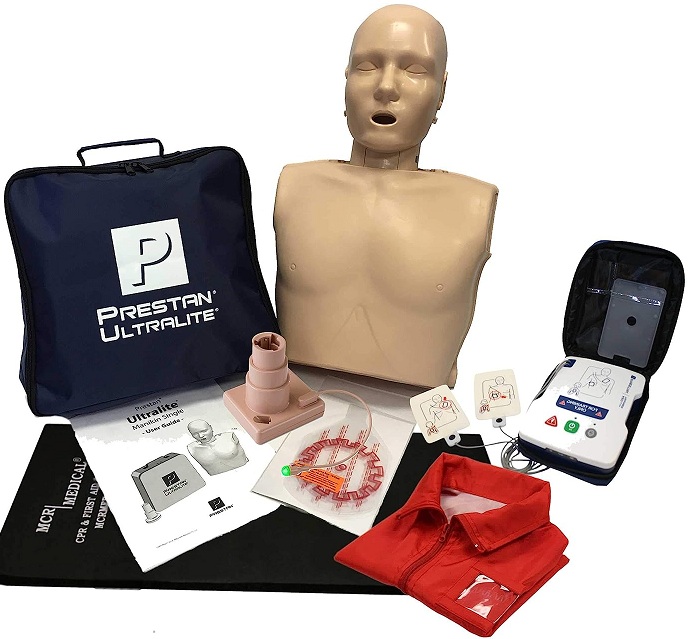 Introducing the Prestan Adult CPR Training Kit with Ultralite Manikin, UltraTrainer, and MCR Accessories – a comprehensive solution designed to revolutionize adult CPR training for all healthcare professionals. This innovative product offers a wide range of features that significantly enhance the training experience of students, ensuring effective and realistic skill development. Setting up this adult CPR Training manikin is very simple and straightforward. The stackable torso and head design allow for a compact and sturdy package, making it effortless and safe to transport and store. This convenience ensures that trainers can swiftly prepare for repeated training sessions, maximizing learning outcomes. The clamshell torso opening in this manikin is another standout feature, providing fast access for the easy-to-insert lung bag.
The Prestan Adult CPR Training Kit incorporates realistic skin that is specially engineered to aid lifelike simulations and also resist any kind of gross contamination (this synthetic material is resistant to dust and sunlight). This durability feature ensures that the manikin maintains its lifelike appearance even after repeated usage for training purposes.
With adequate upper chest sizing as per realistic anatomical considerations, this kit facilitates Automated external defibrillator pad placement and training. Trainees can easily practice proper hand placement for chest compressions, guided by visual anatomy landmarks that reinforce high-quality CPR technique. Moreover, the head-tilt feature demonstrates how to open the airway, allowing trainees to observe a true chest rise while performing ventilation.
Components of the CPR Manikin Set:
1 Manikin Torso
1 Manikin Head
1 Feedback Compression Piston
10-pack of Lung Bags
Nylon Carrying Case
Instruction Sheet
2 AA Alkaline Batteries (not included)
1 complete durable unit with 5 English and Spanish pre-programmed scenarios
1 set of adult/child pads and connector
1 manual
Zippered, heavy-gauge fabric carrying case with handle
3. Best Infant CPR Manikin with Feedback: Prestan Infant CPR Training Manikin with Rate Monitor, Medium Skin, MCR Medical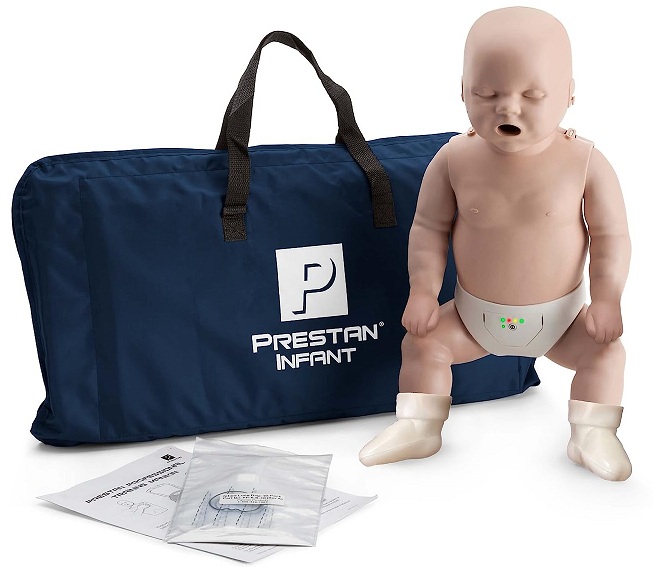 Looking for the best infant CPR manikins with feedback? Look no further than this AHA-compliant single Prestan Infant Manikin with Compression Depth Clicker Feedback Device and Compression Rate Monitor Feedback Device by MCR Medical, a well-reputed manufacturer.
This innovative infant CPR manikin is designed to optimize your learning experience by providing precise feedback on compression depth and rate. With its audible 'clicking' sounds and LED light indicators from separate feedback devices, trainees can ensure they are reaching the correct compression depth and rate, as recommended by the American Heart Association (AHA). The goal of this product is to equip participants with the confidence and skills to effectively respond to respiratory or cardiac emergencies.
The Prestan Professional Infant CPR manikin with Rate Monitor is a game-changer in the world of cardiopulmonary training. The innovative LED indicators located in the lower abdomen offer instant feedback to both instructors and students, allowing for real-time monitoring of compression rate. Instructors can easily track multiple students during each practice session, while students can visually assess their own compression rate, reinforcing proper CPR technique so that they can save lives in the future.
The package includes 10 Infant Lung Bags, an Instruction Sheet, and a durable MCR-branded nylon carrying case for convenient storage and transportation.
When it comes to infant CPR training, the AHA Compliant Prestan Infant CPR Manikin stands out as the best choice in the pediatric category.
A quick overview of the important features: 
LED indicators on the infant's diaper provide instant feedback on chest compression accuracy.
Realistic infant size with a pinch-able nose, movable arms, and fully formed legs with feet for comprehensive training.
Practice conscious choking back blows on the padded upper back portion.
Easy insertion of lung bag for quick manikin setup.
A secure face shield eliminates slipping without the need for adhesives.
Realistic skin resists dirt, grime, grease, and adhesive build-up.
Visual anatomy landmarks aid in choking skills and proper finger placement for compressions.
Tiltable head demonstrates airway opening and chest rise with the correct head-tilt chin-lift technique.
The infant's head structure allows for jaw-thrust maneuver demonstration.
The audible clicker mechanism boosts confidence in achieving adequate compression depth.
Manikins can be cleaned and decontaminated following CDC guidelines.
4. Best Adult + Infant CPR Kit for Trainers:  Prestan Adult and Infant CPR Manikin Kit for Trainers with Feedback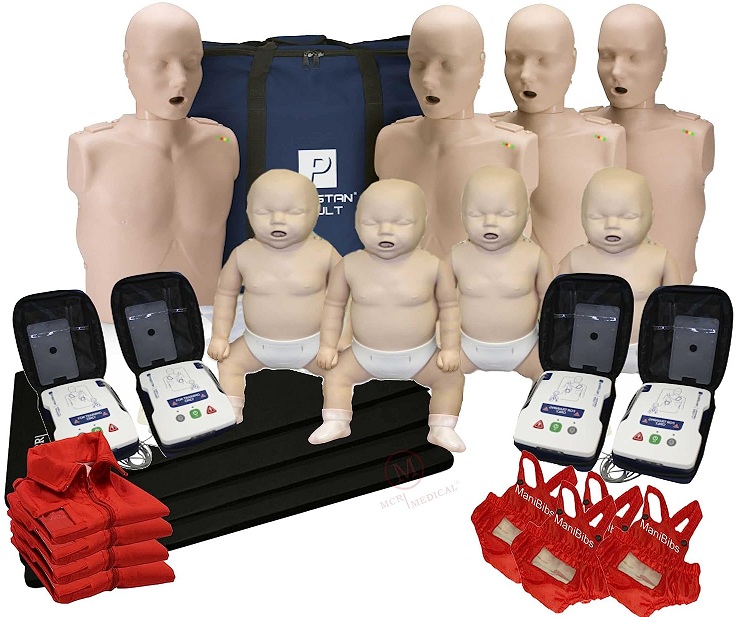 Introducing the ultimate CPR training package for instructors: the PRESTAN CPR Adult Manikin 4-Pack with Feedback, Infant Manikin 4-Pack with Feedback, UltraTrainers, and MCR Accessories. Prepare to revolutionize your CPR training sessions and empower your students with the skills they need to save lives.
With the PRESTAN CPR Adult Manikin 4-Pack, you'll receive not just one, but four high-quality adult manikins that provide realistic training experiences. Equipped with cutting-edge feedback technology, these CPR manikins offer instant guidance and assessment on compression depth and rate, ensuring your students learn and perfect their techniques with great precision.
But that's not all – the manufacturer has also included the Infant Manikin 4-Pack with Feedback mechanism. These lifelike infant manikins, engineered with great attention to detail, offer a hands-on experience for those practicing infant CPR. With the built-in feedback feature, students receive immediate insights on their compression depth and rate, fostering proper technique, confidence, and competence.
To take your training to the next level, the manufacturers of this product have included UltraTrainers, a valuable addition to this comprehensive package. These innovative devices all users to access real-time feedback on hand positioning, compression technique, and chest recoil, allowing students to fine-tune their skills and achieve optimal results.
Don't miss out on this extraordinary CPR training package. Invest in the Prestan CPR Adult Manikin 4-Pack with Feedback, Infant Manikin 4-Pack with Feedback, UltraTrainers, and MCR Accessories today, and unlock a world of life-saving training possibilities.
What's included in this training kit?
Adult Manikin 4-Pack

Infant Manikin 4-Pack

Includes feedback monitors

Includes 4 AED trainers

Accessories
Conclusion
We have reached the end of our blog post, presenting you with a comprehensive list of the best CPR manikins with feedback devices. Our team conducted extensive market research to bring you this valuable resource. We sincerely hope that this post assists you in making informed decisions. 🙂
Together, let's foster a generation of CPR heroes, empowering them with the necessary skills and unwavering confidence to save lives when it truly matters.
Happy learning, everyone!

We share products we consider valuable to our respectable audience. As a result, we may receive a commission on purchases made through affiliate links at no extra cost to you. Here's how it works.