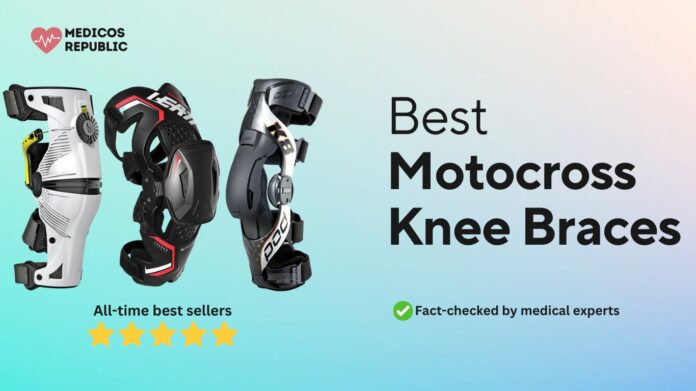 Motocross is a thrilling sport that combines speed, skill, and tough terrain, which poses tremendous challenges to adrenaline junkies and their physical well-being. As a medical doctor with a thorough understanding of sports medicine, I have witnessed firsthand the crucial role that knee braces play in the world of motocross. In this blog post, we will explore the importance of knee braces in motocross sports and delve into how high-quality braces provide protection against two of the most common and debilitating knee injuries: anterior cruciate ligament (ACL) tears and meniscal tears (a crescent-shaped fibrocartilaginous structure which divides the knee joint cavity).
Motocross, as we all understand, places immense stress on the knee joints of the riders. In this sport, knees act as the primary shock absorbers, enduring the abrupt forces generated whenever the biker makes contact with the ground. Without proper protection, the knee joint and its associated soft anatomical structures are vulnerable to a range of injuries, some of which can have long-lasting debilitating consequences for motocross riders. This is where knee braces step in as crucial protective gear.
The importance of knee braces in motocross cannot be emphasized much. These braces provide crucial support and stability to the knee joints, significantly reducing the risk of possible injuries and enabling riders to deliver their peak performance. One of the most important mechanisms through which braces provide impeccable protection to the knee joint is through the effective limitation of excessive movements, thus augmenting the natural stability of the knee and reducing the overall strain incurred on ligaments and other structures.




Most Common Knee Injuries in Motocross
One of the most significant injuries that motocross knee braces help protect against is the anterior cruciate ligament (ACL) tear/rupture. ACL tears are common in motocross sports due to the sudden deceleration, sudden change in direction, and impact (gravitational) forces involved. A torn ACL is recognized by two of its important clinical features: i) swollen and painful knee joint and, ii) feeling as if your knee joint is going out. This type of injury can be devastating, often requiring surgical interventions followed by prolonged recovery periods. This is where high-quality knee braces come into play as they offer impeccable protective measures against ACL tears by limiting excessive movements and providing joint stabilization. These braces distribute violent forces more evenly across the knee joint, thereby reducing the risk of injuries.
The next most common knee injury sustained by motocross riders is meniscal tears. The menisci, which act as shock absorbers between the thigh bone and shin bone, are susceptible to tearing due to the twisting motions and rotational forces experienced by bikers during the sport. Good quality motocross knee braces incorporate innovative protective features such as adjustable hinges, sturdy frames, and compression technology. These features immensely enhance knee joint stability, thereby protecting the menisci from tears caused by excessive torsional stress.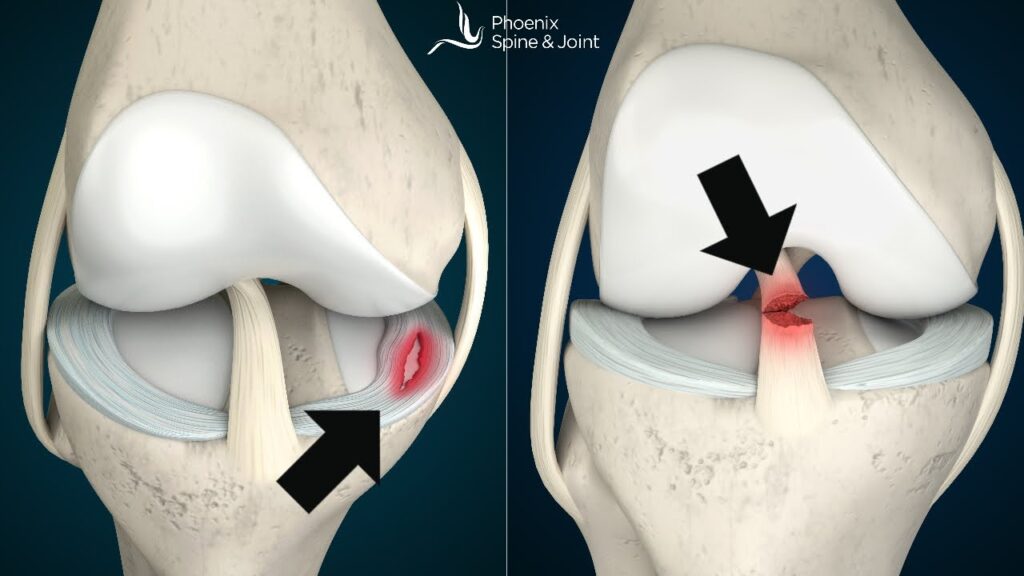 How to select the best motocross knee braces?
This guide aims to offer a thorough overview of the essential aspects to keep in mind when choosing motocross knee braces. Below are some critical factors worth considering:
1. Knee Brace Design
When evaluating knee braces, it's crucial to make an assessment of the design features that offer effective knee joint protection and support. Look for the following:
a. Frame Construction: Choose knee braces with lightweight, durable frames designed using materials that provide excellent strength-to-weight ratios like carbon fiber or aluminum alloy as they can withstand the rigors of motocross sports.
b. Hinge Mechanism: Consider motocross knee braces with high-quality hinges that allow riders to have natural knee movement while providing efficient joint stability. Hinges with adjustable flexion and extension settings are more desirable as they enable customization based on an individual's riding preferences.
c. Padding and Straps: You must thoroughly check the padding and straps used in the knee braces that you want to buy. Make sure the padding material is designed using high-quality material and is comfortable, moisture-wicking, and easy to remove for better cleaning. Adjustable straps should securely hold the knee braces in place without causing pressure symptoms or compromising blood circulation.
2. Sizing and Fit
It goes without saying that adequate sizing and a proper fit are critical for maximizing knee brace performance. Follow these steps to ensure an accurate fit:
a. Measure Leg Circumference: Use a measuring tape (preferably, a flexible one) to determine the circumference of your leg at different points, such as above, at, and below the knee joint.
b. Check Sizing Charts: Always consult the manufacturer's sizing charts available on their website or user manual to ensure that you choose the one with the proper brace size. Remember that the sizing of the knee braces may differ among brands, so it's important to refer to their specific guidelines.
c. Trial and Adjustment: Once you receive your braces, put them on for a trial, and ensure a proper fitting without excessive compression as it may impair your mobility. Walk around and flex your knees briskly to test the range of motion.
3. Level of Protection
A good quality motocross knee brace should provide maximum protection against high-velocity impacts, hyperextension, and violent tortuous lateral or rotational forces. Consider the following aspects of protection:
a. Impact Absorption: Select knee braces that utilize shock-absorbing materials or specialized padding to dissipate energy from impacts.
b. Hyperextension Prevention: Look for braces that offer adjustable extension stops or hyperextension-resistant hinges. These critical features prevent the knee joint from overextending, reducing the risk of debilitating ligament rupture.
c. Lateral and Rotational Stability: Consider motocross knee braces that come up with sturdy frames and hinges that provide reliable lateral and rotational stability, thereby reducing the overall risk of injury during aggressive maneuvers or falls.
4. Brand Reputation and Reviews
This is an absolute imperative that you should never compromise on! Buy knee braces only from well-known brands with a proven track record in the motocross industry. Take time to research customer reviews online and ratings from websites to gain valuable insights into the experiences of other riders so that you can make an informed decision. Look for positive feedback regarding protection, durability, comfort, and overall performance.
5 Best Motocross Knee Braces
So, strap in, gear up, and get ready to explore the top five motocross knee braces that will elevate your riding experience to new heights. From cutting-edge technology to ergonomic designs, here are the top five contenders that are making waves in the industry:
This list has been approved and fact-checked by medical experts.
1. Leatt X-Frame Knee Braces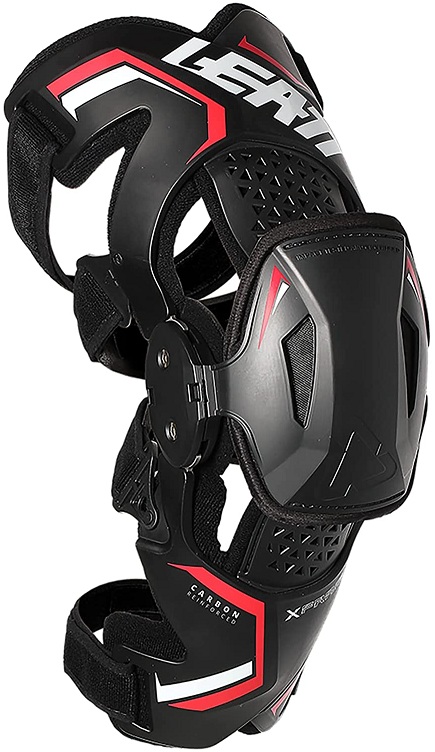 The Leatt X-Frame Knee Brace is a highly advanced protective gear engineered to ensure maximum knee safety for motocross enthusiasts. It is engineered using an ultra-lightweight yet sturdy injected carbon composite material (imported), providing strength without compromising on comfort. The brace is crafted to reduce injurious forces exerted on the knee, efficiently minimizing the risk of grievous knee injuries. It holds the prestigious distinction of being certified by authoritative bodies as both a medical device (EU CA014741, USA FDA 10048761) and impact protection (Knee EN1621-1) by CE.
The X-Frame Knee Brace features innovative asymmetrical hinges that help riders to improve contact with the bike. This remarkable design enhances overall stability and maneuverability during adrenaline-filled motocross rides. The outer hinges are equipped with sturdy and robust metal gears, ensuring that the users experience smooth and precise movement while offering a remarkable ability to withstand mechanical stress. This feature allows riders to maintain greater flexibility and control while safeguarding their knees.
Comfort is one of the top priorities in the design of the Leatt X-Frame Knee Brace. It comes with an easy-to-use strapping system that allows a secure and customized fit. The brace also includes interchangeable hinge padding sizes, allowing riders to enjoy a more personalized experience based on their individual needs. Moreover, the inconspicuous shin bone pad fits seamlessly inside the majority of motocross boots, further adding to comfort and protection.
By combining lightweight engineering, cutting-edge craftsmanship, and a focus on reducing excessive forces, the Leatt X-Frame Knee Brace provides unbeatable knee protection for motocross enthusiasts. With its incredible features and industry-grade certifications, this brace offers motocross riders peace of mind and allows them to focus their energies entirely on their performance while minimizing the risk of knee injuries.
Pros
1-year manufacturer's warranty
Dual-axis guard featuring dual hinges
Replacement part for a specific component
Rigorously tested and approved by medical experts
Cons
Subtle pressure exerted by the knee cup during flexion
Moderate level of ease in donning and removing
Marginally higher price point
Product Specifications
| Specification | Details |
| --- | --- |
| Material | Injected Carbon Composite (Polyurethane) |
| Hinge Type | Asymmetrical |
| Inner Hinge | Slim Profile |
| Outer Hinge | Metal Geared |
| Certification | CE Certified as Medical Device, Impact Protection |
| Medical Device Certification Codes | EU CA014741, USA FDA 10048761 |
| Impact Protection Certification | Knee EN1621-1 |
| Hyper Extension Limitations | 5º, 10º, 15º, and 20º |
| Hyper Flexion Stoppers | Fixed |
| Shin Bone Pad | Low-Profile |
| Boot Compatibility | Fits inside most MX boots |
| Strapping System | Comfortable and Easy-Fitting |
| Customization | Interchangeable Hinge Padding Sizes |
2. POD K8 V2 Pair Offroad Motocross Knee Braces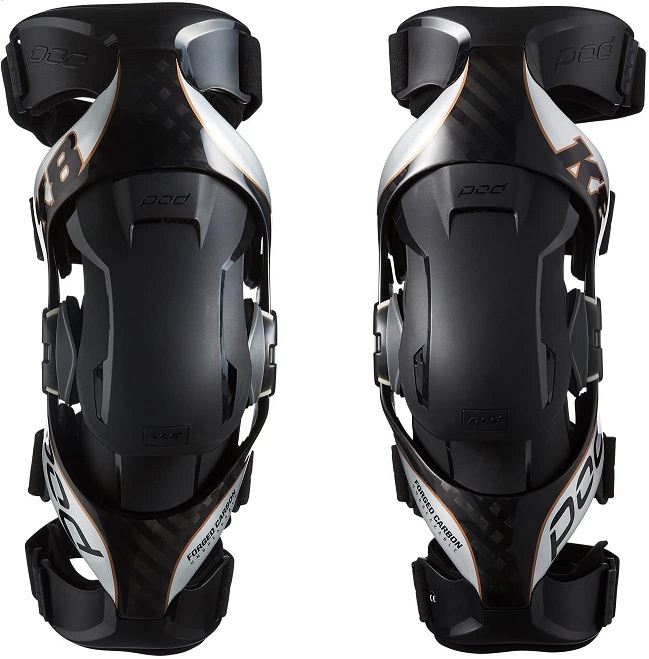 The POD K8 V2 Pair Offroad Motocross Knee Braces is a state-of-the-art knee brace technology that has set new standards of innovation in knee protection. With its incredible features, it provides impeccable safeguarding for the knee joint. The brace incorporates the all-new Impact Guard feature, providing better protection to the knee joint against any possible injuries. It utilizes a slimmer Hinge Housing with enhanced Ligaments, ensuring improved functionality and support. Moreover, the brace features new Dampening Inserts and Knee Grippers, elevating comfort and stability.
One of the highlight features of the POD K8 Motocross Knee Brace is the QuickLoc Clip System, which revolutionizes the anchoring of the knee brace to the leg. This new system allows for a quick and easy attachment, allowing riders to secure the brace like a charm. The Adaptive Cuffs of the brace are engineered to adapt to various leg shapes, thus accommodating every muscle movement. The sturdiness and longevity of the brace are mainly attributed to its groundbreaking Forged Carbon Frame. This meticulous engineering ensures the brace absorbs all types of impacts and handlebar strikes efficiently.
One of the distinguishing features of the POD K8 V2 Motocross Knee Brace is its patented Human Motion Hinge. This exclusive synthetic ligament design allows riders to enjoy natural movement that feels nearly invisible. With 20° – 5° extension control, the hinge provides greater flexibility while maintaining the stability of the knee joint during motocross sports. Additionally, the brace is equipped with quick-release clips and low-profile interior straps thus ensuring a secure fit. All these features work in synchronization to help anchor the braces to the leg, preventing slippage from the joint and ensuring continuous support.
Furthermore, the POD K8 Knee Brace boasts luxury interiors crafted to enhance comfort and also reduce odor so that riders can enjoy a comfortable and pleasant experience even after spending long hours on the dirt tracks.
In summary, the Pod K8 knee brace excels in providing unparalleled knee joint protection through its cutting-edge design engineering and advanced features. From its adaptive cuffs and forged carbon frame to impact protection and human motion hinge, every feature is crafted to provide reliable support, flexibility, and comfort.
Pros
Superior protection provides greater stability to the knee joint
Advanced technology, comes with a patented technology called "Human Motion Hinge"
Adjustable fit
Lightweight design
Durability
Cons
Higher cost
Slightly bulky appearance
Product Specifications
| Specification | Details |
| --- | --- |
| Manufacturer | Pod |
| Brand | Pod |
| Model | Pod 664-0488M |
| Item Weight | 4.5 pounds |
| Product Dimensions | 15.35 x 11.02 x 4.92 inches |
| Country of Origin | USA |
| Item model number | 664-0488M |
| Is Discontinued By Manufacturer | No |
| Exterior | Painted |
| Manufacturer Part Number | 664-0488M |
3. Mobius X8 Knee Braces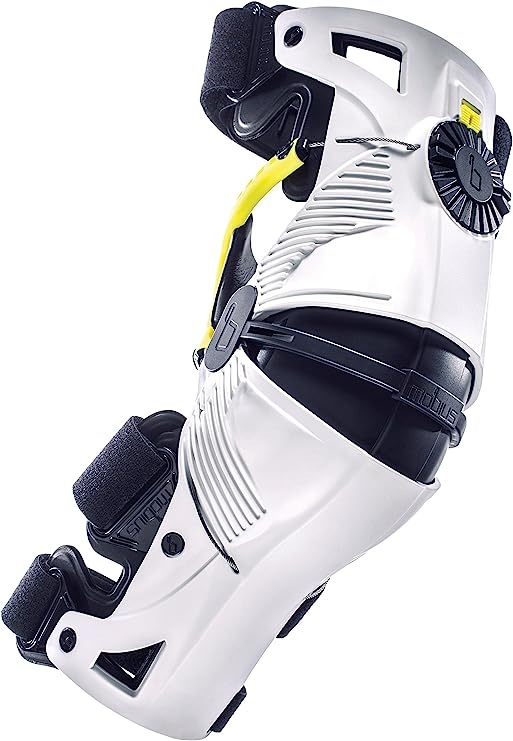 The Mobius X8 Knee Brace has set the standards as one of the most technologically advanced and protective motocross knee brace currently available in the market. Its groundbreaking craftmanship incorporates an innovative patent-pending technology, called the Continuous Cable Routing System (CCRS), which establishes an unparalleled system of support and protection for the knee joint. The CCRS feature provides optimal stability and improves the overall structural integrity of the brace.
One of the notable features of the Mobi X8 Knee Brace is the forged CNC machined dial, which allows riders for effortless fit adjustments even while wearing routine clothing. This convenient feature enables users to adjust the fit according to their personalized needs without the hassle of removing or readjusting their knee braces. To prioritize comfort, the manufacturers have lined X8 Knee Brace with plush EVA foam. This soft cushion creates an impact-absorbing barrier that redistributes violent forces equally in all directions and also forms a comfortable surrounding for the knee. Hence, minimizing discomfort during thrilling motocross activities.
In conclusion, the Mobius X8 Knee Brace stands out from its competitors as a pinnacle of innovation, offering unmatched support, stability, and protection for motocross sports enthusiasts. With its advanced CCRS technology, forged CNC machined dial, plush EVA foam lining, and customized fitting options, it delivers great performance and comfort.
Pros
Provides a comfortable fit for an enhanced motocross biking experience
Slim design optimized for bike performance without compromising comfort
Multiple sizes available to customize and fine-tune the fit to individual preferences and body types
Cons
Offers a competitive price point, though it may be slightly higher than some other motocross braces on the market.
Occasionally users may experience slipping or movement when not used with knee brace socks or due to inadequate strapping.
Product Specifications
| Specification | Details |
| --- | --- |
| Manufacturer | Mobius |
| Brand | Mobius Products |
| Item Weight | 4.1 pounds |
| Product Dimensions | 18 x 12 x 12 inches |
| Item model number | X8 |
| Is Discontinued By Manufacturer | No |
| Manufacturer Part Number | 1010103 |
4. Pod K4 2.0 Knee Braces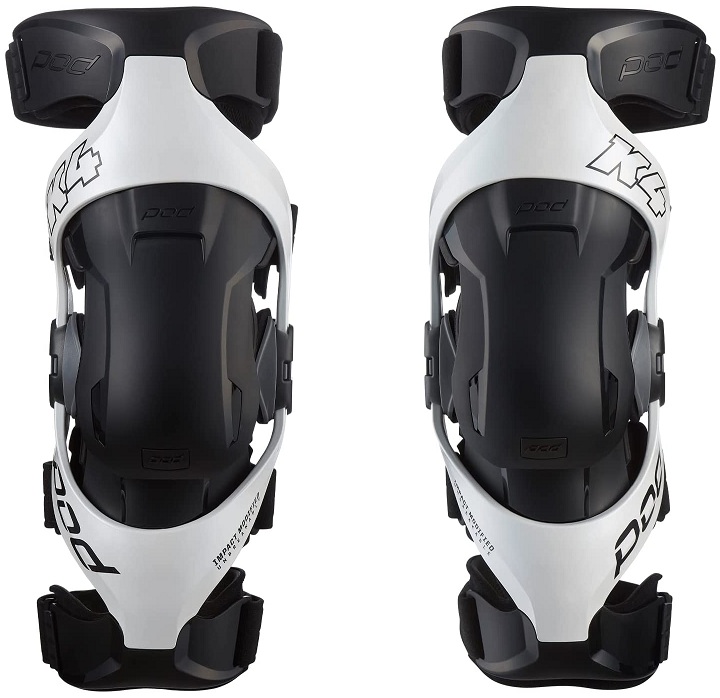 Introducing the revolutionary Pod K4 2.0 Knee Braces, a game-changer in the field of motocross protective gear. These advanced knee braces are not just a set of regular guards but are certified by medical experts and with patented features engineered to significantly reduce the risk and severity of knee injuries.
One of the distinguishing features of the K4 Knee Braces is the innovative Adaptive Cuffs, which have been meticulously crafted to adapt to various leg shapes, this technology accommodates every muscle contraction while in active sports. For engineers at POD, comfort for riders is of significant importance, which is why the K4 Knee Braces come with frame liners that reduce the overall stress on knee joints. These liners not only provide a cushioning effect against forceful impacts but also help in capturing the interior straps and clips, thereby anchoring the braces to your leg. Say goodbye to brace slippage during your ride and enjoy uninterrupted protection! 🙂
Gone are the days when riders used to struggle to secure complicated brace systems on their knees. With the brand new Quick-Loc Clip System, securing the brace to your leg has never been so fast and easy. This innovative technology, combined with low-profile interior straps, provides riders with hassle-free and efficient donning and cuts on the wastage of crucial time before rides.
Invest in your knee health and enjoy unbeatable protection provided by this groundbreaking motocross knee brace system. Say goodbye to knee injuries with Pod K4 2.0 Knee Braces and enjoy your rides with confidence knowing you have the best support system on your side.
Pros
Customizable fitting with three sizes available and interchangeable pads, quick-release buckles, and adaptive cuffs
"Human Motion Hinge" is a patented feature that mimics the knee ligaments (anterior and posterior cruciate ligaments) for smooth motion and better stability
Two-piece, CE-certified craftsmanship for enhanced patella guard (kneecap) protection and comfort
Certified by medical experts with potential insurance coverage and a two-year warranty
Antimicrobial frame liners and pads reduce moisture absorption and odor
Cons
The K4's composite construction is slightly heavier compared to the K8's carbon material, and offers a slightly less rigid feel, though this distinction is typically only noticeable and relevant to professional riders.
While the K4 motocross knee guards are pricier compared to conventional options. However, their superior protection against costly knee injuries makes them a worthwhile investment.
Product Specifications
| Specification | Details |
| --- | --- |
| Manufacturer | Pod |
| Brand | Pod |
| Model | Pod K4024_058_XL/2X |
| Item Weight | 4 pounds |
| Product Dimensions | 15.55 x 12.6 x 4.72 inches |
| Item model number | K4024_058_XL/2X |
| Is Discontinued By Manufacturer | No |
| Exterior | Painted |
| Manufacturer Part Number | K4024_058_XL/2X |
5. Asterisk Ultra Cell 4.0 Knee Braces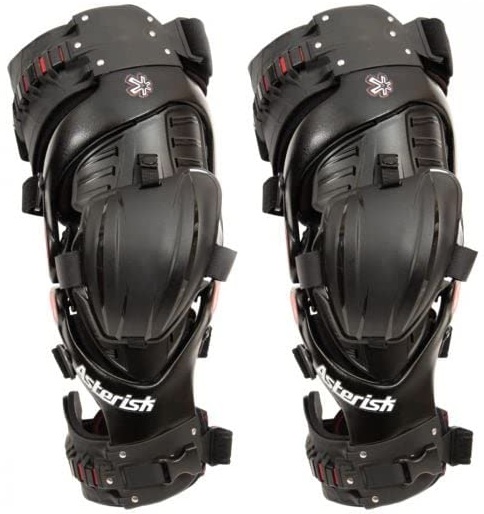 The Asterisk Ultra Cell 4.0 Knee Braces are engineered with cutting-edge features that offer optimal support and protection to motocross riders. These knee braces incorporate various innovative components to ensure a comfortable and effective fitting.
Firstly, the braces feature an Anatomically Correct Design Carbon fiber epoxy matrix. This sturdy and lightweight frame is made of carbon fiber and epoxy, creating a structure that effectively distributes impact forces while maintaining stability. The Asymmetri-Glide Hinge is another distinguishing feature of these motocross knee braces. It tracks the natural "rolling-gliding" motion of the knee joint, allowing bikers to experience smooth and natural movements. The asymmetrical framework of each hinge allows proper alignment and also provides an adjustable extension regulator from 0º to 30º, allowing bikers to enjoy customization. Moreover, condyle shims are also included for fine-tuning the fit of the knee braces.
To further enhance lateral support, the Adjustable Retention Control cuff is incorporated into these knee braces. This multiform rigid lateral support helps riders to stabilize their knee joints and it also includes a built-in anti-rotation connection, which prevents injurious twisting motions. The Anti-rotation tether is a cutting-edge feature that links the knee brace to the boot, essentially allowing these two entities to function as one unit which further potentiates stability. This tether mechanism effectively redistributes forces during lower leg rotations and its settings can be customized to personalize as per rider's individual needs.
For added protection, the manufacturers have added the Tele-tri Patella Cup feature which is a three-piece design that embraces the knee cap, providing a full range of motion coverage. Crafted using high-impact Nylon 6 material, it incorporates Thermo-Formed EV50 shock-absorbent foam padding for further buffering violent impacts. Speaking of maintenance, these best-selling knee braces are water-resistant and can be easily cleaned using a microfiber cloth. The usage of non-corrosive metals and composites in frame engineering has allowed for improvement in durability.
Overall, the RacingPowerSports Asterisk Ultra Cell 4.0 Knee Braces offer a combination of anatomically accurate design, customizable features, lateral support, rotational stability, impact protection, and water resistance. All these features make this motocross knee protective gear a reliable choice for riders seeking high-quality knee braces for their game.
Pros
Excellent knee support and stability
Adjustable compression and fit
Durable and long-lasting performance
Sleek and lightweight design
Cons
Relatively expensive
Initial difficulty in adjusting and fitting
The time needed to get accustomed to wearing during physical activities
| Specifications | Details |
| --- | --- |
| Model | Ultra-Cell 4.0 |
| Hybrid Design | Utilizes the patella Cup from The Carbon Cell |
| Patella Configuration | Collapsing, Patented 3-piece patella |
| Knee Profile | Accommodates low profile when the knee is bent |
| Field Replaceable Parts | Allows parts to be changed in the field |
| Strap Positioning Liners (SPL) | Includes Ultra-Cell 3.0 Strap Positioning Liners (SPL) |
| Patented Anti-rotation Tether | Offers patented Anti-rotation Tether for enhanced protection |
| Size | MEDIUM |
| Inches | 14 1/4″ – 15 3/4″ |
| Cms | 36.0 – 39.5 |
| Color | Black and Red |
Final Verdict
All products mentioned in this blog post are without any doubt the best motocross knee braces available in the market today. However, Leatt X-Frame Knee Braces rises above its competitors as our top recommendation in this category. With its advanced features and competitive pricing, the X-Frame braces offer unparalleled protection and exceptional value for money. Engineered with cutting-edge technology, including the innovative C-Frame chassis for enhanced knee stabilization and reduced ligament strain, these braces prioritize both safety and performance. Furthermore, Leatt delivers this superior quality at a price that doesn't break the bank. 🙂
For riders seeking optimal protection, advanced features, and affordability, the Leatt X-Frame Knee Braces is the clear winner that ensures a safer and more enjoyable motocross experience.
Frequently Asked Questions
Q: Why are knee braces important in motocross sports?
A: Knee braces are crucial in motocross sports because given the nature of this game where the knee joints of the riders are subjected to a lot of stress and strain. This is where knee braces come into play as they provide support, stability, and protection to the joints. They significantly reduce the risk of injuries by limiting excessive movements, shock absorption, enhancing knee stability, and redistribution of forces more evenly.
Q: How do good quality knee braces protect against anterior cruciate ligament (ACL) tears?
A: High-quality knee braces are crafted to protect against ACL tears by limiting excessive rotational movements (which can be seriously injurious and debilitating) and providing external stabilization. These special braces help distribute forces more evenly across the knee joint, thereby effectively reducing the risk of violent and excessive strain on the ACL.
By enhancing the natural stability of the knee joint, good-quality motocross knee braces act as preventive barriers against ACL ruptures in motocross sports.
Q: Can knee braces prevent all knee injuries in motocross?
A: While motocross knee braces are effective in significantly reducing the risk of certain knee injuries (such as ACL rupture and meniscal tears), they cannot prevent all types of injuries. However, other types of knee injuries, such as traumatic fractures or joint dislocations are possible and may require further protective measures such as knee guards or other specialized gear used by professionals.
Q: How do motocross knee braces protect against meniscal tears in motocross?
A: Knee braces protect against meniscal tears by improving the stability of the knee joint and reducing violent movements. The menisci, which are fibrocartilagenous structures, act as shock absorbers between the thigh bone and shin bone, they are susceptible to tearing due to the rotational forces often experienced by the riders. Good quality knee braces with features like sturdy frames, adjustable hinges, and compression technology help efficiently reduce excessive torsional stress on the menisci thereby reducing the risk of tears.
Q: Do all motocross riders need to wear knee braces?
A: While motocross knee braces offer tremendous benefits in terms of protection and joint stabilization, whether a rider needs to wear knee braces or not depends on individual circumstances. Riders who participate in professional competitions and perform high-impact maneuvers or those who have a history of knee injuries may particularly benefit from wearing knee braces. However, we recommended that all motocross riders consult with their doctor or sports physician to assess their health and determine the need for knee braces accordingly.
Q: Can knee braces improve performance in motocross?
A: Yes, riders can potentially experience a significant improvement in performance by using knee braces as they provide the necessary support and stability to the knee joints. Psychologically speaking, when riders feel confident regarding their protective gear, they can focus more on their performance, which results in better maneuverability and overall control. This helps riders to excel in their performance and push their physiological limits.
Q: Are knee braces comfortable to wear during motocross activities?
A: Yes, high-quality knee braces (as discussed in this blog post) are designed for both protection and comfort. The leading manufacturers put a lot of effort into research and development in order to create lightweight, ergonomic designs that provide unparalleled protection and comfort to the riders.
Moreover, motocross knee braces also offer adjustable straps and foam padding to ensure a well-secured and comfortable fitting during motocross games. It is crucial to select the right size and model as per individual needs so that riders do not experience discomfort or restricted movement while in a game.