Are you looking for the best phlebotomy practice kit to help you prepare for your future as a professional phlebotomist? Look no further! In this article, we'll provide you with a comprehensive guide to the 5 best phlebotomy practice kits on the market today.
Phlebotomy is an essential part of day-to-day healthcare, and it's crucial for medical professionals to have the right equipment to perform the task efficiently and safely. That's why a phlebotomy practice kit is essential for developing the right skill set for anyone aspiring to become a phlebotomist.
The phlebotomy practice kits simulate a variety of patient scenarios to help phlebotomy students gain a wide range of experience. For example, some practice kits may include simulated veins with different sizes and depths, which can mimic the variations found in real-life patients. This can help students develop their practical skills in a more realistic setting and prepare them for the different challenges they may encounter in their future careers as phlebotomists. Additionally, some phlebotomy practice kits come with different types of needles, such as butterfly needles or multi-sample needles, which can help students learn the differences between the types of needles and how to use them appropriately. Some phlebotomy kits may also include different types of blood collection tubes as IV practice kits, such as those used for specific tests or those that require special handling, giving students the hands-on opportunity to practice working with a variety of samples.
We share products we consider valuable to our respectable audience. As a result, we may receive a commission on purchases made through affiliate links at no extra cost to you. Here's how it works.
How to Choose a Phlebotomy/IV Practice Kit?
When choosing a phlebotomy practice kit, there are several important factors for you to consider. Here are some key factors to keep in mind when selecting the right kit considering your professional needs.
Quality: The quality and overall build of the kit's materials are crucial, as you want a kit that is durable and built to last longer. Look for a kit that includes high-quality industry-grade materials, such as a realistic simulated vein and needles made from stainless steel.
Total number of pieces: A comprehensive practice kit that includes all the necessary components, such as a simulated vein, blood collection tubes, needles, and alcohol pads will be more beneficial for your practice. Always check to see if the kit includes a carrying case to keep everything in place and well-organized.
Ease of use: A phlebotomy practice kit that is easy to use is essential, particularly if you are at the beginning of your career. Always make sure that the kit includes necessary instructional manuals and is designed to simulate the actual phlebotomy procedure as real as possible.
Money matters: Phlebotomy practice kits vary in price (depending upon the quality and number of pieces offered in the package), so it's important to find a kit that fits your budget. However, it is advisable that you don't sacrifice quality for the price, as a higher-priced kit may offer overall better quality and durability in the long run.
Brand reputation: Look for a practice kit from a reputable brand, as this can significantly help ensure that you are getting a quality product. Read customer reviews and ratings to see what other users have to say about the kit you are considering.
You can be confident that we have already taken care of the arduous task of researching the best-selling phlebotomy practice kits on your behalf. You can trust that we have done the heavy lifting, so you don't have to worry about it! 🙂




5 Best Phlebotomy Practice Kits
Without further ado, let's dive into the 5 best phlebotomy practice kits available on the market: 🙂
1. IV & Phlebotomy Practice Kit with an in-Depth Online Training Course by The Apprentice Doctor Store
(29 Pieces)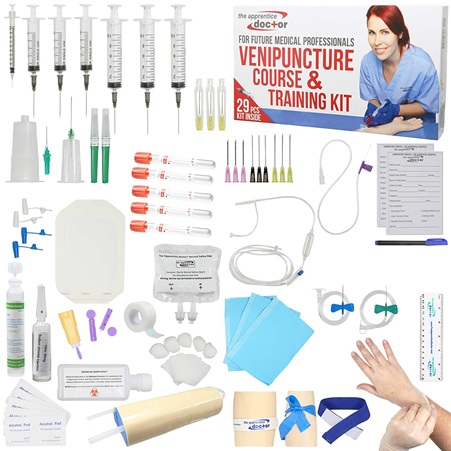 The Apprentice Doctor Store offers an exclusive IV & Phlebotomy Practice Kit with an in-depth online video training course for medical professionals and students. The online course is perfect for those preparing for their clinical exams, going into the medical field, or anyone who wants to keep their skills polished and sharp. The kit contains everything needed to complete the course and to master all essential skills to become a confident phlebotomist.
The kit offers an internationally accredited training course that provides essential information on placing IV lines, drawing blood, administering injections, and more. With videos, colorful illustrations, and step-by-step practical projects, you'll learn how to complete 30+ clinical tasks that mirror the work of medical professionals in the field.
In addition to the course, the phlebotomy & IV start kit includes actual items used by professionals in their daily work. The course covers a wide range of topics such as drawing venous and arterial blood, collecting capillary blood, giving subcutaneous and intra-muscular injections, managing complications, and lab specimen collection (excluding blood). The company also ensures the highest quality standards of its product, encouraging customers to verify the kit's contents and contact them with any issues.
2. Phlebotomy Practice Kit and IV Practice Kit by The Apprentice Doctor Store
(43 Pieces)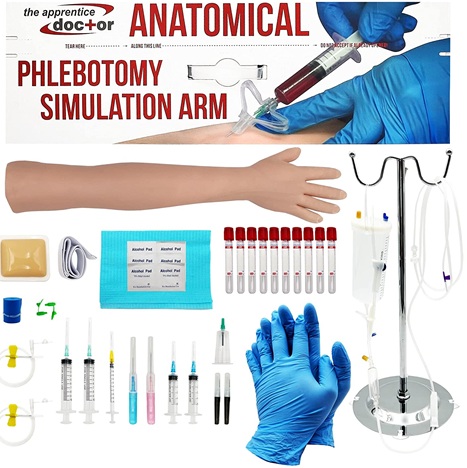 The Apprentice Doctor Store offers a Phlebotomy Practice Kit and IV Practice Kit for Nurses (43 pieces, complete practice kit) that is crafted to help phlebotomy and nursing students gain confidence and muscle memory for successful sticks every time.
The venipuncture practice arm included in the kit is life-sized and anatomically correct, with multiple puncture sites located on the dorsal hand, lateral pulse, and ventral forearm. The arm feels real to the touch (near to human skin-like feeling), allowing students to simulate real-life medical situations.
The IV practice arm also has veins that automatically reseal themselves after every needle stick, providing virtually endless hours of practice. The IV practice arm's build quality and durability make it an ideal tool for educators running training programs with multiple students. With these kits, phlebotomy students and nurses can practice and perfect their venipuncture techniques and procedures at home, which can help them pass their in-person nursing clinicals on the first go and the anxiety usually associated with live draws at bay.

Setting up and using the phlebotomy/IV practice kit is very easy, you will be provided with a QR code/link inside the sealed, portable box which directs students to the necessary educational resources. These practice kits are an essential tool for any nursing or phlebotomy student looking to build confidence and skills in a clinically safe, monitored, and controlled environment.
3. Anatomy Lab Premium IV and Venipuncture/Phlebotomy Practice Kit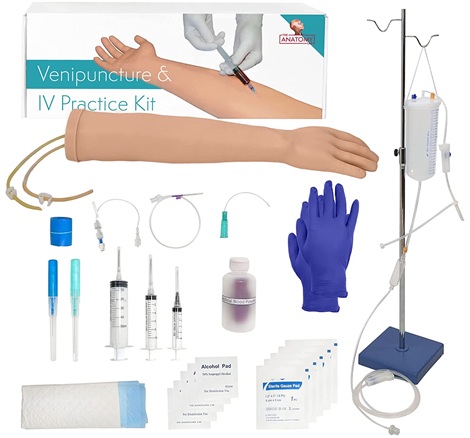 Experience a top-quality anatomy lab with Anatomy Lab Premium IV and Venipuncture/Phlebotomy Practice Kit. Do not settle for low-quality and cheaper phlebotomy practice kits! The Anatomy Lab crafts high-quality and hospital-grade components that are standard and essential to perfect blood drawing skills. This comprehensive venipuncture practice arm includes needles, an infusion container, IV catheters, simulated blood for sampling purposes, and more!
The realistic phlebotomy practice arm provides an incredible hands-on learning experience with its life-like skin texture and antecubital veins for blood sampling. Accessing the vein will allow you to quickly establish IV lines and draw back blood, thanks to the artificial blood circulating through the venous system of the hand, which gives students the feeling of interacting with a live patient.
Unlike low-priced IV practice arms, Anatomy Lab Premium IV and Venipuncture/Phlebotomy Practice Kit's skin has been engineered to withstand hundreds of needle pricks without leaking or tearing, providing you superior quality and longevity. The Anatomy Lab IV and Venipuncture arm bundle includes everything you need to become a PRO at blood drawing skills, including needles, catheters, blood bags, fake blood, an expandable pole, and a 50ml syringe that allows for an unproblematic cleanup when you are done with your practice sessions.
This IV practice kit is ideal for medical students and students of healthcare professionals, including phlebotomists, clinical assistants, EMT's, paramedics, nurses, and physicians. The nurse IV practice kit can be used in clinics, hospitals, medical schools, nursing schools, and social training institutes. Don't settle for less, perfect your blood drawing skills with the Anatomy Lab Premium IV and Venipuncture/Phlebotomy Practice Kit! 🙂
Contents:
IV Simulation Phlebotomy Arm with Box
Flow Control Clamps (2) Venipuncture & IV Practice Kit
IV Pole
Tourniquet
IV Extension Tube, with Luer Adaptor
Disposable Gloves (1 Pair)
Infusion Container With Tubing
Blue 22G 1″ IV Catheter
Green 18G 2″ MV Catheter
50mL Luer Lock Syringe with Large Bore 1.25′ Straight Needle
10 mL Luer Lock Syringe
5mL Luer Lock Syringe with 22G 1.25 Straight Needle
Simulated Blood Powder
Blue IV Stand Base
Nut for IV Stand
23in X 23 in Absorption Pad
Alcohol Prep Pads
Sterile Gauze 2″x 2″ Pads (5)
4. Phlebotomy & IV Practice Kit by PROJECTMEDI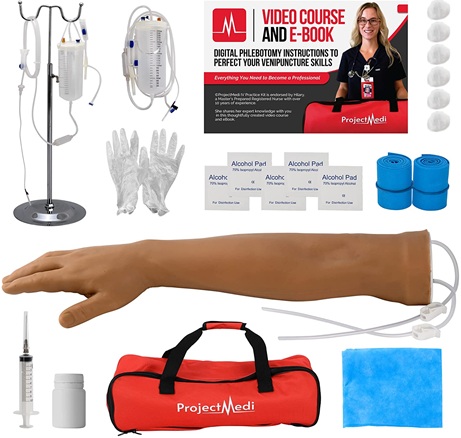 Increase your confidence levels interacting with patients using the Phlebotomy & IV Practice Kit by PROJECTMEDI. It is an essential learning tool for nursing and phlebotomy students to help them master clinical skills and build confidence for real-world scenarios. This kit comes with all the necessary phlebotomy supplies, including a video course (high-definition) and an eBook written by a nurse with over a decade of clinical experience and techniques that you will be learning.
Challenge yourself to find hard-to-see veins with our IV start kit. You will learn how to identify and access veins that are difficult to see, especially on darker skin pigmentation. Instead of relying on visual cues, you'll learn to feel for the veins.
The ProjectMedi IV pole has 4 hooks, compared to the typical 2 hooks offered, providing more hanging options for IV saline bags, blood bags, and other IV fluids, making it easier to organize and manage your IV supplies.
With veins that have been crafted to automatically reseal after each needle stick, this IV  practice kit arm allows you to practice blood drawing, canulation, and establishing an IV line for endless hours, and with proper care, you may be able to get thousands of needle sticks and so enabling you to develop God-level skills in phlebotomy.
Experience a realistic training experience with this IV practice arm kit that simulates the same "red flash" / flashback that you see with a real patient. This feature provides a fulfilling learning experience for students. Please keep in mind that this feature is dependent on the height of the reservoir bag or IV bag and the gauge size of the needle.
5. VEVOR Phlebotomy Practice Kit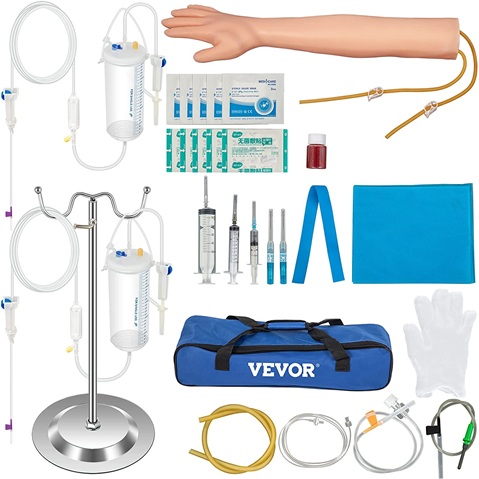 The VEVOR Phlebotomy Practice Kit offers a reliable and high-quality tool for practicing IV and phlebotomy techniques. The IV arm is made of durable hospital-grade plastic and latex materials and comes with an adjustable metal infusion stand. Designed to simulate a real human arm, the kit features anatomically correct vein positioning with multiple puncture sites, allowing students to practice venipuncture techniques more effectively.
This complete and portable intravenous practice kit contains everything you need to perfect your puncture skills, including an IV tube, fluid bottle, butterfly needle, syringe, fake blood pack, tourniquet, and more, all packed in a portable bag for easy storage and carrying purposes. This phlebotomy practice kit is widely used in settings like laboratories, schools, and social training institutes for educational purposes, making it ideal for students and interns who want to practice and perfect their blood draw, puncture, and IV cannulation skills before treating real patients.
In conclusion, the 5 best IV practice kits mentioned above are the best options available in the market today, offering high-quality materials, realistic simulation, and durability for prolonged use. We hope that you find this blog post useful in buying your kit.
Happy learning! 🙂