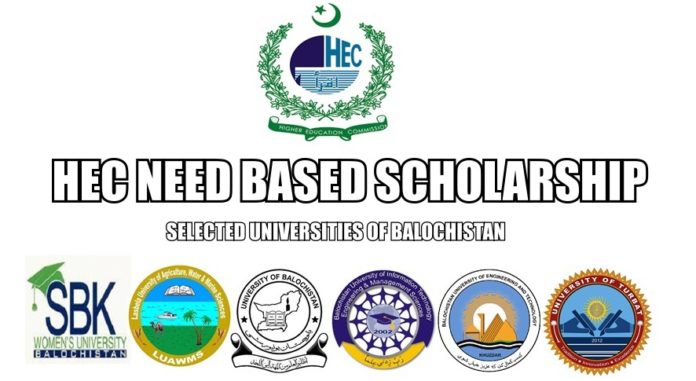 Pakistan is a country with gifted talent and a youth with tremendous potential to achieve great accomplishments in the fields of science and education. But not all people are lucky as sometimes some of the brightest students have to dropout from their universities due to lack of resources and poor financial conditions. In order to prevent such misfortunes, the government of Pakistan has directed the Higher Education Commission (HEC) to provide financial assistance to the deserving and meritorious students of the country by offering them Need Based Scholarships.
This scholarship program is aimed to provide opportunities to the talented youth of the country by helping them pursue quality education and removing their financial constraints by elevating their socio-economic status.
The Higher Education Commission of Pakistan has also put great emphasis on providing equal opportunities to students of remote underprivileged areas of Pakistan which primarily include:
FATA
Khyber Pakhtunkhwa
Southern Punjab
Balochistan
Northern Sindh)
Azad Jammu and Kashmir
HEC Need Based Scholarship — At a glance
Here's a quick overview of the HEC Need Based Scholarship:
General Details
Number of overall scholarships offered: 10,000
Number of universities selected by HEC for Need Based Scholarship: 61 public sector universities
What does HEC Need Based Scholarship cover?
A good question. 🙂 Here's what this scholarship would cover for you (as stated by HEC on their website):
Tuition Fee
Lodging
Transportation
Books
Other Academics Costs
** In addition to the tuition fee, every grantee will be paid Rs.6000/- stipend per month for the complete duration of their program. 
Eligibility Criteria
Financial assistance & scholarships are available for study at Undergraduate level (4 and 5 years) in all disciplines at HEC selected public sector Pakistani universities and degree awarding institutions (including Medicine (MBBS / BDS) and Pharm-D).
The eligibility of a candidate is linked to his/her financial needs as assessed by the Institutional Scholarship Award Committee. The financial background of the family of the applicant will be kept in view in this regard.
For more on eligibility for this scholarship, please check here.
For details regarding the selection process (how applications are reviewed and what determines the selection of a student in this scholarship), please check here.
List of selected Universities for HEC Need Based Scholarship
Here's a complete list of universities on-board (eligible) for this scholarship:
Balochistan
University of Balochistan, Quetta
Sardar Bahadur Khan Women University, Quetta
University of Turbat, Turbat
Baluchistan University of Engineering & Technology, Khuzdar
Baluchistan University of Information Technology, Engineering and Management Sciences, Quetta
Lasbela University of Agriculture Water & Marine Science, Uthal
List of Medical Universities / Colleges eligible for HEC Need Based Scholarships:
Gomal University, Dera Ismail Khan
Khyber Medical University, Peshawar
University of Health Science, Lahore
King Edward Medical University, Lahore
Liaquat University of Medical & Health Sciences, Jamshoro
Dow University of Health Sciences, Karachi
People University of Medical Health Sciences For Women, Nawabshah (Benazirabad)
Shaheed Muhtarma Benazir Bhutto Medical University, Larkana
Jinnah Sindh Medical University, Karachi
For complete list of "non-medical" universities eligible for HEC Need Based Scholarship, please check here.
HEC Need Based Scholarship — Application Form Download
The HEC Need Based Scholarship application consists of three forms as seen below:
1. Scholarship Application Form
2. Scholarship Application Form — Guidelines
3. Deed of Agreement ( this should be printed on judicial stamp paper)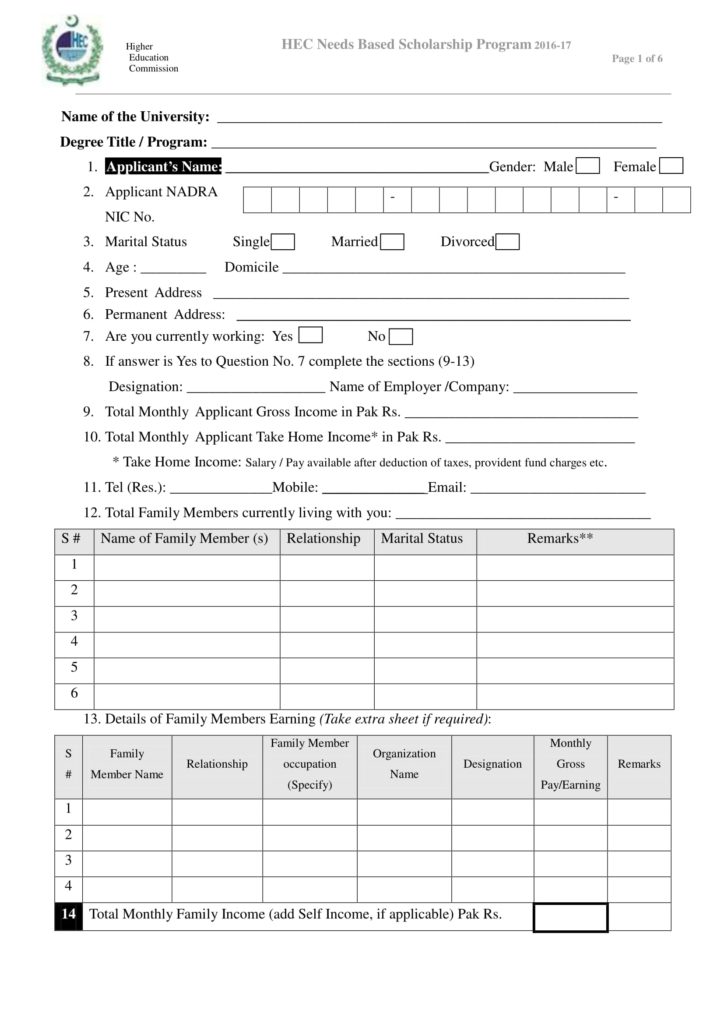 If you have any questions regarding HEC Need Based Scholarship, please let us know by using the comment box below. Thank you! 🙂