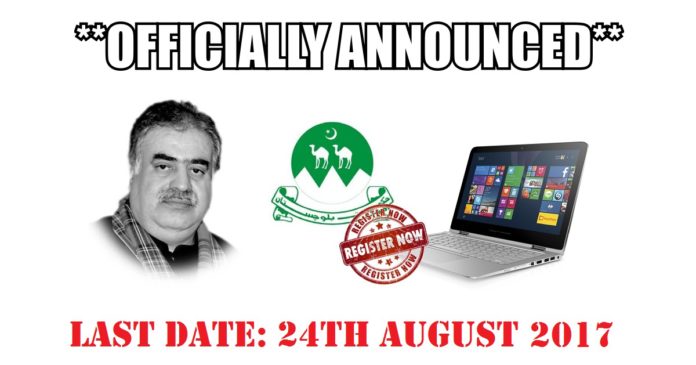 The Honorable Chief Minister of Balochistan, Nawab Sanaullah Zehri has announced 10,000 laptops for the meritorious youth of Balochistan under the CM Laptop Scheme 2017. This project was initially made public in January 2017. And as reported by the main-stream newspapers, the government of Balochistan has allocated a whooping Rs. 500 million rupees for facilitating this laptop scheme which honestly is long overdue.
This is for the first time (ever) that our provincial chief minister has announced any laptop scheme for the students of Balochistan. Earlier, the students were being awarded laptops through the Prime Minister's Laptop Scheme which was being run and monitored by the Higher Education Commission of Pakistan.
The following universities were recognized under the list of eligible universities for the Prime Minister's Laptop Scheme:
Balochistan University of Engineering & Technology, Khuzdar
Balochistan University of IT, Engineering & Management Sciences, Quetta
University of Balochistan, Quetta
Bolan Medical College was never considered for this scholarship because of lack of administrative infrastructure and competency — the reasons why the students of the ONLY medical institute of the province remained deprived of this opportunity. But many thanks to the CM Balochistan because this time, BMC too has the privilege to share the umbrella among the other esteemed institutes of the province which will be getting their fair share in this laptop scheme.
Distribution Policy:
10% of the scheme will be awarded on open-merit basis
Rest of the 90% will be awarded on district quota (based on the census of 1998)
Distribution Formula:
Here's the distribution formula proposed for various educational programs:
Intermediate: 20%
Bachelors: 40%
Masters / MPhil / Ph.D: 40%
*** Students who have been recipient of any previous provincial or federal laptop scheme will not be considered in this scheme.
Eligibility Creteria for CM Balochistan's Laptop Scheme
Intermediate: 60%
Semester System Programs: 70%
Bachelor of Medicine and Bachelor of Surgery (MBBS): 60% if annual system and 70% if semester system
LAST DATE OF FORMS SUBMISSION
The last date of forms submission is 24th August 2017.
Newspaper Advertisement of CM Balochistan's Laptop Scheme 2017
Here's the detailed advertisement which contains all details of this laptop scheme:
Official Advertisement: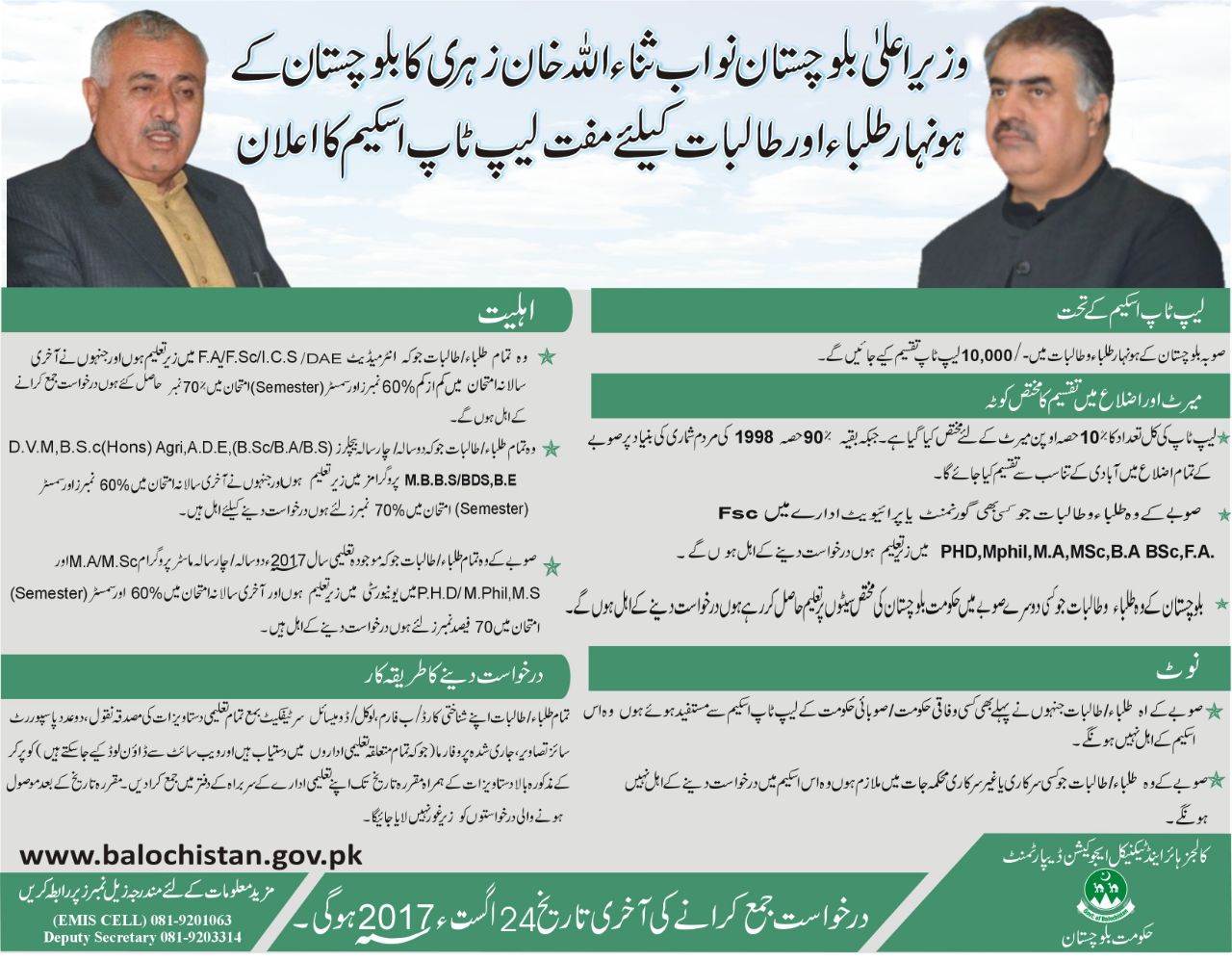 PHONE NUMBERS: 081-9201063 | 081-9203314
Advertisement Copy from Jang Newspaper (Quetta), DATED: 7th August 2017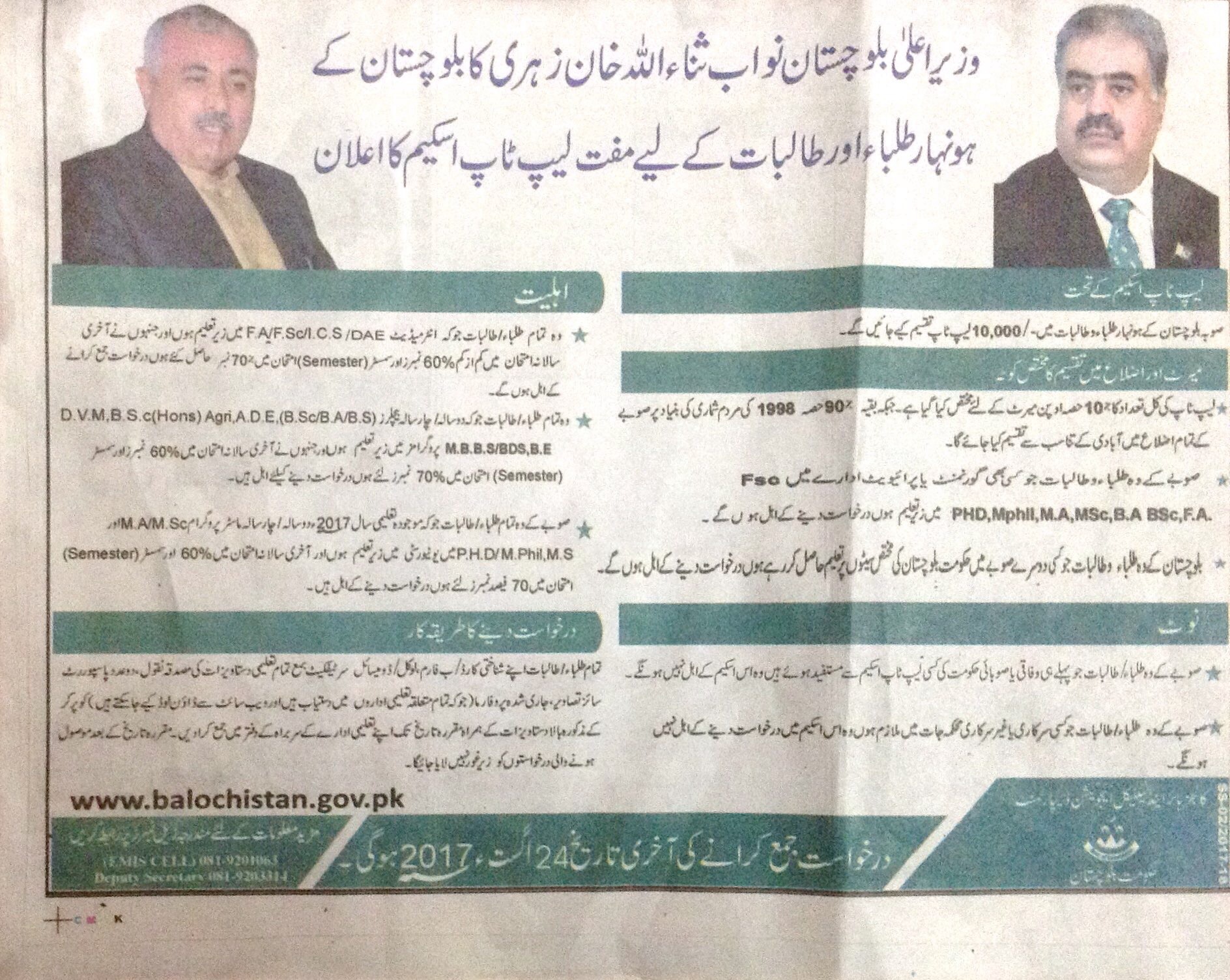 ** UPDATE **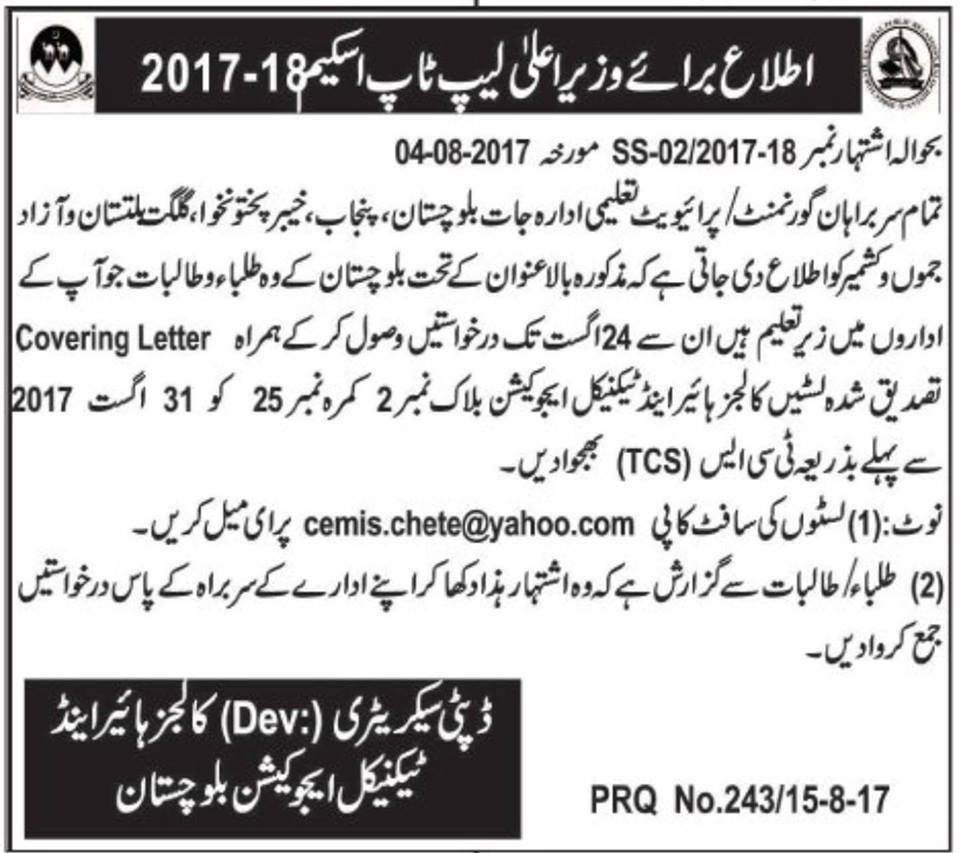 CM Balochistan's Laptop Scheme Forms 2017
Here are the forms of the CM Balochistan's Laptop Scheme. The students have been directed to fill in the forms as per the mentioned requirements and submit them in the office of their head of the institute before the deadline: 24TH AUGUST 2017.
CLICK HERE TO DOWNLOAD THE FORM
GOOD LUCK EVERYONE! 🙂