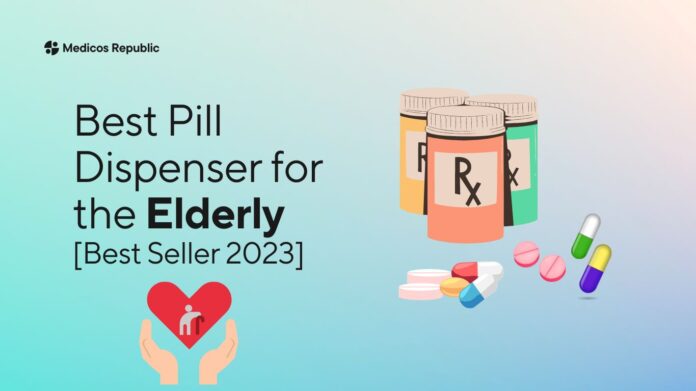 As people age, they are more likely to develop chronic conditions that require complex medical management. Oftentimes, the drug regime prescribed to them is very difficult to follow leading to a decrease in compliance which significantly affects the treatment outcome and may also lead to serious health consequences. Pill dispensers can help elderly people manage their medication more effectively, leading to better health outcomes and improved quality of life.
One of the main reasons why elderly people forget to take their pills on time is due to a gradual decrease in memory. As we age, our ability to remember and recall things starts impairing, making it harder for us to take our medication on time. Additionally, the complexity of a medication regimen can also make it difficult for elderly people to keep track of their pill schedule. For instance, some medications need to be taken with food, while others need to be taken on an empty stomach. The confusion and forgetfulness that come with these complexities can lead to missed doses or medication errors.
Pill dispensers are a very effective solution for elderly people who face problems managing their medication schedules. The automatic pill dispensers can be programmed to dispense medication at the right time and in the correct dosage. This means that elderly people no longer have to rely on their memory to take their pills on time. Instead, the pill dispenser takes care of their needs, and it ensures that they are receiving their medication at the appropriate times.
In addition to improving time management, pill dispensers can also help reduce the risk of medication errors. Medication errors can occur when a person takes the wrong medication or the wrong dosage. These errors can have potentially serious health consequences, including hospitalization or even death. Therefore, pill dispensers really come in handy to solve this problem and help prevent these errors by dispensing medication in the way as prescribed by healthcare professionals.
Pill dispensers tremendously reduce the burden on caregivers. Many elderly people rely on family members or other caregivers to help them manage their medication schedules. This can sometimes be a very time-consuming and stressful task, especially for those who have other responsibilities. This useful device takes care of the needs of the elderly and allows caregivers to focus on other important aspects of caregiving, such as providing emotional support or helping with daily living activities.
We share products we consider valuable to our respectable audience. As a result, we may receive a commission on purchases made through affiliate links at no extra cost to you. Here's how it works.
Types of Pill Dispensers
There are several types of pill dispensers available online, designed to help people manage their medications in terms of correct time and dosage. Here are some common types of pill dispensers:
1. Weekly Pill Dispensers

These are designed to hold pills for an entire week, with compartments for each day of the week.

2. Monthly Pill Dispensers

These are designed to hold pills for an entire month, typically with compartments for each day of the month.

3. Smart Pill Dispensers

These are smart devices designed to help people manage their medications more effectively by offering periodic reminders using alarms or mobile alerts when it's time to take medication.

4. Locking Pill Dispensers

These are designed for people who need to restrict access to their medication, such as those who have issues like substance abuse or those who have children in their house.

These ones are now obsolete and have been replaced by smart automatic pill dispensers which come with intelligent locking functionality.
5 Best Pill Dispenser For Elderly
Alright, now without any further ado, here are 5 of the best-selling medication dispensers for seniors. We hope that you find this list useful: 🙂
Best Automatic Pill Dispenser with Locking: Med-E-Lert Premium Pill Dispenser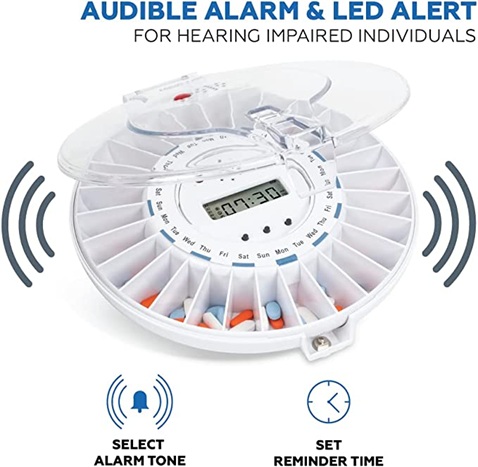 The Med-E-Lert Premium Locking Automatic Pill Dispenser is a reliable and easy-to-use device that helps you keep track of your pills and supplements. With its secure and discreet design, you can be sure that your medications will remain safe and under your control. The custom barrel key in this automatic pill dispenser significantly reduces the risk of tampering, while the solid white lid offers more privacy to the user. It comes with six dosage rings to help you organize your pills with ease and enhanced accuracy.
One of the best features of the Med-E-Lert Automatic Pill Dispenser is its audible alarm/alerting system with a flashing light. It comes with three different alarm volume tones and a bright, flashing LED light so that you'll never miss a pill again. The device can notify you up to six times per day when it's time to take your pill. Moreover, the low battery alert feature makes sure that you'll always know when it's time to replace the batteries. Once you change the batteries, the Med-E-Lert retains its settings (as programmed by you), so you that do not have to reprogram your medication regime.
The Med-E-Lert Automatic Pill Dispenser comes with everything inside the box that you need to get started, including dosage rings, a clear lid, a security key, four AA batteries, and a user manual. Setting up your pill dispenser is very easy, and the instruction booklet and step-by-step instructional video available on the website make it really easy to use. Additionally, if you have any queries pertaining to the device or need support, 24/7 customer service is available for your assistance.
In summary, the Med-E-Lert Premium Locking Automatic Pill Dispenser is an excellent choice if you are looking for an automatic pill dispenser.
ALSO CHECK:
LiveFine Smart WiFi Automatic Pill Dispenser

28-Day Pill Organizer Up, offering up to 9 Doses Per Day for Care Monitoring with a Locking Key, Adjustable Light/Sound Alarms for Prescription medications & Vitamins

Key features:

28-day pill organizer, smart app, and Wifi enabled
WIFI-ENABLED SMART PILL DISPENSER
Smart ONLINE MOBILE APP
STANDARD LCD DISPLAY & ADJUSTABLE ALERT OPTIONS
9 INTERCHANGEABLE DOSAGE RINGS
SIMPLE SETUP, USAGE & UNBREAKABLE SECURITY
2. Best Weekly AM PM Pill Organizer With Alarm by TBSoon Store
The 7 Day AM PM Pill Organizer With Alarm by TBSoon Store is an easy-to-use and practical pill dispensing tool for anyone who needs to stay correct and up-to-date with their medication schedule. It comes with a 7-day or 14-day pill organizer with a reminder alarm system, standard LED display, and different color transparent plastic lid compartments that really make it easy to distinguish the pills from one another without even having to open the lids. You can set the programmable alarm system up to 4 times per day, and there's no need to repeat settings every day once you installed your schedule. The pill organizer has been crafted using food-grade material, ensuring that it's safe for medical use.
The large size of this pill organizer provides a lot of space for sorting all of your prescribed as well as over-the-counter medicines for one or two weeks. Each compartment measures 1.06"x1.06"x0.79", and the overall size is around 11.8"x2.87"x0.98". In addition, the storage system helps prevent the odor of the tablets, making the compartments moisture-proof and dust-proof. The TBSoon Store pill organizer has been tested and found BPA-free, making it safe to use.
Overall, this 7-Day AM PM Pill Organizer With Alarm system by TBSoon Store is an amazing gift for anyone who needs to manage their pills schedule. It's affordable and very much practical, and it is one of the top-rated products in its category.
3. Best Weekly AM PM Pill Organizer: EZY DOSE Push Button (7-Day) Pill Organizer
(Regular, Super Simple & Cheap)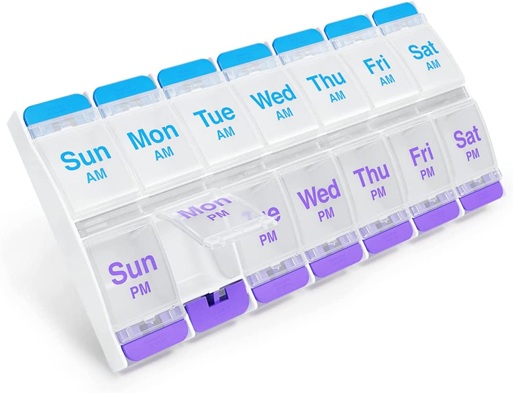 The EZY DOSE Push Button (7-Day) Pill Organizer is a simple, super cheap, and most-rated pill dispenser available online. This pill organizer features standard AM/PM compartments, which allow you to easily plan and distribute your regular doses accordingly. The push buttons and rounded bottoms make it very much easy to open and get your pills. Additionally, the extra-large storage compartments can reportedly hold up to 40 Aspirin tablets, providing adequate room for your overall weekly medications.
Not only is the EZY DOSE Push Button (7-Day) Pill Organizer easy to use, but it's also built using sturdy material which will last a long time. It prevents the building up of odor of the medications and also keeps them safe.
EZY DOSE is a product that's designed to make healthy living simple and easy. A number of their products are Arthritis Foundation Certified, as they're designed to help people who are suffering from arthritis and this product is no exception. If you are looking for a simple yet functional pill dispenser for the elderly, then this is the right thing for you.
4. Best Large Pill Organizer: Sagely Smart Extra Large Pill Organize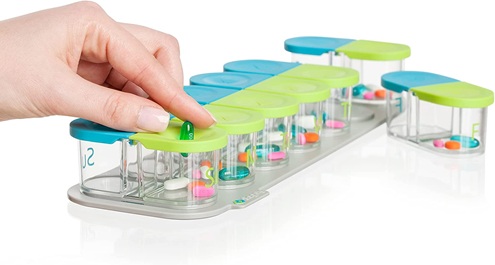 The Sagely Smart Extra Large Pill Organizer is a versatile and durable pill holder and it is one of the best-rated products in its category. This pill organizer is designed with 14 extra-large compartments, allowing for AM/PM pill dispensing twice a day or for use over a two-week period if you're not using its AM/PM feature. Designed using BPA-free, food-safe materials, the clear compartments are see-through so that you can see what's inside. The XL pill organizer is also highly portable and fits easily into a bag or purse allowing you to carry it anywhere you go. The easy-open lids stay securely closed to prevent medications from spilling out. The dimensions of this pill dispenser are 12.5 x 3.8 x 1.5 inches.
In addition to its functional design, the Sagely Smart Extra Large Pill Organizer comes with a free mobile application available for Apple and Android users. The Sagely Pill Reminder App allows users to never forget to take their medications. In addition, using the application the users can customize their pill schedule and receive alerts to take their pills accordingly. The app also allows users to easily monitor their medication adherence habits and offers built-in medication history reports that can be shared with their doctors. Overall, the Sagely Smart Extra Large Pill Organizer is a high-quality, reliable, smart and convenient solution for regular medication management.
5. Best Travel Pill Organizer: Lewis N. Clark AM/PM Folding Pill Organizer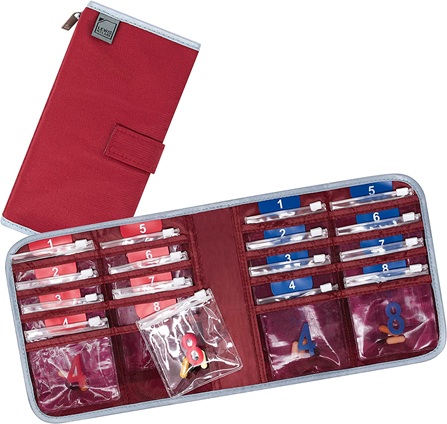 The Lewis N. Clark AM/PM Folding Pill Organizer is a perfect pill management solution for those who are always on the go. The slimline design of this medication organizer makes it very easy to carry and store in a purse, bag, or suitcase. It is lightweight and ultra-portable and offers enough room for all your prescription medications, daily pills, vitamins, and supplements. The color-coded slots have been designed to make it easy to distinguish between morning and evening pills, ensuring that you never miss a dose. This design also prevents any possible medication errors.
In addition to its sleek and slim design, this travel pill organizer also includes important features such as 16 clear slide-locking pill pockets that keep your pills secure from dust or moisture and keeps them visible. It also comes with a medical reference card where you can list your important medical information, such as allergies and medication dosages, in case of an emergency. Whether you're going on a holiday or just want to keep your medication safe and organized at home, the Lewis N. Clark AM/PM Folding Pill Organizer is an excellent choice for you! 🙂
Importance of taking medications on time
If any medication is not taken according to its prescribed time or dosage, then the management plan can be seriously compromised with serious health implications. There are several reasons why it's important to take pills on their time, some of them have been discussed below:
Effectiveness: Pills and their regimen are medically designed to work best when taken at specific times and with other key instructions, such as with food or on an empty stomach. Taking the medications at the wrong time or the wrong way can affect and subsequently impair their efficacy.
Patient Safety: Certain prescribed medications, such as antibiotics or blood thinners, need to be taken at regular intervals to maintain a therapeutic level in the body. Taking the medication at the wrong time or missing any doses can lead to serious health consequences and in the worst cases can cause the death of the patient.
Avoidance of side effects: Some medications can potentially cause side effects if not taken according to the doctor's advice. For example, taking certain medications on an empty stomach can cause nausea or vomiting, while taking them with food can minimize side effects.
Disease management: For people with chronic health conditions, taking medication on time is very important in order to manage their disease and preventing serious complications.
Good adherence leads to better treatment outcomes: Taking the pills on the advised time is an crucial part of any treatment plan, which means taking medication as prescribed by doctors. Therefore, good medication adherence is critical to achieving the desired health outcomes.