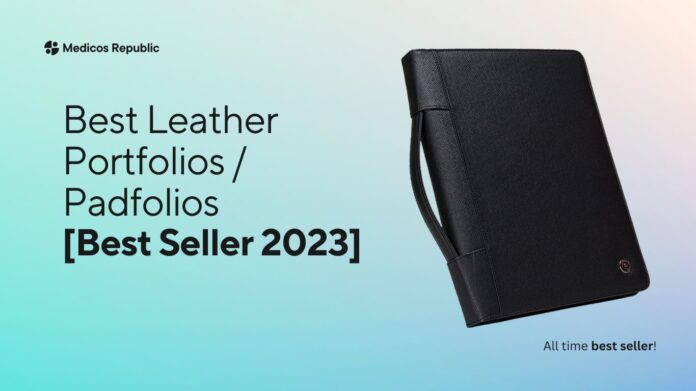 A premium leather padfolio and portfolio is a timeless accessory that demonstrates an individual's sophistication and professionalism. It is a perfect companion for people who want to make a strong first impression in business meetings, at work, in interviews, or at conferences. The premium leather material utilized in the padfolio and portfolio ensures durability and longevity, making it a worthwhile investment for any professional. They come in a range of features like pockets, pen loops, and document sleeves, the padfolio and portfolio provide ample space to store important documents, business cards, and other essential gadgets such as iPads, tablets and mini-laptops.
One of the key benefits of a premium leather padfolio/portfolio is that it offers an unparalleled level of sophisticated organization. The various pockets and compartments allow you to keep your documents and essentials in one place, reducing the overall risk of losing anything important. Additionally, the padfolio and portfolio can also be customized with your own name or logo (if you have one), adding a touch of personalization that can set you apart from the crowd. This customization can also help to promote your personal branding and make a lasting strong impression on potential clients, employers or at the workplace.
We share products we consider valuable to our respectable audience. As a result, we may receive a commission on purchases made through affiliate links at no extra cost to you. Here's how it works.
Difference between portfolio and padfolio
A portfolio and a padfolio are two similar but distinct products used to store documents and other important personal items. While they may look similar at first glance, there are some key differences between the two. Here are some of the key differences between a portfolio and a padfolio that you might want to know:
| | | |
| --- | --- | --- |
| Features | Portfolio | Padfolio |
| 1. Size | A portfolio is typically larger than a padfolio and is designed to hold larger documents such as artwork, blueprints, or large legal documents (legal size papers). | A padfolio is comparatively smaller (compact) and designed to hold standard-sized documents, such as letter-sized paper. It also comes with pockets to hold iPads, tablets, and laptops. |
| 2. Closure | A portfolio usually comes with a zipper or some other type of closure to keep the documents inside secure. | A padfolio typically has a flap or cover that can be folded over to protect the contents (but it may also come with a zipper too). |
| 3. Build & design | A portfolio may have fewer features, as it is primarily crafted to protect large documents. | A padfolio often has more features than a portfolio, such as pockets for business cards, a pen loop, and a tablet/laptop. |
| 4. Professional Usage | Portfolios are often used by artists, architects, and lawyers to store and transport large documents. | Padfolios, on the other hand, are more commonly used by business professionals, such as executives and managers, and doctors, to hold important documents and tools for meetings. |
What features to consider when choosing a portfolio or padfolio?
When selecting a portfolio or padfolio, there are several important features that you might want to consider. The first factor to consider is the size. Depending on your personal or professional needs, you may require a larger or smaller portfolio or padfolio. If you need to carry large documents such as blueprints or artwork, you will require a larger portfolio. However, if you need to carry letter-sized documents or a tablet, a padfolio would be more appropriate for you.
The second important factor to consider is the organizational features of the portfolio or padfolio. The most common organizational features in a standard portfolio or padfolio include pockets, document sleeves, and pen loops. Pockets are useful for carrying business cards, while document sleeves are essential for holding important business papers/documents. A pen loop pocket is useful for carrying stationary, which is a must-have item for any meeting or conference. Moreover, some padfolios come with a notepad or tablet sleeve, which is ideal for individuals who want to take notes during meetings or presentations.
Other essential features to consider include the material used, the build quality and overall style, and the closure mechanism which I find very important. Zippered closures are more secure for your personal belongings, while flap closures offer easier access. Leather is a popular material for premium portfolios and padfolios because it is durable, professional-looking, and adds a touch of sophistication. The style and design are also important, as they demonstrate your personal taste and professional image. Ultimately, when selecting a portfolio or padfolio, you should choose the one that best meets your personal needs, provides sufficient organization features, and complements your professional image at work.
Best Leather Portfolios and Padfolios
So, here's a list of the best leather portfolios and padfolios, they are premium quality and overall best-sellers currently available in the market. Hope you find this list useful! 🙂
1. Stylio Padfolio/Resume Portfolio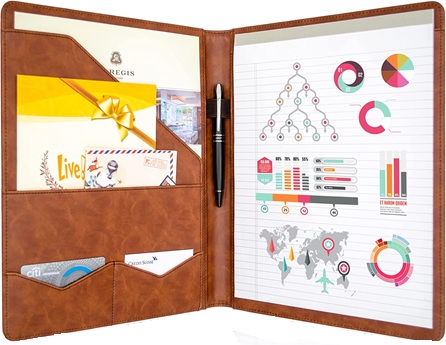 The STYLIO Padfolio/Resume Portfolio Folder is the perfect combination of style and function. Its elegant design features convenient and safe pockets that can hold your important documents, business cards, travel tickets, pitch proposals, and resumes. It also includes a pen pocket and a refillable writing pad, making it the perfect accessory for your office meetings or presentations. With its sleek and professional design, the portfolio is perfect for making a strong first impression at the workplace. The beautiful finish (available in two colors: piano black matte and brown) adds a touch of class.
In addition to its stylish design and strong build quality, the STYLIO Padfolio/Resume Portfolio Folder is built to last. It is water-resistant and reinforced with quality stitching material, making it ideal for today's hectic business travel schedules. The portfolio is a great gift for anyone, whether it's a college graduate looking for their first job or someone professional who is seeking to excel in their career ladder. With a generous one-year guarantee, you can be sure that the quality of the padfolio ring binder is fully backed by the manufacturer. Overall, the STYLIO Padfolio/Resume Portfolio Folder is an excellent choice for anyone who wants to combine style and function in a professional tool for everyday usage.
2. Wundermax Vegan PU Leather Portfolio with Zipper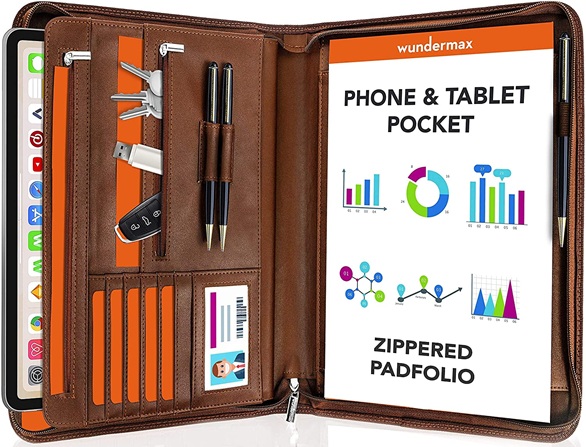 The Wundermax Vegan PU Leather Portfolio with Zipper is the ultimate professional portfolio that offers a premium touch and stylish storage for organizing your important documents. Whether you're a student, doctor, corporate climber, or ambitious entrepreneur, this portfolio organizer is perfect for anyone who wants to make a great lasting first impression. With multiple pockets in the core design, including 3 pen holders, a zippered phone pouch, 5 separate business card holders, a large zippered pocket, document pockets, and even a 10.1-inch iPad sleeve, this is the ultimate faux leather portfolio you can have. In addition, the portfolio comes with a complementary notepad, so you can write down any idea or note that comes to mind as soon as the package is opened.
One of the standout features of the Wundermax Vegan PU Premium Leather Portfolio with Zipper is its left and right-hand friendly design. This premium leather portfolio is totally reversible based on your dominant hand, so left-handed folks can simply turn the notepad around and they're good to go almost instantly. The portfolio is also the ultimate tool to help you excel in your profession and at the workplace. With its elegant design, multiple pockets, and free notepad, this leather portfolio is a must-have accessory to help you stay focused, organized, and on top of your game. Overall, the Wundermax Vegan PU Premium Leather Portfolio with Zipper is an excellent choice for anyone who wants to enhance their work productivity with style and function meticulously combined in a single professional accessory.
3. Case-it Executive Zippered Padfolio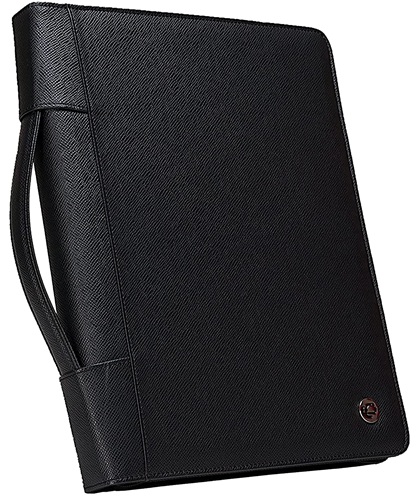 View Price on Amazon
The Case-it Executive Zippered Padfolio is a highly functional and versatile padfolio that is super smart and a perfect accessory for organizing your important files and documents securely while on the go. It features an elastic accessory and carefully crafted protective document pockets, pen and pencil holders, business card and ID slots, a removable 1-inch 3-ring binder, and a free letter-size writing pad, this premium leather padfolio is designed to provide you with all the storage you require to stay organized. The sturdy handle makes it easy to carry, and the padded exterior provides extra comfort while giving the padfolio a high-quality appearance and elegant feel.
One of the important standout features of the Case-it Executive Zippered Padfolio is its ability to open flat, making it very easy to use as it allows you to access all of your documents and notes. The sophisticated and sturdy vegan leather craftmanship and materials of this padfolio are designed to stand the test of time, while the custom padding under the fabric on the front and back gives you an elevated feel and a luxury look at a great price. Overall, the Case-it Executive Zippered Padfolio is an excellent choice for anyone looking for a highly functional and premium leather padfolio that is perfect for use at work or while traveling.
4. COSSINI Premium Business Portfolio with Zipper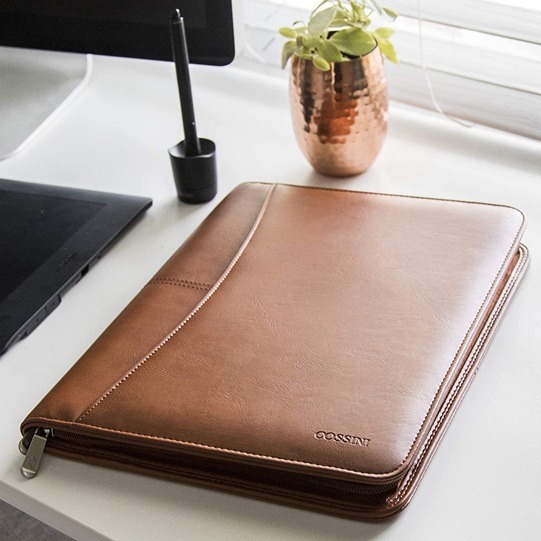 The COSSINI Premium Business Portfolio with Zipper is a top-of-the-line option for anyone looking to make a lasting professional impression at work. This premium leather portfolio has been redesigned based on professional feedback from its worthy buyers, resulting in a meticulous fit and sophisticated craftmanship that ensures you enjoy a luxury experience at a reasonable price. The interior of this portfolio is made of full PU leather, giving it a luxurious and elegant feel and refined style. The portfolio also includes a complementary solar cell calculator, tablet pocket, pen holders, card holders, and more, providing your multi-tasking a great boost. The stylish and sturdy fabric-adorned metal zippers easily glide open and closed, ensuring that you look smooth, crisp, and confident in any business setting.
This portfolio is not just stylish, it is also highly functional to meet your professional needs. It provides ample storage for documents, resumes, and all the supplies you need to outshine others in the business world. The COSSINI Premium Business Portfolio is the perfect gift for graduates, doctors, lawyers, business professionals, and anyone on the rise. The core philosophy of the Cossini brand ensures ultimate customer satisfaction with everything you order from them, from the rich, luscious PU leather to the smooth-as-butter zipper which is made of high-quality sturdy metal that has been designed to last. If for any reason you are not satisfied with your purchase, the company guarantees you a full money back with no gimmicks, hassle, or questions asked. With this premium leather portfolio, you can be sure that you are investing in a high-quality, stylish, and functional accessory that will help you create an unforgettable lasting impression on those around you.
5. NERO MANETTI- Zippered Vegan Leather Padfolio/Portfolio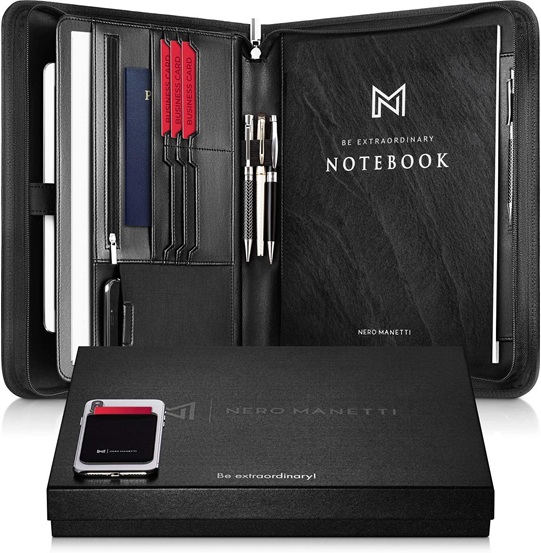 The NERO MANETTI Zippered Vegan Leather Padfolio/Portfolio is a versatile and luxurious premium leather option for professionals and students who are looking for a quality product in this category. This portfolio includes four complementary business items, including a free adhesive phone wallet, a business card wallet, and an 8.5 x 11-inch notepad. The elegant and functional design is inspired by Italian style and is crafted with high-quality PU vegan leather. It comes with 12 interior pockets, including six business card holders, two pen holders, and a special padded sleeve to hold your iPad or tablet. This portfolio is designed to keep you well-organized and to make a statement at interviews, meetings, and all kinds of professional engagements.
One of the important standout features of the NERO MANETTI Zippered Vegan Leather Padfolio/Portfolio is its slim and travel-friendly sturdy design. It is large enough to hold your important work documents and devices while still fitting easily into most bags and briefcases. Furthermore, the reversible legal pad allows for both right- and left-handed use. The portfolio also comes with a free "How To" user manual as an e-Book, which provides information on making the right first impression in any professional setting. With its affordable price point and stylish design, the NERO MANETTI portfolio is a highly-functional and impressive addition to your professional gear.
6. Maruse Personalized Italian Leather Executive Padfolio/Portfolio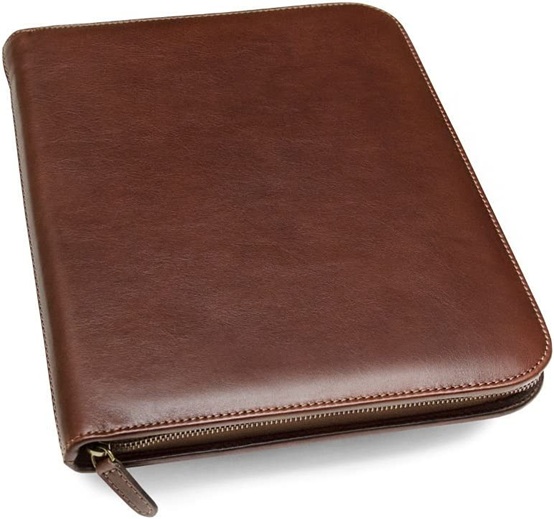 The Maruse Personalized Italian Leather Executive Padfolio/Portfolio is the epitome of modern elegance and functionality. Crafted using genuine full-grain Italian calf leather, this premium leather padfolio demonstrates a timeless sophistication that is unparalleled. Its sleek and robust design and distinct smell give a nod to age-old traditions of crafting high-quality leather products.
This executive case is not only stylish but also very much practical, with extra features like internal slots for credit and business cards, a loop for writing instruments, and a lined writing pad. It's perfect for any kind of business meeting, providing ample space for a 13.3'' Macbook or 12.9" tablet. The military-grad metal zip-around closure and smooth leather pull ensure that all your essentials are safe and secure. Maruse's dedication to excellence and tradition is evident in the quality of their genuine leather products, which comes from the exclusive region of Santa Croce sull'Arno in Tuscany. The company uses meticulous handcrafting techniques and design methods to meet the highest standards in the industry.
7. Supreme Business Portfolio by Rustic Town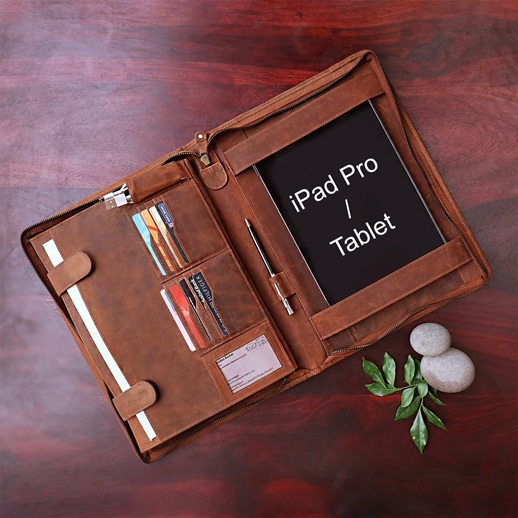 The Supreme Business Portfolio by Rustic Town is a premium leather padfolio that is handcrafted with top-grain leather material to make a lasting positive impression in any professional business setting. It comes with padded covers that add an extra edge to its design appeal. This versatile and functional leather portfolio has everything you need to stand out from other people. It comes with 2 large pockets, 8 business card slots, 1 pen holder, an ID slot, and an iPad/tablet holder. It offers a heavy-duty zip and an extra outer zippered pocket to keep your electronic devices as well as paper contents secure, giving you peace of mind. Whether you're going to business meetings, delivering presentations, interviews, conferences, or just managing daily tasks, this premium leather padfolio has got you covered.
Its thick hardbound cover and meticulous hand stitching ensure lasting durability, and it is easy to maintain lustrous leather simply requires a gentle wipe with a wet cloth or tissue to remove any dirt or stains to restore its shiny appearance. The portfolio also offers a universal MacBook sleeve that can hold up to tablets/iPad, making it perfect for the evolving needs of modern professionals.
Looking for a thoughtful, sophisticated, and practical business gift for a working professional? Look no further than the best leather portfolios/padfolios discussed above. They are the best-seller in their category and are unparalleled in terms of design and build quality. We hope that you find this blog post useful! 🙂