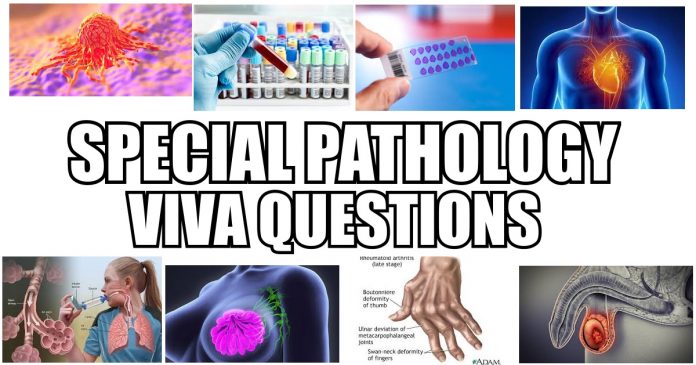 Today, in this blog post we are going to share with you viva questions of Special Pathology so that all those who are preparing to appear in the oral exam can advance their preparations. These special pathology viva questions have been collected from the 4th year MBBS students (batch 2013-14) of Bolan Medical College, Quetta. We hope that you people find this blog post useful in your viva preparations! 🙂
Best of luck! 🙂




Special Pathology Viva Questions of 4th Year MBBS
Before jumping to the viva questions, here's a quick overview of the 4th year MBBS Special Pathology syllabus (source: Pathoma):
Red Blood Cell Disorders
White Blood Cell Disorders
Vascular Pathology
Cardiac Pathology
Respiratory Tract Pathology
Gastrointestinal Pathology
Exocrine Pancreas, Gallbladder, and Liver Pathology
Kidney and Urinary Tract Pathology
Female Genital System and Gestational Pathology
Male Genital System Pathology
Endocrine Pathology
Breast Pathology
Central Nervous System Pathology
Musculoskeletal Pathology
Skin Pathology
Alright, below are the special pathology viva questions: 🙂
Thalassemia (and its investigations, treatment, and management)

Hemophilia

Hashimoto's thyroiditis

Ovarian tumors

Carcinoid tumor

Chronic cholecystitis

Liver function test

Pneumonia

Kidney (Lab tests for assessing kidney function)

Liver Cirrhosis

Endometriosis

Medullary carcinoma of the breast

All Blood Counts (Haemoglobin Count, RBC Count, WBC Count, Platelets Count)

HIV

Hepatitis

Diseases caused as a result of blood transfusion

Mismatched transfusion reactions

Blood types

Sickle cell anemia

Thalassemia

Hemophilia

Types of cells in the blood

Fibrocystic changes in breast

Medullary carcinoma

Hyperthyroidism

Nephrotic syndrome

Minimal change disease

Complications of diabetes

Myocardial infarction

Bone tumors

Lymphoma

Pneumoconiosis

Pneumonia

Endometriosis

Rheumatic arthritis

What is urea?

Level of blood urea

Diabetes investigations

Urolithiasis

All questions regarding last Pathochemical practicals

External
DNA typing
Chronic cholecystitis
Ectopic pregnancy
Bone tumors
Hashimoto thyroiditis
Reed Sternberg cells and its types
Iron deficiency anemia
Thalassemia
Appendicitis
Serum ferritin normal value
Chronic cholecystitis
Cushing ulcers
COPD
Lung cancers
Bronchiectasis
Diabetes complications
Cretinism
Cushing syndrome
Chronic pyelonephritis
Thalassemia alpha beta
Tumors of lungs, breast, ovary
LDL, HDL, jaundice, iron deficiency anemia
Cholecystitis
Functions of the spleen
Cause of splenomegaly
Types of Plasmodium
Test of thalassemia
Electrophoresis
Chemical pathology, serum levels of different elements like Ferratin, cholesterol, creatinine kinase, troponin, glucose, urea.
Normal ferritin
Acute & chronic hepatitis different. And types of enzymes which are raised in them.
What is ALT
Liver enzymes
Serum electrolytes
Fibroid uterus.
Ovarian tumors.
Mature & immature teratoma d/f.
Liver cirrhosis & clinical features.
Gynecomastia
Pheochromocytoma
Thyroid storm
Bronchial or lung carcinoma.
Male tumors
What are multiple fibroids?
D/f b/w pneumonia & pneumoconiosis.
Difference between Restrictive and obstructive lung disease
What are premalignant lesions (scc,bcc,malignant melanoma)
Benign Prostatic Hyperplasia (BPH)
Testicular tumor classification (seminoma, teratoma are important)
That's all! 🙂
If you would like to contribute to this blog post, please drop us your special pathology viva questions below and we will add them here.
GOOD LUCK EVERYONE! 🙂