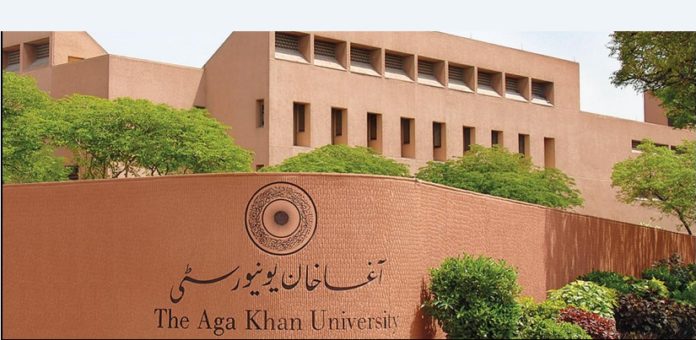 Are you a medical student with a month off from your med-school? And you look forward to leverage your time by enrolling into medical electives at the Aga Khan University Hospital? If yes then you have come to the right place as this article will be of great help as we're going to share everything you need to know about getting electives at AKU. And in addition, we'll discuss ways you can be super-productive with your time and have great learning outcomes by the end of your elective program!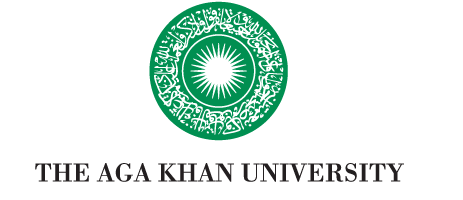 But before that we go on in details, lets take a look at a few things you might want to know:
About the Aga Khan University Hospital
Founded in 1983 by the Prince Karim Aga Khan (the 49th current Imam of Nizari Ismailism), the Aga Khan University is considered as the Harvard or John Hopkins of Pakistan because of its excellence in the field of medicine and medical research. The medical college and teaching hospital spread over on a 65-acre site in Karachi. AKU's clinical labs based in Karachi are the only local labs in Pakistan to be accredited by the College of American Pathologists.

QUICK STATS:
The Higher Education Commission of Pakistan ranks AKU as the TOP medical school in Pakistan.
AKU is ranked among top 185 universities in Asia and also among the top 300 in the whole world for medicine and clinical research by Quacquarelli Symonds.
AKU is an independent research university and has credit to its name for about 75% of all biomedical research in Pakistan alone. Rest of the 25% is shared by all other institutions combined.
AKU publishes more research work in internationally recognized journals than any other university in Pakistan through its well-established and funded research facilities available at undergraduate level.
Why do medical electives at AKU?
That's a good question to start with. Here are a few good reasons that why you should consider doing an elective before graduating from med-school:
Exposure and learning: By joining medical electives at the Aga Khan University, you get enriching exposure of working at a hospital with international standards. You get to know and learn the general hospital protocols, dealing with patients (people skills) and work with leading healthcare professionals side-by-side and learn from them directly.
You get to work with the patients: Your placement as an elective student at AKU means that you get to work with the patients directly under the supervision of your consultant and concerned senior medical officer, postgraduate resident and house officer. As an elective student, you're dealt by the staff as a student of their own— meaning you have the same privileges as any other student of the Aga Khan University.
Understanding your ethical and professional responsibilities: An elective at AKU is a great opportunity to learn and understand your ethical and professional responsibilities towards a patient prior to starting your internship (housejob) at a hospital.
Hands-on experience with latest medical equipment and procedures: The Aga Khan University Hospital has cutting edge and most sophisticated medical equipments that will be available to you as an elective student. The staff and doctors are highly friendly and cooperative. You will be able to learn numerous medical procedures and get to apply them once you have mastered your skills.
You get a Letter of Recommendation from your consultant: At the end of your electives at AKU, you get a signed letter of recommendation (a.k.a LOR) from the consultant with whom you did your electives. An LOR from the Aga Khan University is of great value and will be helpful in many ways in your future endeavors. In addition to this, you will also be able to attend CMEs, seminars and different conferences and a get a certificate of attendance for them as well. 🙂
---
AKU Electives Experience
---
Hospital: Aga Khan University Hospital, Karachi
Elective Specialty: Emergency Medicine
Residency: Karachi
Elective Student Name: Imranullah Khattaq, Final Year, Bolan Medical College, Quetta.
During my 4th year MBBS at Bolan Medical College, Quetta, I traveled back to my home in Karachi. And there I met a senior of mine who suggested me that I should go for electives at AKU and apply for a placement in my desired specialty. He told me about his experience, things that he learned and how he developed the skills and confidence of working with the patients in an international hospital setting.
I was motivated and thought of this as a great learning opportunity. I applied for clinical electives at AKU in December 2016 in Emergency Medicine and got my placement for March 2017.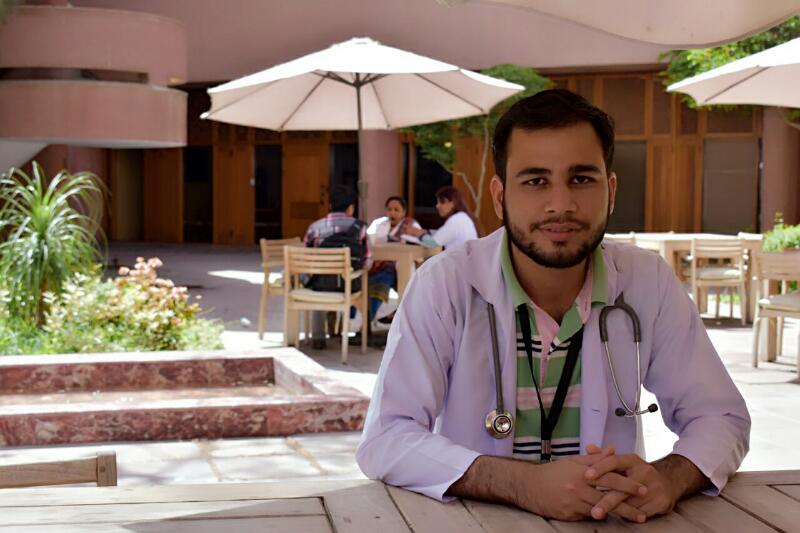 My application:
The application fee for AKU electives is just Rs. 2000 and another processing fees of Rs. 2000. And that's it.
Here's my application and bank draft: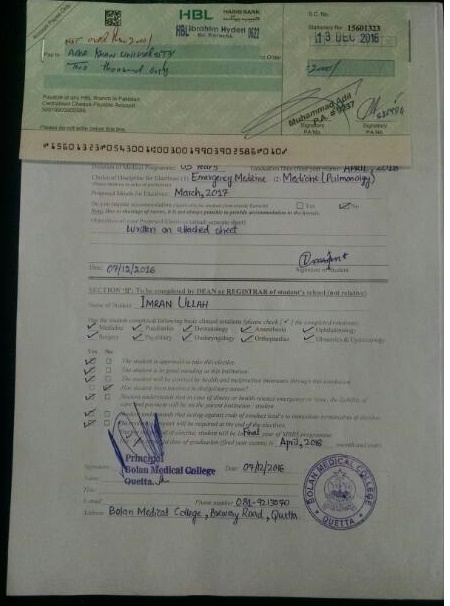 Accommodation:
As mentioned earlier, I am based in Karachi so I didn't need hostel accommodation. But for those who are from outside Karachi can opt for on or off-campus accommodation (fully furnished and manged by AKU) for a reasonable Rs. 16000.
Daily Routine:
On my first day of placement, we were first given an orientation regarding the hospital and general working protocols concerning our respective specialties. I also got my schedule for the whole month. Our weekly schedule was: 2 days morning, 2 nights and 2 days off.
Working at the Emergency Room (E.R) was very stimulating as new patients arrived every hour. And because no patient stayed longer than three hours in E.R (because either he is discharged or referred for admission), I got to see many patients every day.
My work involved history taking and examination as per the case and then discussing it to my my H.O or PGR. And then we would discuss DDx and lab investigations and management regarding each case.
My Experience:
I had a very enriching experience while working as an elective student at AKU. It made me realize my ethical and professional responsibilities towards patients as a future doctor. The electives also served as a full-time simulation of how it would be like after graduating from med-school.
My history taking, DDx and examination skills greatly improved by the end of my electives. And the best part about my overall experience was that my confidence for working with the patients improved a lot. I built more coordinated reflexes by closely observing my seniors and then practically applying them (after sufficient mastery).
The consultants, PGs, H.Os and other staff was very friendly and cooperative. We would discuss different cases each day in review sessions and inside wards as well. My consultant, Dr. Muhammad Baqir (Associate Professor at Department of Emergency Medicine, AKU) was very kind and encouraging throughout. 🙂
I learned and practiced the following procedures while working at the E.R:
Arterial Blood Gas
Digital Rectal Exam
Nasogastric tube intubation
Isolation room protocols
In addition, I also learned Cardiopulmonary Resuscitation (CPR) and practiced them on dummies as well. I observed the staff and doctors performing CPR on actual patients.
My Letter of Recommendation:
Here's my letter of recommendation: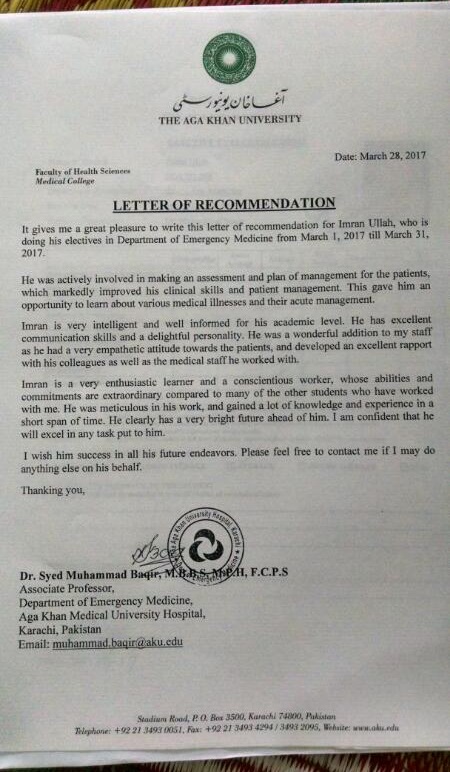 ---
Hospital: Aga Khan University Hospital
Elective Specialty: Pulmonology
Residency: Karachi
Elective Student Name: Asad Hanif (Final Year MBBS, Bolan Medical College, Quetta)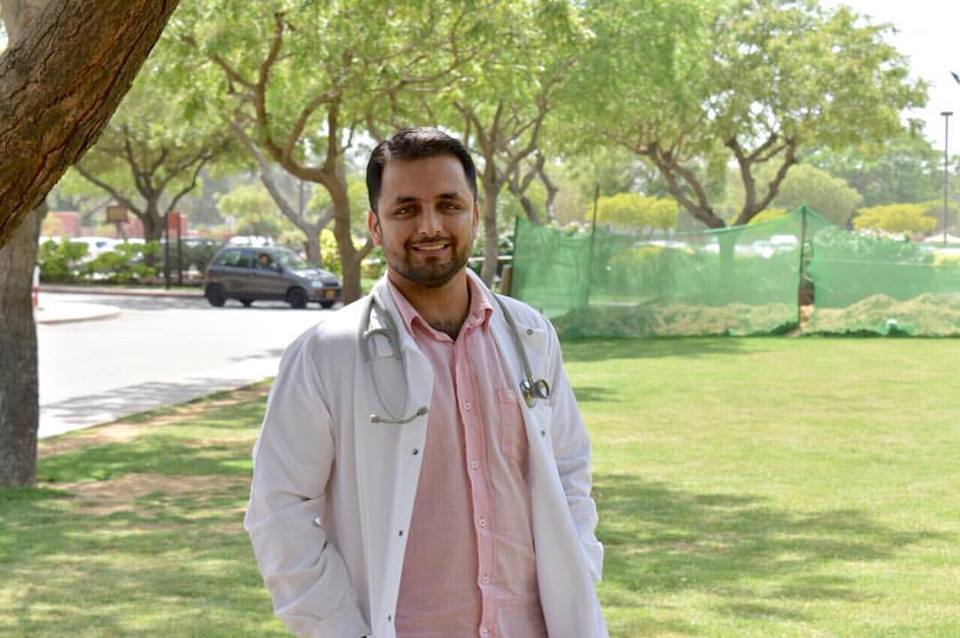 My Daily Routine and Clinical Elective Experience at AKU:
Here's a quick overview of my daily routine at the Aga Khan University during my placement as an elective student:
Clinical ward rotations with consultants and PGRs (Daily)
X-Ray discussion sessions (twice a week)
Histopathology sessions (twice a week)
Clinical Audit Sessions (once a week)
Presentations on clinical scenarios and cases (once a week)
The most interesting and important thing to mention here is my experience at the consulting clinics with my consultant, Dr. Javaid Khan (Professor of Pulmonology Department, AKU) and Dr. Muhammad Irfan (Associate Professor of Pulmonology Department, AKU) — which were scheduled for four days a week (from Monday to Thursday).
The clinical consulting experience was exceptional because at AKU you have your own consulting room where you are given an opportunity to deal the patients one-on-one and then present your case before the consultant. Other than that, the X-Rays and histopathology sessions were worth taking as it served as a quick revision of all basic medical sciences subjects.
The hectic thing were the clinical ward rotations which were part of the electives schedule throughout the month (6 days a week). During the rotations, we were accompanied by the consultants, PGRs and students and it involved case presentations and direct patient interaction.
Working at the Aga Khan University gave me an unprecedented clinical exposure and the confidence which I think will be of great help in future. To sum it up, for me, it was a month of learning, a month of motivation and above all it was a month of comparative analysis.
Things you should do before your placement:
If you want to make the most of your time as an elective student at AKU, I would recommend doing the following BEFORE joining so that you will have much better learning outcomes:
Polish your history taking skills as much as you can.
Learn General Physical Examination (GPE) and also the systemic examination of your concerned specialty.
DDx (Differential Diagnosis)
And read as much as you can about the specialty that you have been placed in (i.e common diseases, their clinical manifestation and pathology)
The electives office informs you one month prior to your placement, so it's highly recommended that you lay the groundwork (by doing the above-mentioned) before starting so that when you join, you'll be confident and make the most of it! 🙂
That's it. Best luck of luck to everyone wishing to go for their electives! 🙂
---
How to apply for the AKU ​Elective Programme?
---
The AKU ​Elective Programme is four week long clerkship offered not only to local and internationally medical student but also to high school students (pre-meds) who are interested in pursuing a career in medicine.
Click here to find out all information regarding these electives.
The Aga Khan University offers two type of electives:
Research Electives
The applicants are placed in Basic Sciences and Community Health Sciences
Eligibility:
Medical students (any year) may apply
Students studying in A-Level or Intermediate (pre-medical) may apply
Clinical Electives
The applicants are placed in hospital setting of desired department depending on their academic profile.
Eligibility: 
Upon successful completion of second professional examination (or six semesters) or third professional examination with an average of 65% in all examinations.
For more on eligibility, please click here.
When to apply?
You must apply by the deadline for each elective period, as provided in the below AKU Electives schedule. If the deadline is missed, you will not be able to get the desired placement.
So, lets say if you're applying for a placement in December, you must apply three months before the rotation dates.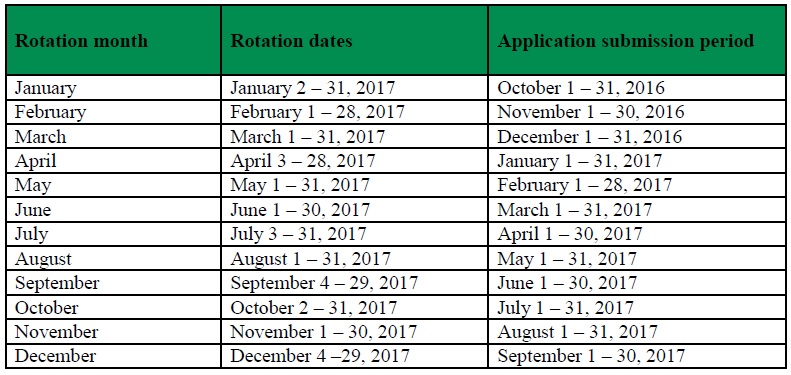 We hope you find these article useful! 🙂
Please let us know if you have any questions by leaving your comments below in the comment box.