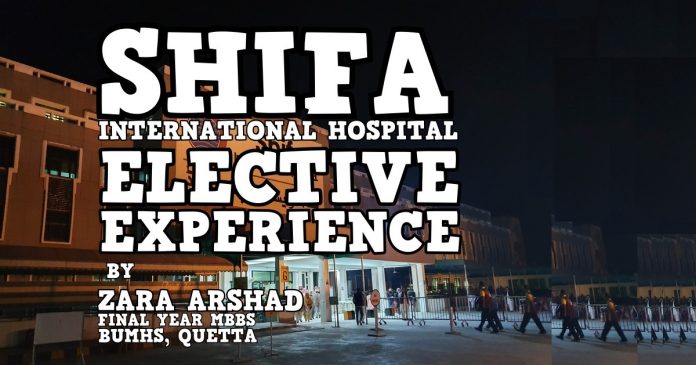 This article has been authored by Zara Arshad, a final year medical student at Bolan University of Medical and Health Sciences, Quetta.

Quick facts about Shifa International Hospital (SIH), Islamabad:
Shifa International Hospital located in Islamabad is one of Pakistan's largest and well-know medical facilities that has since its inception around 25 years ago proven to provide quality healthcare to the people of Pakistan. It is a 550-bed facility with quality care and OPD facility in various medical sub-specialities. It is a Joint Commission International (JCI) accredited facility. The centers of excellence of the facility include Hepatology including Liver transplants, Urology including Kidney Transplants, Cardiology, Oncology, and Orthopedics.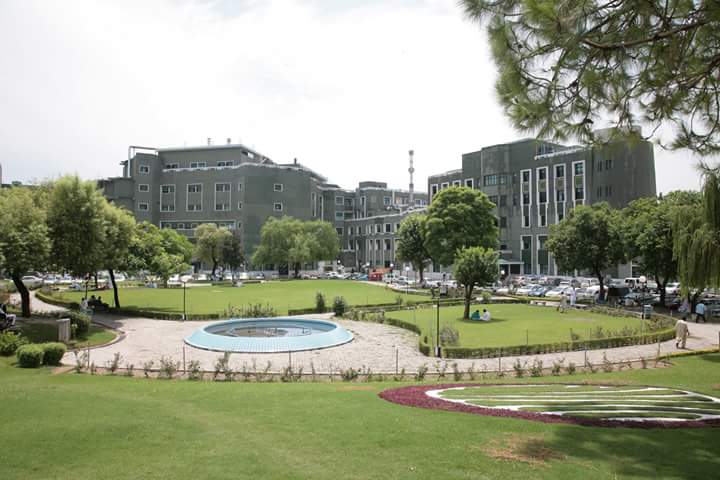 About Shifa International Hospital Clinical Electives Program:
Shifa International hospital Islamabad offers clinical electives to 4th or 5th-year undergrad medical students of Pakistan for a period of 4 weeks. The electives are offered throughout the year in all clinical specialties, the most highlighted ones to mention for SIH are Internal and Emergency Medicine, Surgery, Cardiology, Gastroenterology, and Neurology.
Electives are offered under the Shifa Tameer e Milat University with its constituting Shifa College of Medicine.
Link to the application process: https://stmu.edu.pk/academic/collegesdepartments/scm/clinical-electives-program/
Why choose SIH for an elective?
SIH runs closely on American Medical Guidelines and hence gives you a chance to experience healthcare provision hands-on in one of the best medical facility in Pakistan
The convenience of placement compared to other offered elective programs in Pakistan
You can apply for more than 1 elective placement if you wish to (unlike AKUH, where you get only one placement)
Easy application process (required to be sent only 1 month before your desired dates of elective)
Experiencing the capital (Islamabad) with all perks of the city itself! 🙂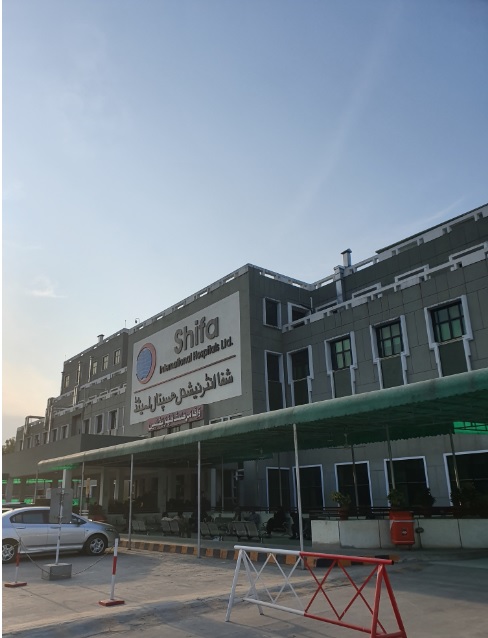 Shifa International Hospital elective experience:
Elective specialty:     Internal medicine (with specially requested volunteer rotations in Surgery, Emergency medicine and Pediatrics)
Student name:          Zara Arshad (Final Year MBBS – Bolan University of Medical and Health Sciences, Quetta)
Dates of elective:     3rd Nov 2019 – 3rd Dec 2019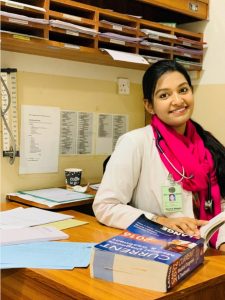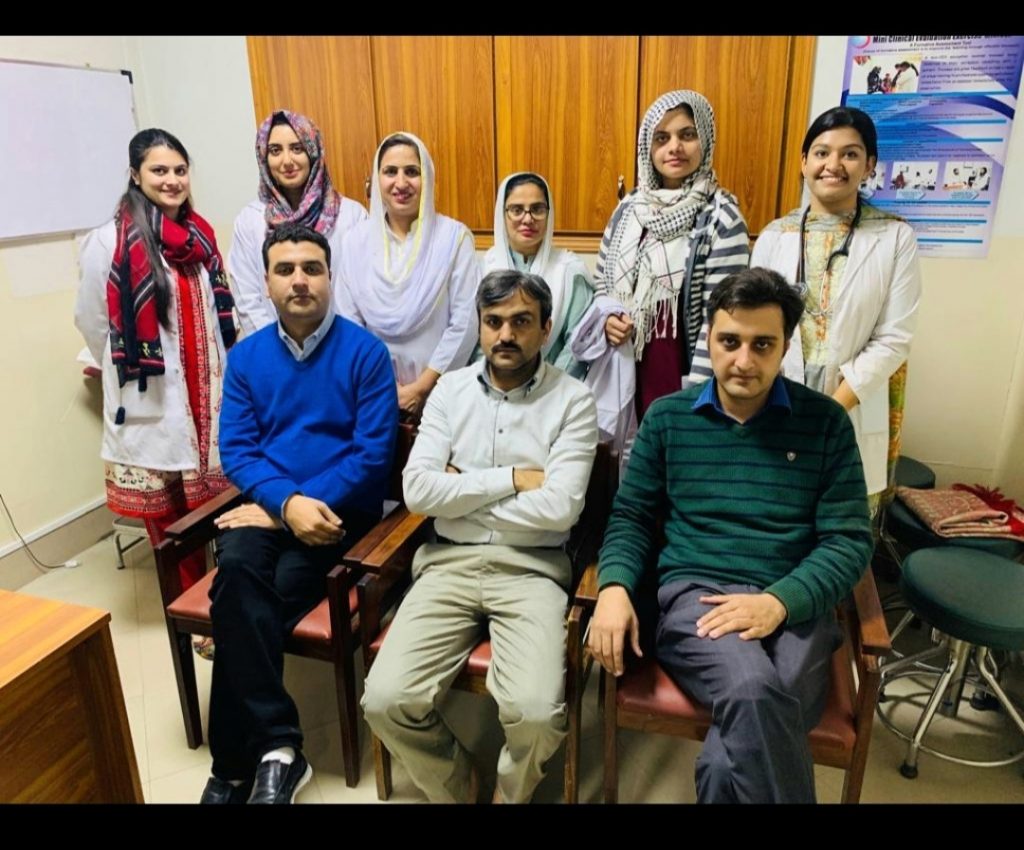 Schedule as an elective student at SIH:
A 6 days a week rotation from 9 AM to 3 PM in the Shifa International Hospital's Falahi Clinic (The part of the Shifa medicine department that works under the Shifa Welfare Foundation with a lower cost of healthcare facilities for the less privileged hence more patient input).
My weekly rotation included the following:
OPD rotations daily:
I was assigned to one preceptor (consultant) in the department weekly with whom I had to attend the OPDs and assist him/her in all activities of the week.
History taking and hands-on examinations on patients
Prescription writing, record keeping, and writing investigations
Case discussion sessions during and after the OPD
Skill sessions (Usually for clinical techniques such as tutorials on dummies, ECG interpretation, detailed systemic examinations, etc. These sessions took place with the scheduled sessions of 4th and 5th-year medical students of Shifa College of Medicine)
Immediate emergency care and management
Inpatient visits with the preceptor on admitted patients (rounds)
For me, a 1-month rotation at the SIH was a dive into the overwhelming world of clinical professionalism. I got to interact with exemplary clinicians and researchers and was able to work alongside them which has greatly boosted my confidence. SIH has definitely given me a new level of enthusiasm towards clinical sciences and medical ethics. It is also noteworthy to mention here about my interaction with fellow medical students of Shifa College of Medicine inside the hospital, college campus and in the Shifa girls' hostel (which I availed for the elective).
During the elective, you are given full autonomy for history taking and examinations either in a separate cabin or in front of your supervisor. Later you had to present your case. A lot of times me and my fellow elective students were asked to counsel the patients separately if needed. The case discussion sessions twice or thrice weekly were very enlightening, since they help you connect dots towards a diagnosis and possible management. Moreover, during the 'skill sessions' twice a week, you are demonstrated certain techniques and then given adequate time to perform them in front of your teacher.
You are issued an elective card on the first day of your elective which technically makes you a Shifa student for the month hence you can pretty much explore the mighty Shifa complex with all its blocks. With prior permissions, I was able to experience a 1-week rotation in SIH 'Operation Room' (Abv: SIH OR) as well where I observed some neurosurgeries, cardiac surgeries and some GI and general surgeries. Alongside I used to visit the emergency medicine department after my rotation time ended and would discuss cases with the doctors on duty occasionally.
READ ALSO: 
How to Get Electives at the Aga Khan University (Experience)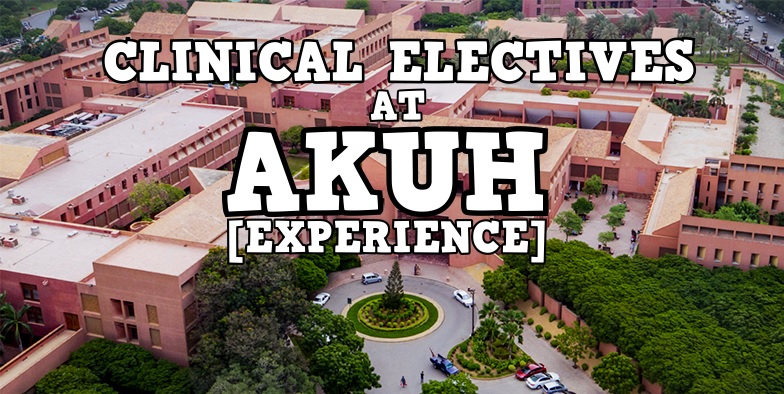 Certifications you get after the elective:
A 'certificate of elective' signed by your department's head and by Shifa College of Medicine Students Affairs department. You are required to complete a logbook with a daily signature from your concerned elective supervisor which you have to handover to the student's affairs department after the end of the elective in order to receive the certificate.
Letter of Recommendation (LOR) from the Head of the department of your specialty. It is recommended to submit a request for the LOR in the last 10 days of your placement so that it is ready by the time you are leaving the city.