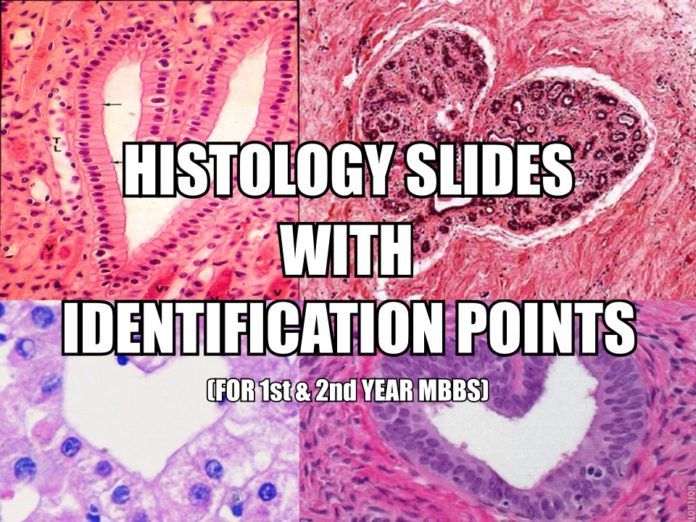 Histology is a minor subject of Anatomy during 1st and 2nd Year MBBS. It's often feared by students because of being graphical and intricate arrangement of subtle biological structures — making it hard to memorize. In order to score well in spotting of histology slides, one must practice reviewing the slides over and over again and memorize the identification points as well.
**PRO TIP: Use histology flash cards or download below-mentioned histology slides in PDF on your phone and practice reviewing before the test. This is one tested and proven method for mastering histology spotting. Hope this works for you as well! 🙂
PAGE JUMPS: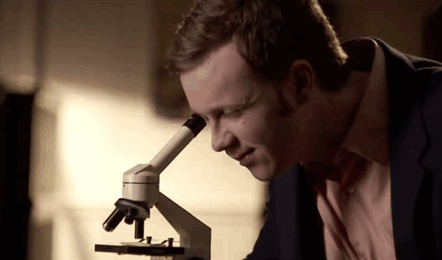 In this blog post, we're going to share histology slides with identification points for both 1st and 2nd year MBBS classes. The histology slides can be found below in a downloadable PDF file which you can use on your phone or tablet for quick reviewing and test preparation.
Happy learning! 🙂
1st Year MBBS Histology Slides With Identification Points
Below are the 28 histology slides / identification points of 1st Year MBBS: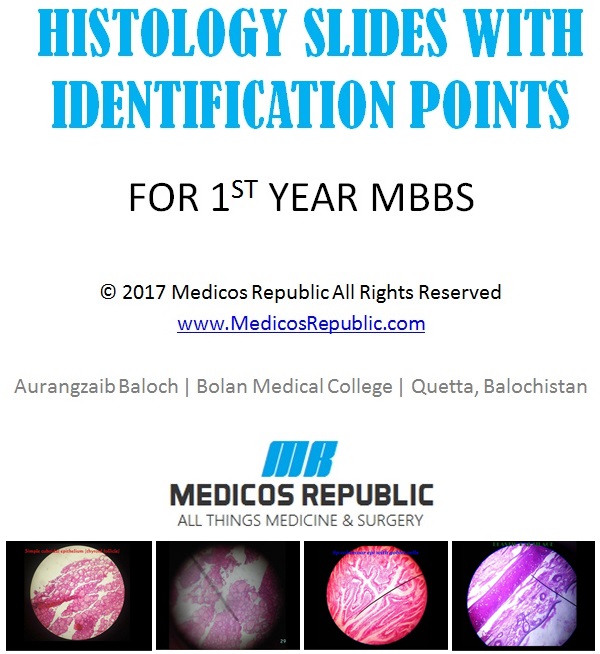 **  Click here to view the 1st Year MBBS Histology Slides on Google Drive **
1. SIMPLE SQUAMOUS EPITHELIUM
Appearance: Flattened cells
Surface view: rounded central nucleus
2. SIMPLE CUBOIDAL EPITHELIUM
Cuboidal cells
Central rounded nuclei
3. STRATIFIED CUBOIDAL EPITHELIUM
Multilayered Basal cells: high cuboidal or low columnar cells
Surface layer: cuboidal
4. SIMPLE COLUMNAR EPITHELIUM WITH GOBLET CELLS
Elongated column shaped cells (height is greater than width)
Elongated basal nuclei
5. STRATIFIED SQUAMOUS NON KERATINIZED EPITHELIUM
Surface squamous flattened cells
No keratin
6. SIMPLE COLUMNAR EPITHELIUM
Single layer of elongated cells
Height of cell is greater than width of cell with elongated basal nuclei
7. PSEUDO STRATIFIED COLUMNAR EPITHELIUM
Single layer of cells
Nuclei lying at different levels; give the false appearance of "stratified"epithelium
8. FIBRO CARTILAGE
No perichondrium
Chondrocytes within lacunae, arranged in rows
9. ELASTIC CARTILAGE
Perichondrium is present
Elastic fibres in matrix
Chondrocytes in lacunae in the form of isogenous groups
10. HYALINE CARTILAGE
Dense Irregular CT (perichondrium)
Chondrocytes (in the form of isogenous groups) within lacunae
Visibility to naked eye: Bluish white translucent appearance
11. THIN SKIN
Stratified squamous keratinized epithelium
Hair follicles and roots present
Sebaceous and sweat glands present
12. THICK SKIN
Stratified squamous keratinized epithelium
No hair roots and follicles
Pacinian corpuscles
14. DENSE REGULAR CONNECTIVE TISSUE 
Parallel collagen fibers in the form of bundles
Compressed elongated fibroblasts between the collagen fibers
15. MUCOUS ACINI
Pyramidal cells
Flattened nuclei towards the base
16. SPINAL CORD
Central canal
Butterfly shaped grey matter
Dorsal median sulcus and ventral median fissure (depending on the portion under examination)
17. ARTICULAR CARTILAGE
Superficial tangential layer
Intermediate transitional layer
Radial zone
Calcified zone
18. COMPACT BONE
Haversion Canal
Lamellae
Osteocytes in lacunae
19. SPONGY BONE
20. CARDIAC MUSCLE
Striated appearance
Intercalated discs
21. SMOOTH MUSCLE
Non-striated appearance
Single central nucleus
Spindle shaped cells
22. SKELETAL MUSCLES
Characteristic striated appearance
Peripheral nuclei
Nucleus ovoid in shape
23. ADIPOSE TISSUE (WHITE)
Unilocular
Nuclei towards periphery
24. ELASTIC ARTERY
No distinct outer and inner elastic membranes
Tunica adventitia: merges with CT, contains vasa vasorum
Tunica media: elastic fibres are present in a large amount
25. SPLEEN
Red pulp: splenic cord and venous sinuses
White pulp: contains lymphatic nodules and germinal centre
26. THYMUS
Medulla is lightly stained
Hassall's corpuscles in medulla
27. LUNG
Alveoli: Type I alveolar cells (simple squamous epithelium); Type II alveolar cells (cuboidal cells)
Respiratory bronchioles: lined by simple cuboidal epithelium
28. TONSIL
Stratified squamous non keratinized epithelium
Crypt
Trabeculae
Lymphatic nodules
2nd Year MBBS Histology Slides With Identification Points
Below are the 58 histology slides / identification points of 2nd Year MBBS: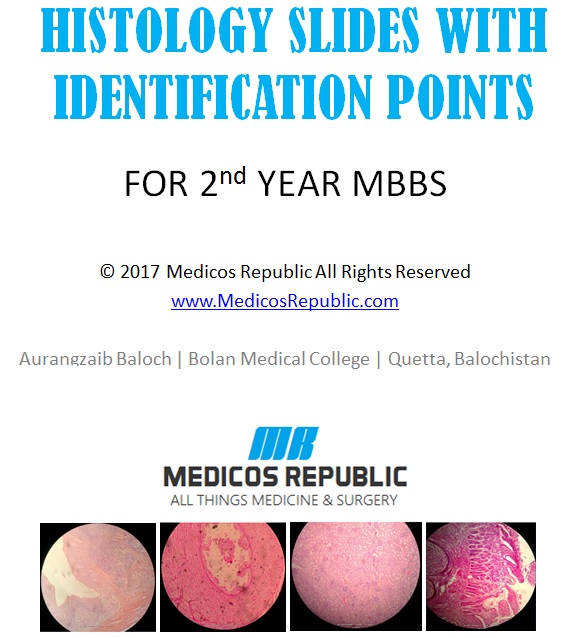 ** Click here to view the 2nd Year MBBS Histology Slides on Google Drive **
1. DUCTUS DEFERENS
Irregular Convoluted single lumen
Low columnar pseudostratified epithelium with stereocilia
Very thick (3 layered) muscularis
2. KIDNEY CORTEX
Simple SQ. Epithelium
Bowman's capsule
Glomerulus
Proximal and distal convoluted Tubules
3. THIN SKIN
Epidermis consists of ST. SQ. Keratinized epithelium
Dermis
Skin appendages i.e hair follicle, sweat and sabeceaous glands
4. THICK SKIN
Includes a cartilage i.e hyaline cartilage in appearance
Above mentioned features of thin skin
Mention name i.e Vestibule of the nose
5. SPINAL CORD
Outer white matter
Inner gray matter which is H shaped
Centeral canal lined by empendymal cells
6. CEREBELLAR CORTEX (cerebellum)
Cortex consists of three layers : Outer molecular layer & Inner granular layer
In between these two layers is a single layer of Purkinjee cells
Inner white matter
Outter gray matter
7. CEREBRUM
Comprises of six layers
3 types of cells: a. Pyramidal cells b. Granule cells. c. Triangle cells
8. ARTERY
Lumen is rounded and regular
Tunica Intima
Tunica media => Endothelium :: Simple SQ. Epithelium
Tunica externa
9. VEIN
Irregular lumen
Thin & regular tunica media
10. THYMUS
Thymic lobules
Hassel's corpuscles
Complete and incomplete septa and lobules
Trabaculae
11. HYALINE CARTILAGE
Perichondrium
Isogenous Chondrocytes in Lacunae
Hylose
Cell nest
Collagen fibers present but not visualized
12. ELASTIC CARRILAGE
Perochondrium
Chondrocytes scattered in matrix
Elastic fibers present and visualized
13. LIP
Dermal Papillae along the foldings
Core of skeletal muscles
Labial Salivary glands
14. PENIS
Corpus Cavernosum
Corpus spongiosum
15. SPONGY BONE
Few Haversion System
Osteocytes with their lacunae
Bony trabaculae
Periosteum
Endosteum
16. SKELETAL MUSCLE
Cross striations present
Multinucleated
Nuclei at the periphery
17. CARDIAC MUSCLES
Striated muscle fibers with intercalated discs
One or two oval central nuclei
18. SMOOTH MUSCLES
Spindle shaped muscle fibers
Flattened centrally arranged nucleus.
19. PALANTINE TONSIL
Partial epithelium & partial capsule
Tonsillar crypts
ST. SQ. Nonkaretinized epthelium
Lymphatic nodules
Aggregation of lymphocytes
20. LYMPH NODES
Outer cortex having lymphatic nodules with Germinal centers
Inner medulla having medullar sinuses
21. SPLEEN
Bilirth cords and venous sinuses
White pulp
Red pulp
Peri-arterial sheeth
22. THYMUS
Thymic Lobules
Hassel's corpuscles
Complete and incomplete septa and lobules
23. TOUNGE
ST. SQ. Nonkeratinized
Lingual papillae
Taste buds
Mucous and serous acini
24. ESOPHAGUS
All layers: Mucosa, Submucosa, Muscularis Externa and Adventitia
Mucosa lined by ST. SQ. Nonkeratinized
25. STOMACH
Irregular Mucosal Folds: Rogue (only specific for stomach)
Mucosa lined by Simple Columnar Epithelium
Gastric pits
Gastric ducts
Pareital cells and cheif cells
26. DUODENUM
Mucosa has "Leaf" like out folding
Lined by Simple Columnar Epithelium
Brunner's gland in sub-mucosa
27. JUJENUM
Mucosa has "finger" like out folding
Lined by Simple Columnar Epithelium
Lymphatic nodules
28. ILEUM
Club-shaped villi
Lined by Simple Columnar Epithelium
Payer's patches
29. LARGE INTESTINE
All layers: Mucosa, Submucosa, Muscularis Externa and Adventitia
Mucosa in form of Crypts
Abundance of Goblet cells
No villi
Tenia colai
30. GALL BLADDER
Simple columnar epithelium
Wall is composed of: Mucosa, muscularis externa and adventitia
Rogue (outward projections) and diverticulum (inward fold)
Sub-mucosa absent
30. SALIVAR GLANDS
Mixed glands both mucous and serous acini. Predominantly mucous
Striated, Intercalated and interlobular duct
Serous demilunes
31. SUB MANDIBULAR GLANDS
Mixed glands both mucous and serous acini. Predominantly serous
Striated, interclalated and interlobular ducts
32. PAROTID GLAND
Pure serous acini are present
Striated, Intercalated and interlobular ducts
33. LIVER
Hepatic sinusoids
Portal canal
Hepatocytes
34. PANCREASE
Pancreatic accini
Pancreatic islets
Pacinian corpuscles
35. THYROID GLAND
Thyroid follicles lined by simple cuboidal epithelium
Follicle with collide
Simple cubodial epithelium
Parafollicular cells
36. ADRENAL GLAND
It is divided into outer cortex and inner medulla
Adrenal cortex is composed of 3 Zones:
A. Outer: Zona Glomerulosa
B. Middle: Zona Fasciculate
C. Inner: Zona Reticularis
37. TRACHEA
C-shaped rings of hyaline cartilage
Pseudostratified ciliated epithelium
38. LUNGS
Network of Alveoli and alveloar ducts
Intrapulmonary bronchus lined by Pseudostratified epithelium
Respiratory bronchioles
Bronchi with hyaline cartilage
39. KIDNEY
Cortex has renal corpuscles
Medulla has papillae made up if collecting ducts
Glomeruli
Convoluted tubules
40. URETER
Star like lumen
Epithelium: Transitional Epithelium
41. URINARY BLADDER
Epithelium: Transitional Epithelium
Smooth muscles bundles are present
42. TESTIS
Seminiferous tubules lined by St. Cuboidal Epithelium
Lydig cells
Germinal epthelium
Tunica Albogenia
Tunica Vasculosa
43. VAGINA
Epithelium: St. Sq. Nonkeratinized epithelium
Lamina propria lacks glands
Bundles of smooth muscles
44. UTERUS
Wall is composed of 3 layers Endometrium, Myometrium and Perimetrium
Germinal epthelium
45. FILLOPIAN TUBE
Simple columnar epithelium
Wall has three layers: Mucosa, Muscularis Externa and Serosa
Irregular mucosal folds
46. OVARY
Different stages of the graffian follicles
Corpus luetum
Primary follicle
Cortical stroma
Germinal epithelium
 47. MAMMARY GLANDS
Lactiferous ducts
Alevoli with milk
Acini appears round spherical
48. VAGINA
Stratified Squamous non-kertanizied
Mucosal Folds
Smooth muscles
49. CORNEA
Corneal stroma
Desment's layer
Corneal epithelium: St. Sq. Non-Keratinized Epithelium
50. RECTUM
Tenia coli absent
Simple Columnar Epithelium
Pyares patches
Numerous goblet cells
51. PROSTATE 
Capsule
Prostatic glands
In the lumen deposition of carbs and protiens: Corpora Amyleca
52. APPENDIX
Lymphatic nodules
Goblet cells
Irregular lumen
53. COLON
Tenia coli
Numerous Goblet cells
Villi absent
54. EPIDIDYMUS
Pseudostratified columnar epithelium
Speematozoa in lumen of the duct
55. SEMINAL VESICLE
Highly convoluted lumen with crypts and cavities
Pseudostratified epithelium
56. RETINA
Distinct 10 layers can be recognized
Rods and cones are present
Pigment epithelium
57. SUBLINGUAL GLANDS
No capsule present
Predominantly Mucous acini with few serious one
Few serious demilunes are present
No Intercalated ducts
58. SUBMANDIBULAR GLANDS
Mixed alveoli
Many serious demilunes
Shorter and narrower intercalated ducts