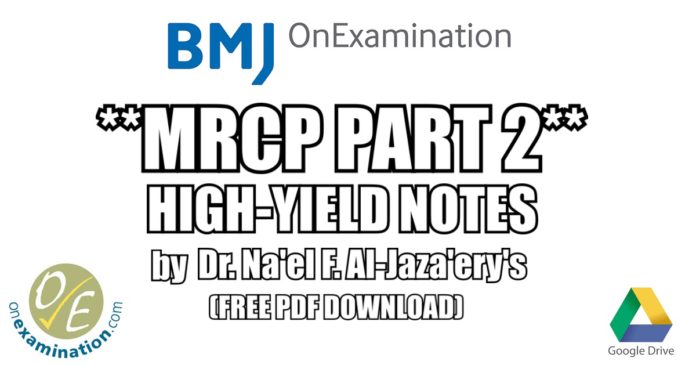 MRCP revision notes, especially those extracted from renowned online subscriptions i.e OnExamination, Passmedicine and Pastest are indisputably of great help when it comes to leveraging your exam preparation. The reason why these notes are so much popular among the fresh and aspiring young doctors is that they are to-the-point, targetted and high-yield for the real MRCP exam. All of the above-mentioned online subscriptions have been developed keeping in mind the exact curriculum that has been prescribed by the Royal College of Physicians (MRCP-U.K). Today, in this article we are going to share with you OnExamination MRCP Part 2 Notes for free downloading. These notes have been compiled by Dr. Na'el F. Al-Jaza'ery which according to the author were prepared only for his personal use but later he made these notes public so that maximum people would benefit from them. 🙂




Here's what Dr. Na'el F. Al-Jaza'ery says in the introduction:
"These notes are intended for my personal use, but I wanted to share them with as many heroes as possible, struggling to pass MRCP part 2 Written, I hope it can help you with your journey."
These OnExamination MRCP Part 2 Notes have been prepared from high-yield answer explanations of the most difficult and tricky questions. The author also advises using these notes after going through the whole OnExamination rather than before.

Now before jumping to the download of OnExamination MRCP Part 2 Notes, take a look at our most popular articles published in the MRCP category:
** RECOMMENDED READING **
List of Important Topics for MRCP Part 2
PassMedicine 2017 PDF Free Download for MRCP Part 2
MRCP Part 2 Question Bank PDF Free Download (6000+ Questions)
Dr Khaled Magraby MRCP Notes: Step Up to MRCP Review Notes (PDF Download)
OnExamination MRCP Part 2 Notes PDF Free Download




Here you will be able to get the free PDF download of OnExamination MRCP Part 2 Notes using our direct link which points to the Google Drive repository containing Dr. Na'el F. Al-Jaza'ery's OnExamination notes for MRCP Part 2.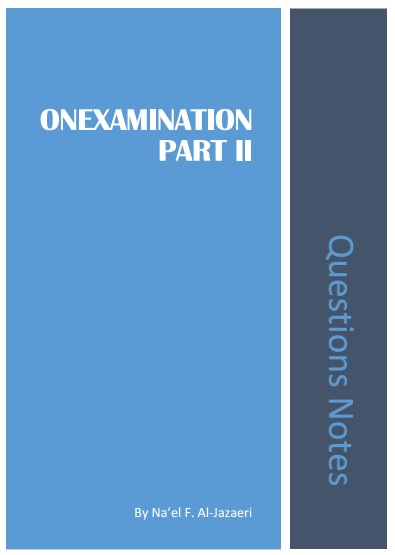 FILE SIZE: 3MB



Here's the download link which you may use to download these OnExamination Notes for MRCP Part 2:
GOOD LUCK! 🙂