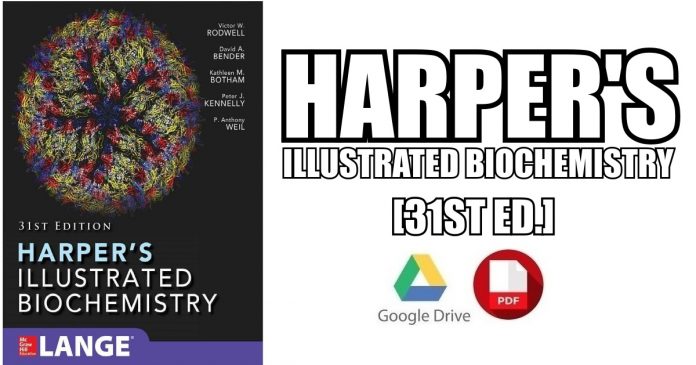 Harper's Illustrated Biochemistry 31st Edition is one the most trusted and authoritative books on biochemistry in the world. The main reason why it is so much popular among the medical students is that of its approach which focuses on building stronger foundations in biochemistry and bridging this knowledge to clinical medicine. The latest 31st edition of Harper's Illustrated Biochemistry puts great emphasis on forming a link between biochemistry and the understanding of disease pathology and the practice of clinical medicine. Today, in this article, we are going to share with you Harper's Illustrated Biochemistry 31st Edition PDF for free download using direct links. We hope that medical students will find this book useful in their studies. 🙂
One of the best features of Harper's Illustrated Biochemistry 31st Edition PDF is that it offers superbly-illustrated examples that really help in understanding the important biochemical processes/mechanisms of the human body. We highly recommend using this book! 🙂
Features of Harper's Illustrated Biochemistry 31st Edition PDF
Here's a quick overview of the important features of this book:
500+ high-definition and full-color illustrations for helping you create strong foundations in biochemistry.
Each chapter ends with high-yield summaries & discussions, clinical correlations, biochemistry pearls and board/USMLE-style review questions.
Comprehensive and easy-to-understand content which really makes reading this book a rewarding experience.
Table of Contents
Below is the complete table of contents offered inside Harper's Illustrated Biochemistry 31st Edition PDF:
SECTION I: Structures & Functions of Proteins & Enzymes
1. Biochemistry & Medicine
2. Water & pH
3. Amino Acids & Peptides
4. Proteins: Determination of Primary Structure
5. Proteins: Higher Orders of Structure
SECTION II: Enzymes: Kinetics, Mechanism, Regulation, & Role of Transition Metals
6. Proteins: Myoglobin & Hemoglobin
7. Enzymes: Mechanism of Action
8. Enzymes: Kinetics
9. Enzymes: Regulation of Activities
10. The Biochemical Roles of Transition Metals
SECTION III: Bioenergetics
11. Bioenergetics: The Role of ATP
12. Biologic Oxidation
13. The Respiratory Chain & Oxidative Phosphorylation
SECTION IV: Metabolism of Carbohydrates
14. Overview of Metabolism & the Provision of Metabolic Fuels
15. Carbohydrates of Physiological Significance
16. The Citric Acid Cycle: The Central Pathway of Carbohydrate,Lipid, & Amino Acid Metabolism
17. Glycolysis & the Oxidation of Pyruvate
18. Metabolism of Glycogen
19. Gluconeogenesis & the Control of Blood Glucose
20. The Pentose Phosphate Pathway & Other Pathways of Hexose Metabolism
SECTION V: Metabolism of Lipids
21. Lipids of Physiologic Significance
22. Oxidation of Fatty Acids: Ketogenesis
23. Biosynthesis of Fatty Acids & Eicosanoids
24. Metabolism of Acylglycerols & Sphingolipids
25. Lipid Transport & Storage
26. Cholesterol Synthesis, Transport, & Excretion
SECTION VI: Metabolism of Proteins & Amino Acids
27. Biosynthesis of the Nutritionally Nonessential Amino Acids
28. Catabolism of Proteins & of Amino Acid Nitrogen
29. Catabolism of the Carbon Skeletons of Amino Acids
30. Conversion of Amino Acids to Specialized Products
31. Porphyrins & Bile Pigments
SECTION VII: Structure, Function, & Replication of Informational Macromolecules
32. Nucleotides
33. Metabolism of Purine & Pyrimidine Nucleotides
34. Nucleic Acid Structure & Function
35. DNA Organization, Replication, & Repair
36. RNA Synthesis, Processing, & Modification
37. Protein Synthesis & the Genetic Code
38. Regulation of Gene Expression
39. Molecular Genetics, Recombinant DNA, & Genomic Technology
SECTION VIII: Biochemistry of Extracellular & Intracellular Communication
40. Membranes: Structure & Function
41. The Diversity of the Endocrine System
42. Hormone Action & Signal Transduction
SECTION IX: Special Topics (A)
43. Nutrition, Digestion, & Absorption
44. Micronutrients: Vitamins & Minerals
45. Free Radicals & Antioxidant Nutrients
46. Glycoproteins
47. Metabolism of Xenobiotics
48. Clinical Biochemistry
SECTION X: Special Topics (B)
49. Intracellular Traffic & Sorting of Proteins
50. The Extracellular Matrix
51. Muscle & the Cytoskeleton
52. Plasma Proteins & Immunoglobulins
53. Red Blood Cells
54. White Blood Cells
SECTION XI: Special Topics (C)
55. Hemostasis & Thrombosis
56. Cancer: An Overview
57. The Biochemistry of Aging
58. Biochemical Case Histories
You might also be interested in: 🙂
Rapid Review Biochemistry 3rd Edition PDF Free Download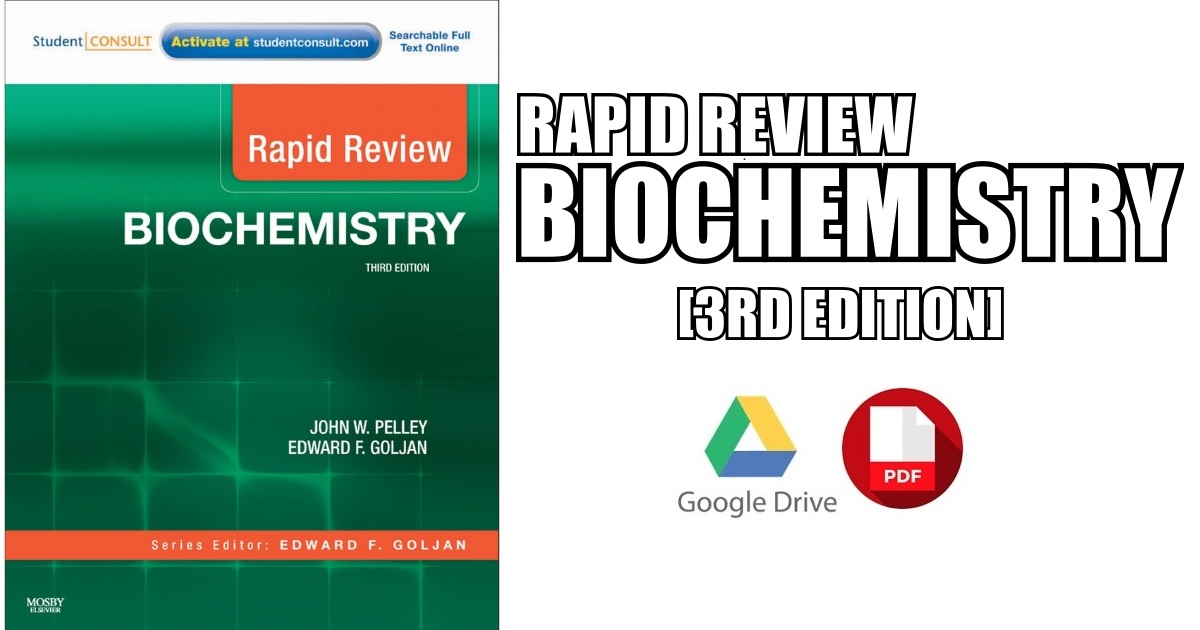 Harper's Illustrated Biochemistry 31st Edition PDF Free Download
Alright, now in this part of the article, you will be able to access the free PDF download of Harper's Illustrated Biochemistry 31st Edition PDF using our direct links mentioned at the end of this article. We have uploaded a genuine PDF ebook copy of this book to our online file repository so that you can enjoy a blazing-fast and safe downloading experience. 🙂
Here's the cover image preview of Harper's Illustrated Biochemistry 31st Edition PDF: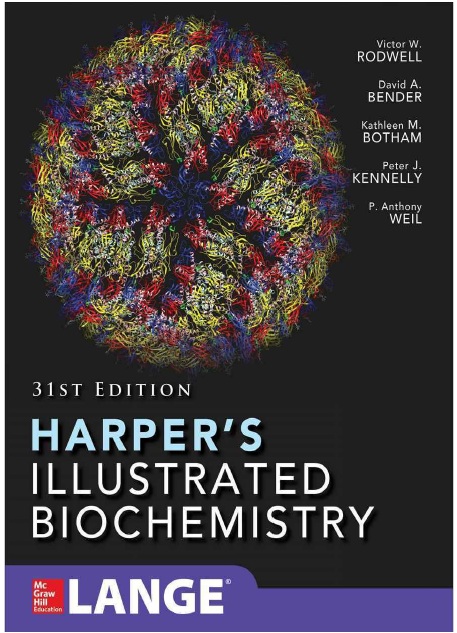 FILE SIZE: 83 MB
Please use the direct link mentioned below to download Harper's Illustrated Biochemistry 31st Edition PDF for free now:
Download Link
Happy learning, people! 🙂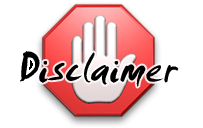 DMCA Disclaimer: This site complies with DMCA Digital Copyright Laws. Please bear in mind that we do not own copyrights to these books. We're sharing this material with our audience ONLY for educational purpose. We highly encourage our visitors to purchase original books from the respected publishers. If someone with copyrights wants us to remove this content, please contact us immediately.
All books/videos on the Medicos Republic are free and NOT HOSTED ON OUR WEBSITE. If you feel that we have violated your copyrights, then please contact us immediately (click here).
Check out our DMCA Policy. 
You may send an email to madxperts [at] gmail.com for all DMCA / Removal Requests.