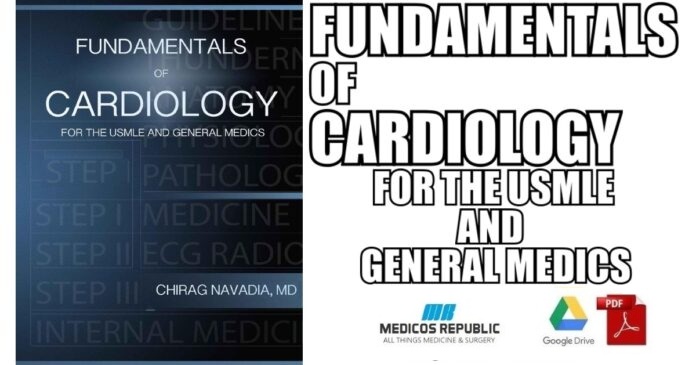 Must read cardiology book for USMLE step 1,2,3, ABFM/ABIM exams and nurse practitioners! In this blog post, you will be able to download free PDF e-book copy of Fundamentals of Cardiology PDF.
Features of Fundamentals of Cardiology: For the USMLE and General Medics PDF
Here are important features of this book:
Fundamentals of Cardiology is an accurate and comprehensive cardiology review book that guarantees success on the cardiology section of any USMLE or ABIM exams.
The book begins with high-yield clinical concepts of embryology, anatomy, physiology and pharmacology that will be helpful for any new learner.
After reviewing preclinical chapters, you'll find a section of high-yield pathology and their managements presented in a quick and easy reading format. The key features of this book represent the most recent evidence-based cardiology guidelines that every general doctor or student must know, and does not represent any personal or clinical practice.
This book does not make you memorize mnemonic, but rather tells you exactly what the first and next steps are in managements. This extraordinary method is the key to your success on USMLE board exams and will distinguish you from others who have not read this book.
All of this information is covered throughout a comprehensive 276 pages, making it an excellent review guide for anyone interested in reviewing high-yield concepts of cardiology or to those who are scoring low in the cardiology section of their exam.
Table of Contents
Below is the complete table of contents presented in Fundamentals of Cardiology PDF:
CHAPTER 1 – EMBRYOLOGY OF HEART
Vascular Development
Fetal Circulation
Septation of Heart Tube
CHAPTER 2 – ANATOMY
Mediastinum
Internal Structures
External Structures
Cardiac Territories
Cardiac Projection
Cardiac Muscle fibre
Conduction Pathway
Coronary Arteries
CHAPTER 3 – PHYSIOLOGY
Concepts of Preload, Ejection Fraction & Cardiac Output
Concepts of Velocity, Area, Resistance and Flow
Auto-Regulation of Blood Flow
Resistance In Series And Parallel Circuits
Blood Pressure
Compliance and Elasticity of Vessels
Relationship Between Contractility & Preload
Action Potential
Normal ECG
Autoregulation of Blood Pressure
Baroreceptor reflex
Renin-Angiotension-Aldosterone System
Phases of Cardiac Cycle
Valvular Problems and Pressure-Volume Loops
Ventricular Pressure Testing
Heart sounds
Murmurs
Effect of Posture, Amyl Nitrate & Arterioconstriction on Murmurs
Jugular venous pressure
CHAPTER 4 – ARTERIAL PATHOLOGY
Hypertension
Hypertension in Pregnancy
Hypertensive Crisis
Arteriosclerosis
Aneurysms
Aortic Dissection
Coarctation of Aorta
Vasculitis
Raynaud Phenomenon
Tumors
CHAPTER 5 – VENOUS PATHOLOGY
Venous System of Leg
Varicose Veins
Deep Venous Thrombosis
Superficial Thrombophlebitis
Leg Ulcers
CHAPTER 6 – CARDIAC PATHOLOGY
Ischemic Heart Disease
Cardiac Arrest vs Respiratory Arrest
Cardiopulmonary Resuscitation
Broken Heart Syndrome
Heart Failure
Circulatory Shock
Myocarditis
Pericarditis
Constrictive Pericarditis
Cardiac Tamponade
Valvular Pathology
CHAPTER 7 – CONGENITAL HEART DISEASE
Acyanotic condition
Cyanotic conditions
Valvular Defects
CHAPTER 8 – ARRHYTHMIAS
Narrow QRS Complex
Wide QRS Complex
Torsade-de-Pointes
Sinus Tachycardia
Wolf Parkinson White Syndrome
Focal Junctional Tachycardia
Multifocal Atrial Tachycardia
Premature Atrial Contractions
Heart Blocks
CHAPTER 9 – CARDIAC TUMORS
Benign tumors
Malignant Tumors
CHAPTER 10 – CARDIAC PHARMACOLOGY
Antiarrhythmic drugs
Antihypertensive drugs
Antihyperlipidemic drugs
Anticoagulants
Non Pharmacological Treatments
Product Details
Below are the technical specifications of Fundamentals of Cardiology PDF.
Book Name : Fundamentals of Cardiology: For the USMLE and General Medics
Edition : 2015th Edition | | ISBN : 0692357912
Author Name : Chirag Navadia MD
Category : Medical
Format / Pages : PDF – 287 Pages
Fundamentals of Cardiology PDF Free Download
Here you will be able to download Fundamentals of Cardiology PDF by using our direct download links that have been mentioned at the end of this article. This is a genuine PDF e-book file. We hope that you find this book useful in your studies. 🙂
Below is a screenshot of the cover image of Fundamentals of Cardiology PDF: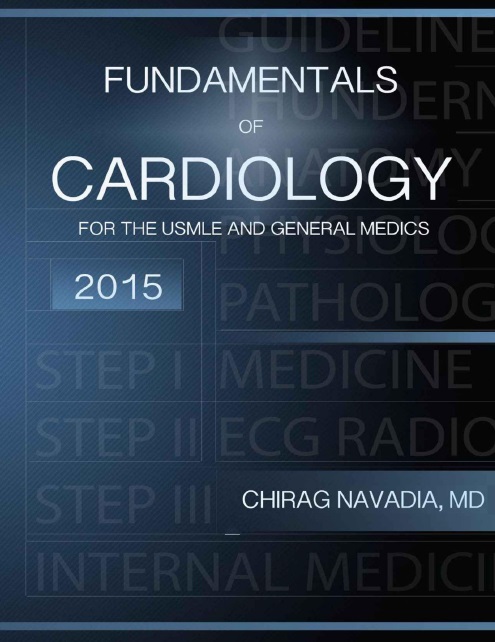 FILE SIZE: 4.58 MB
Please use the link below to download Fundamentals of Cardiology PDF for free:
Happy learning, folks! 🙂

DMCA Disclaimer: This site complies with DMCA Digital Copyright Laws.
PLEASE NOTE: We do not host/store any copyrighted content on our website, it's a catalog of links that are already found on the internet. Please check out our DMCA Policy. If you feel that we have violated your copyrights, then please contact us immediately, the said content will be PERMANENTLY removed within 24 hours.
You may send an email to madxperts [at] gmail.com for all DMCA / Removal Requests or use our Contact Us page.
Check out our DMCA Policy.