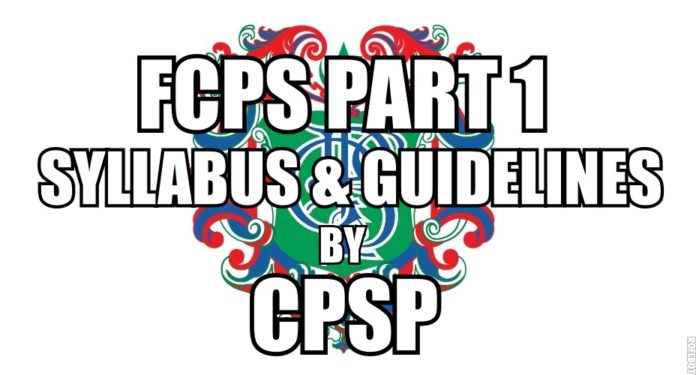 The Fellow of College of Physicians and Surgeons Pakistan or FCPS is an exam taken by medical graduates of Pakistan as part of their postgraduate studies. It is a postgraduate degree awarded by College of Physicians & Surgeons of Pakistan (CPSP). FCPS comprises of three exams, namely:
FCPS Part I
IMM
FCPS Part II
The candidates passing these exams are provided with a fellowship degree by CPSP and they're called "Consultants" in the chosen area of specialization.
The FCPS Part 1 exam is an MCQ based exam which can be taken by the graduates in a desired specialty. If they crack through this exam, they can enroll into a medical residency program in a recognized institution.
This blog contains the complete syllabus of FCPS Part 1 and general guidelines provided by CPSP. We hope you'll find this post useful while structuring your preparation strategy.
May the odds be ever in your favor! 🙂
READ ALSO:
FCPS Part 1 Past Papers PDF Download [16,000 MCQs QBank]
High-Yield Pearls for FCPS Part 1 [Must Have]
High-Yield Anatomy Notes for FCPS Part 1 (MUST HAVE)
FCPS Part 1 Examinations
The College of Physicians & Surgeons of Pakistan (CPSP) conducts FCPS Part I examinations in the below-mentioned disciplines:
Medicine & Allied
Surgery & Allied
Dentistry
Anaesthesia
Obstetrics & Gynecology
Ophthalmology
Otorhinolaryngology
Pathology
Psychiatry
Community Medicine
Diagnostic Radiology
FCPS Exam Schedule
CPSP releases a notification at the start of each year concerning exam schedule of FCPS Part 1, FCPS Part 2, IMM and MCPS. The FCPS Part 1 exams are held three times a year.
Please check the exam schedule here: FCPS Exam Schedule.
FCPS Exam Centers
The FCPS Part 1 & Part 2 exams are held in different cities in CPSP authorized exam centers across the country. Currently, the theory exams are conducted in the following exam centers:
Karachi
Quetta
Hyderabad
Larkana
Multan
Faisalabad
Bahawalpur
Islamabad
Peshawar
Abbotabad
Muzaffarabad (Azad Jammu & Kashmir)
FCPS Overseas Exam Centers
In addition to the local exam centers, CPSP has built overseas exam centers for facilitating aspirants to take the FCPS exam outside the country. Currently, the overseas exam centers for FCPS Part 1 & 2 are:
Riyadh (Saudi Arabia)
Katmandu (Nepal)
Format of Examination
Each one of them consists of 100 MCQs of "one best type".
Three hours are allocated for each paper.
The syllabus for FCPS Part I Exam is mentioned below:
Syllabus of FCPS Part I Exam
The purpose of the FCPS Part 1 exam according to the CPSP is to assess the core medical knowledge of the graduates willing to seek placement into a residency program in a recognized institute.
Here's the complete outline of important topics given in the syllabus of FCPS Part 1 exam provided by CPSP:
PAPER I
1. ANATOMY
1. General Gross Anatomy (General Outline)
– Muscles
– Joints
-Major Blood Vessels
2. Embryology (General aspects)
– Histology (General)
– Types of tissues
– Epithelia
– Muscles
– Nerve
– Blood Vessels
– Fibro fatty tissue
– Lymph Nodes
3. Brain and Spinal Cord
– Gross Structure
– Spinal Nerves (Origin and distribution)
– Cranial Nerves
4. Head and Neck – General Aspects
5. Viscera: Gross Structure
– Heart
– Lung
– Kidney
6. Anatomical Outline
– Bronchial Tree
7. Endocrine Glands – Anatomical Structure
– Pituitary, Thyroid, Parathyroid and Adrenal Glands
2. PHYSIOLOGY, PHARMACOLOGY & BIOCHEMISTRY
1. General Physiology
– Components of cell and cytoplasm with their functions (in general) & transport across cell membranes.
– Nerves and Muscle Contraction
– Classification and properties of nerve fibers
– Receptors (types, properties & functions)
– Function of motor and sensory areas of Brain.
– Cerebrospinal Fluid (CSF), it's formation, functions, drainage, lumbar puncture
– Autonomic nervous system (outflow and responses of affected organs)
– General properties and composition of blood
– Normal counts and functions of RBCs, WBCs, Platelets
– Mechanism of homeostatic coagulation factors and their actions
– Blood groups (types, antigens, antibodies, phenotypes, genotypes and significance)
– Conducting tissues of heart (generation and propagation of cardiac impulse).
– Cardiac cycle (pressure, volumes, valvular changes)
– Blood pressure and its regulation (general)
– Respiratory and non-respiratory functions of respiratory tract
– Body fluids, compartments and regulations of Osmotic equilibrium and acid base balance.
– Regulation of ECF and blood volume
– General functions of kidney
– Regulations of body temperature
2. Pharmacology
– General principles of rational drug therapy
– Clinical pharmacokinetics
– Adverse reactions of common drugs
3. Biochemistry
– Requisites of a balanced diet
– General principles of electrolyte balance
– Role and function of endocrine hormones
– Metabolism of carbohydrates, protein, fats and vitamins
3. PATHOLOGY INCLUDING MICROBIOLOGY
– Effects of injury on cell by physical, chemical and biological agents
– Inflammation (Acute & Chronic Including granulomatous)
– Regeneration and repair
– Metabolic response to trauma
– Disturbance of homeostatic mechanism (hemorrhage and shock and Oedema)
– Thrombosis and embolism, infarction and gangrene
– Disorders of growth (adaptation, atrophy, hypertrophy, hyperplasia)
– Carcinogens and pre-malignant lesions
– Neoplasia: General classification and its spread
– General aspects of tumor markers
– General characteristics of bacteria, viruses, chlamydia, recketsia, parasites and fungi
– Immunology and Immune system: General principles
– Medical genetics – basic concepts
– Interpretation of routine biochemical tests e.g liver function test, glucose, urea and creatinine.
– Nutritional diseases: deficiency of vitamins and minerals
4. RESEARCH AND BIOSTATISTICS – BASIC CONCEPTS EPIDEMIOLOGY
– An introduction to epidemiology and its role in understanding distribution and determinants of disease.
– Measure of disease occurrence
– Screening
Biostatistics:
– Introduction to biostatistics
– Data and its kinds
– Summarization of data
– Normal distribution
– Point and interval estimation and probability
– Hypothesis testing, significance level and power
5. BEHAVIORAL SCIENCE AND MEDICAL ETHICS – GENERAL PRINCIPLES
– Medical Ethics
– Communication skills including doctor patient relationship and counseling
– Psycho social aspects of general healthcare
PAPER II – Medicine & Allied (FCPS PART 1)
The syllabus for Paper II Medicine & Allied  of FCPS PART 1 is given below (as pictures taken from CPSP's prospectus):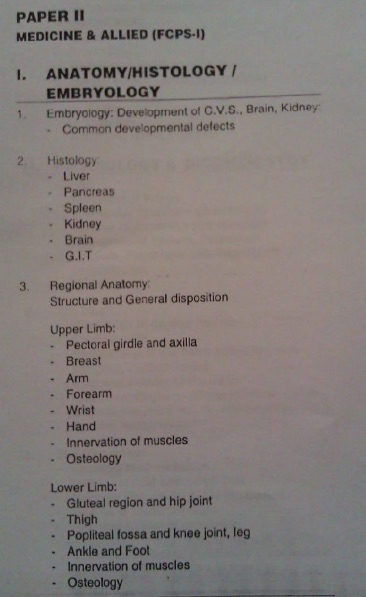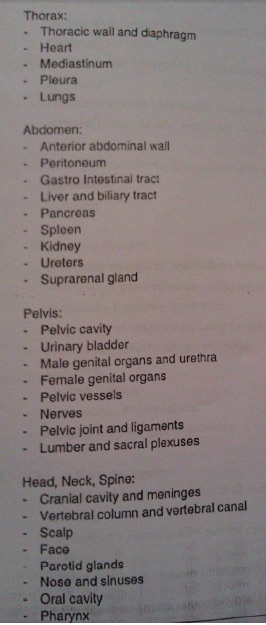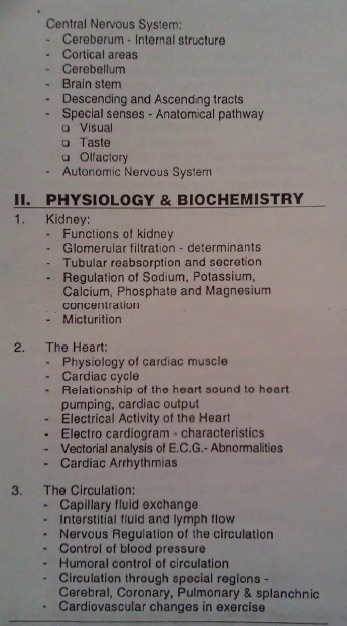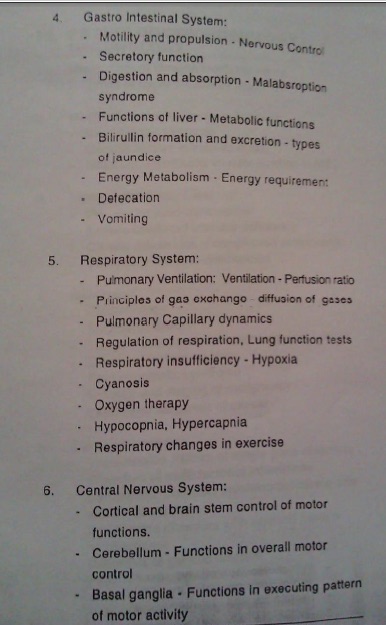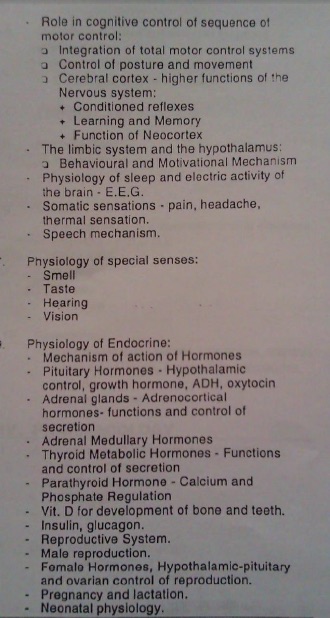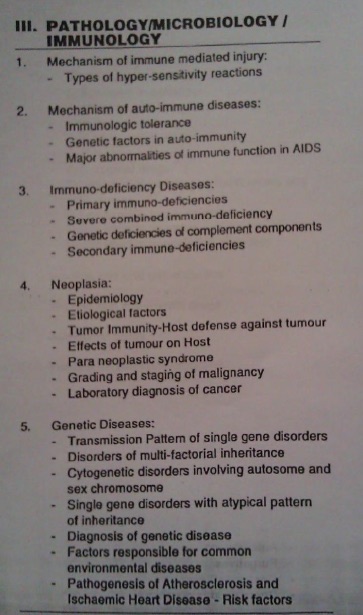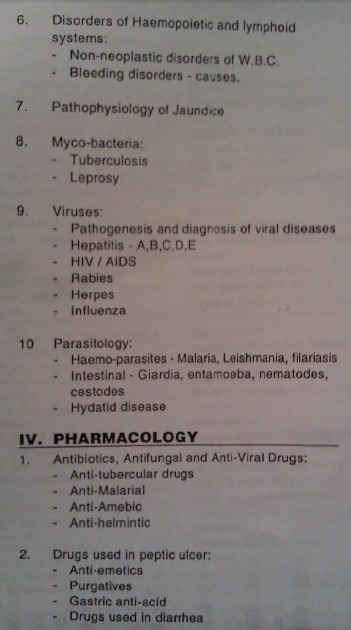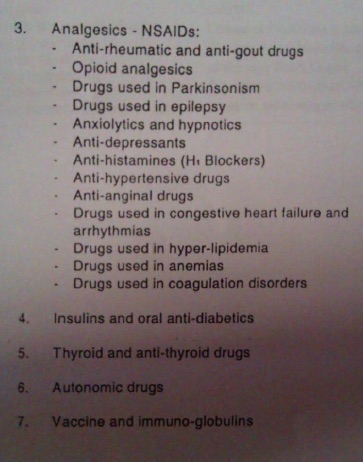 GOOD LUCK! 🙂