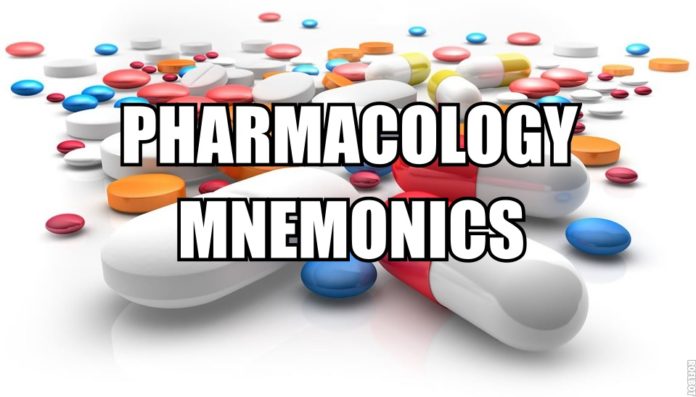 The Cephalosporins are a class of β-lactam antibiotics indicated for the prophylaxis and treatment of bacterial infections. They are bactericidal and cause the death of the bacteria by disrupting the synthesis of "peptidoglycan" thus interrupting the formation of the bacterial cell wall. In this article, we'll share with you Cephalosporins Adverse Effects Mnemonics. But before that, let's take a look at a few important things. 🙂



Cephalosporins Spectrum
The first generation of cephalosporins is active against gram-positive bacteria while rest of the generations show greater activity against gram-negative bacteria.
READ ALSO: Easy To Remember Pharmacology Mnemonics (With Pictures)
Cephalosporin Generations
1st Generation
2nd Generation
3rd Generation
4th Generation
Cephalexin
Cephalothin
Cephradine
Cefazolin
Cefadroxil
Cefotetan
Cefoxitin
Cefuroxime
Cefaclor
Cefprozil
Cefixime
Cefotaxime
Ceftazidime
Ceftriaxone
Cefoperazone
Ceftibuten
Cefepime
Cephalosporins Adverse Effects
Below are the adverse effects of Cephalosporins:
Nephrotoxicity
Hypersensitivity
Aplastic Anemia
Necrolysis
Toxic Epidermal Necrolysis
Disulfiram like reaction
Thrombophlebitis
Allergic Manifestations
Super Infections
Cephalosporins Adverse Effects Mnemonics



Here are the Cephalosporins adverse effects mnemonics. We hope these mnemonics for cephalosporins adverse effects will make it easy for you to recall them during the exam: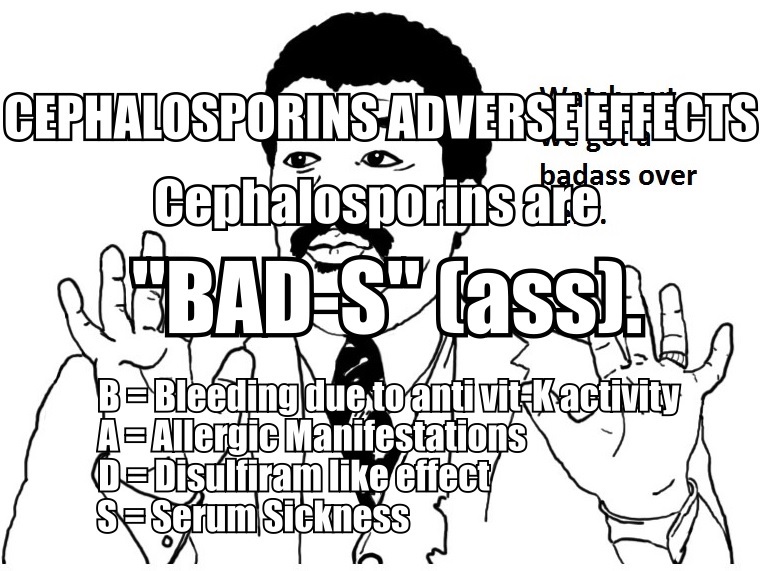 Cephalosporins are "BAD-S" (ass).




B= Bleeding due to anti vitamin-K activity
A= Allergic Manifestations
D= Disulfiram-like effect
S= Serum Sickness
We hope that this mnemonic will make it easy for you to remember the important adverse effects of the cephalosporins. 🙂
GOOD LUCK! 🙂
Do you have a better mnemonic? Please use the comment box below and share with us. Thanks! 🙂